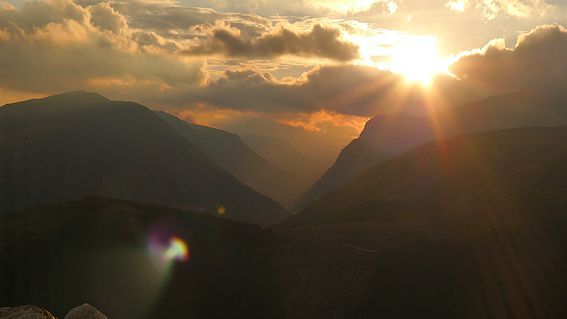 We'd been planning this all week and still it was mid afternoon when we were avoiding the potholes on the northbound A82. Part of the trouble was stopping at Greggs in Dumbarton for supplies, including a free cuppa for me as my loyalty card had a full complement of stamps. Then we stopped at the Glen Coe cafe to look at the map and "plan" and then we went into the rather fine Ballachulish Visitor Centre where cuppas were again explored. By the time we slung our packs on were were so full of caffeine and dairy we didn'y know whether to have a heart attack or a sleep.
It was still bright, warm too, it was baselyer and rolled up sleeves weather. It's a lovely wee village Ballachulish, the school has low fences and the nursery toys lie safe in their garden. Life should be like that for everyone.
We missed the cut off point and clambered over a wall and the fence on top of it. It was easy for me, but Brian has his legs, and his legs are short. We have both known this for years, but I never miss an opportunity to exploit it for comedy effect.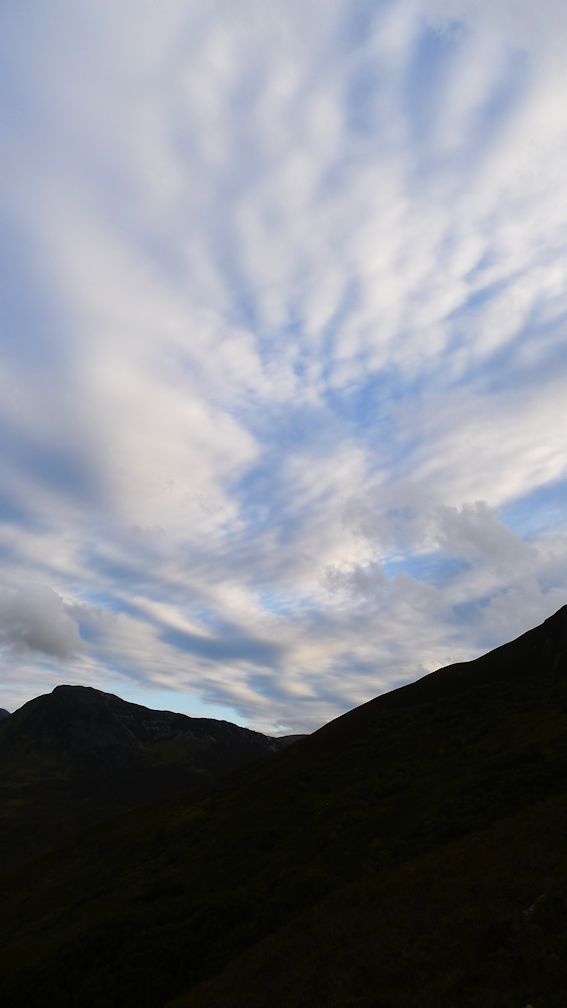 It's just fields at first, but what a backdrop, Glen Coe behind, the Mamores ever more visible and a brown heather slope streaked with white scree ahead. It looked benign enough, certainly didn't look steep, but by the time we were clinging onto tufts of foliage with both hands with sweat dripping off out noses we realised that we'd misjudged the situation. It was hellish, the highly mobile scree had been upsetting enough, but scrabbling up this hairy steepness was both exhausting and somewhat unnerving. Our fingers felt like they'd been scoured by sandpaper the heather is so abrasive, blood had been drawn, and the wide rounded top on Beinn Bhan was as welcome a sight as I've ever seen.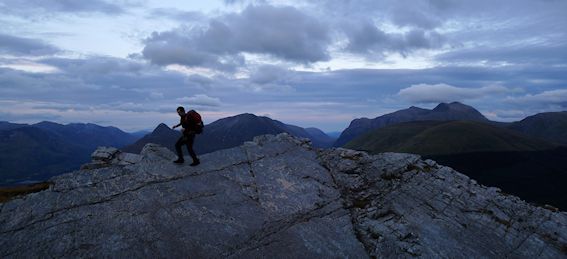 We'd decided to bivy as one of the tops was where we wanted to be and the ridges here are too narrow for a tent, but were were burst, really, after only 500m of ascent. We scanned the ground ahead, we'd lucked out with the bivy bags, this was tent unfriendly territory with a mix of bare rock and very broken stony ground. After a few minutes we picked a spot and it was just perfect.
We could see tomorrow's summits, right down the length of Glen Coe, the waves of peaks to the north and across to Ardgour where the sun was starting to sink. There's something special about the mix of mountain and sea when you camp near the coast, it all seems grander somehow, our 550m campsite didn't seem to fall short at all.
Setting up was easy we both pitched ourselves for easy cooking and we were sheltered from the light wind as we were in a little groove between rises in the tumbling rocks. Stoves burned as warm layers were pulled on and legs slipped into sleeping bags. Hot food raised our spirits and as darkness fell we found ourselves warm and content. No midges, not as cold as forecast, what could possibly go wrong? Nothing, and it didn't.
We didn't do a whole helluva lot, banter, a few photies and keeping warm in out bivys, sleep was the only thing that was on our agenda. There were a few meteorites, maybe stragglers from the previous shower, they burned brightly and then faded along with us.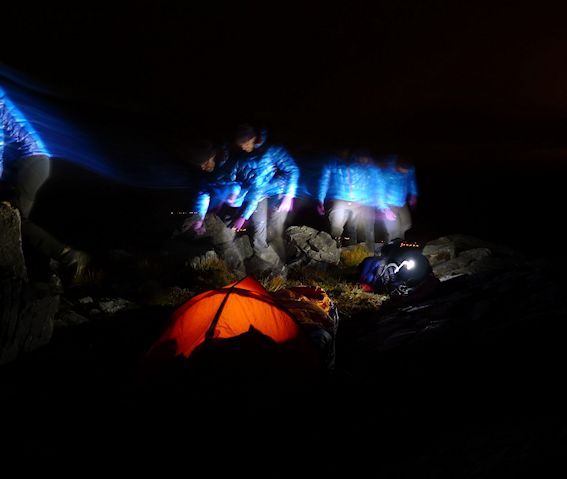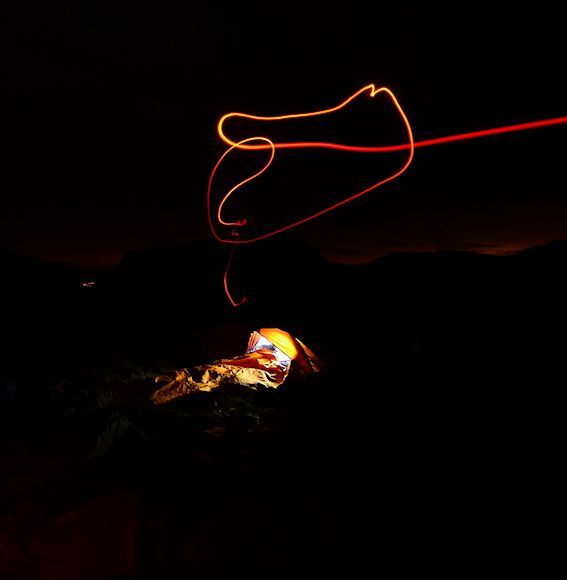 I woke in the early hours to see a clear sky bursting with stars, an ark of white crossing from horizon to horizon right above my head. I lay there for a while, fished out my iPod and listened to music that shouldn't fit such a serene scene but did. A cold breeze tickled at my nose and cheeks, but I was warm from toe to core and I just slipped a little deeper in to my sleeping bag where sleep claimed me once more.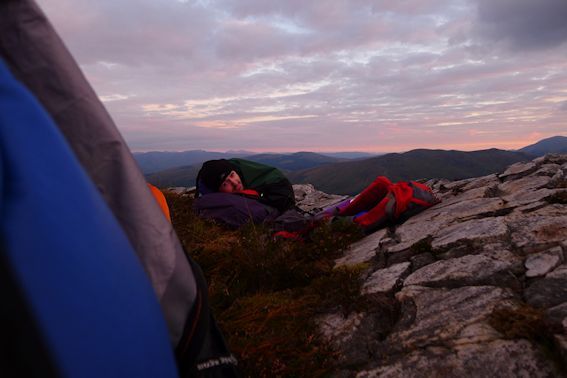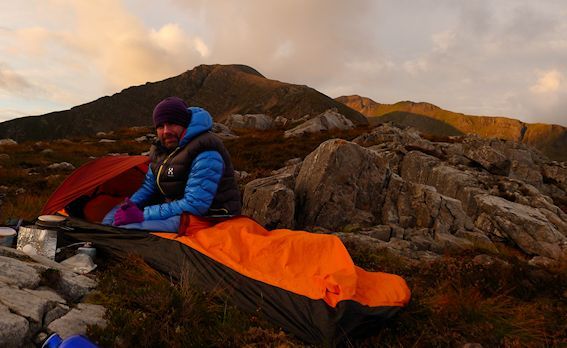 Cool blues and greys were split by a band of deep orange. Morning was coming, must stay awake to see the sunrise… The clouds were tinged with orange and gold, the sun sat low beyond Rannoch, ready to start the day, an hour had passed.
"Brian, you awake?"
"Mmmmmm?"
"Stick your head out"
He'd nearly slept through a sunrise over an inversion at a 900m camp a few years back, I wasn't taking any chances.
We both sat up, pulled on all our warm layers once again and lit the stoves as the day silently uncoiled around us. Holy shit, I've missed this stuff.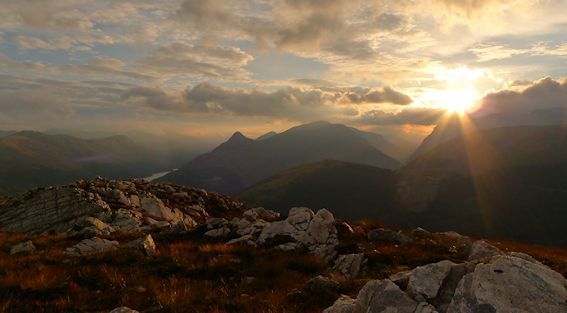 It was glorious. The sun rose at the end of Glen Coe and worked its way through the broken cloud so we had patches of warm light and darkness until the light lost its colour and the day was up on its feet and running at its usual pace.
We talked about our plans, our route and decided to just relax for a while and think about it. We woke up again at 1120. Bloody hell. Cuppa and packing to leave was next, we decided to go light and leave camp where it was, we'd worry about how to get back later. Brian had an empty compressed back and I had my mountain man-bag over my shoulder, I'm saying I won the style battle there.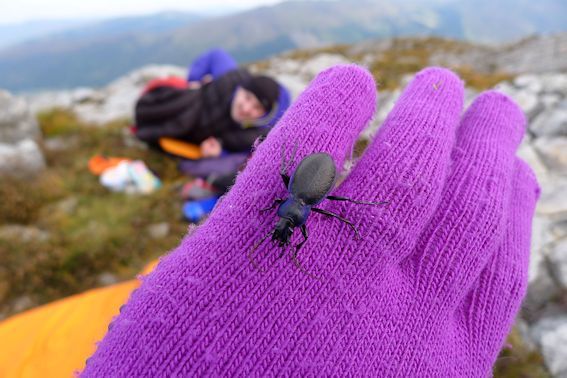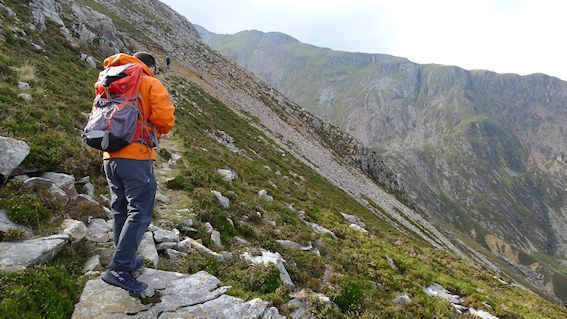 It was windy and cold, we had our shells on, but it was bright and we had clear views. It got warmer as we left the ridge for a while to zigzag onto Sgorr Bhan and we met a couple of fellas taking a similarly unusual route to ourselves. Friendly and chatty, nice to get that, on the more popular hills you're as likely to get some stony faced bastard as you are someone to shoot the breeze with.
It's a lovely little top, just a pile of stones and I remember sitting here around 20 years ago. We scrambled up the NE ridge that time and caught up with a group of folks who also stopped at the little summit. I asked if anyone wanted a cuppa and they all send no, I undid my flask and poured a coffee which put a little cloud of lovely cafe aroma around the group and everbody's face fell. I've rarely been to hills without a cuppa since.
Sgorr Dearg isn't so far away but it's little Sgorr a' Choise to the left that drew my eye. Long ridge, little pointy summit, looks lovely and I've never climbed it. The list gets longer. I've never said how many Munro's and Corbetts etc I've climbed, folk are to ready to define or be defined by these numbers and I'm not playing, and truth be told I'm not exactly sure anyway. Let's just say hundreds, and the good news is that I've still got peaks to climb and places to visit, I've got a brilliant to-do list.
Don't let experience be confused with enjoyment or enthusiasm. You can have climbed just one Munro and be the happiest mountaineer in the land and you can also meet completers who are misery incarnate.
We met a bloke on the summit of Sgorr Dearg, he drove up that morning from down our way. Another friendly fella and we spent a while chatting which actually became vital to our mission. There were timber operations in the next coire, path diversions and temporary fencing. This was not good when you're writing a route using the tracks. What to do…
"Brian, what do you think of that slope?"
"Ooh, doable?"
"Aye, c'mon"
We left our new pal and walked the north ridge to get another view of the slope below. Steep, pretty long, but it looked like fun and would take us past the pinnacles that lie below the summit.
We backtracked to a grassy notch and down we went.
It was indeed steep, but it was doable, and we slipped and laughed our way down it. There's a ridge near the bottom with some small crags where we decided to take to the dry bed of a burn which was filled with scree. This wasn't the best idea in reflection as it was like a chute filled with marbles, we clung to the rocky edges, but still surfed down the gully on scree that ran like ball bearings down a drain pipe. At one point we got stuck and I found myself standing on Brian's back to get to the next bit. This was after his ankle took a direct hit from a rock I sent his way. Bless him.
We did pass the crag band and found a perfect scree run from there to the bottom of the coire. Funny as hell, all the way.
Do folk visit this coire? I don't think so, but it's a cracking place, great to camp in too, room for tents. We were winging it, there were plenty of ways out, but finding one not on scree, steep ground or involving a lot of re-ascent was the trick. Harvey maps bless them know the score, the little scraps of track they include are vital for times like this, scraps evolve and not much before the treeline a path emerges on the edge of a line of crags which took us on an almost level line to the ridge where the bivy bags were. Brilliant.
Soups, the last of the oatcakes and a sit down in the sunshine. We were absolutely contented, the climb had been fun and the descent and exploration had been a complete joy.
We lifted lighter packs for the descent, we had to carry all our water up which had been emotional, and set off to find the track which is on the map and we'd missed on the way up, sending us up that bloody heather horror. The path is there, right on the end of the ridge, and the views are wonderful as you're right above the loch. I'm kinda glad we missed it, it made it all the better on the way down. The path curves back on itself and across the heather, right to where we started our climb 24hrs before. How the hell we missed it I'll never know.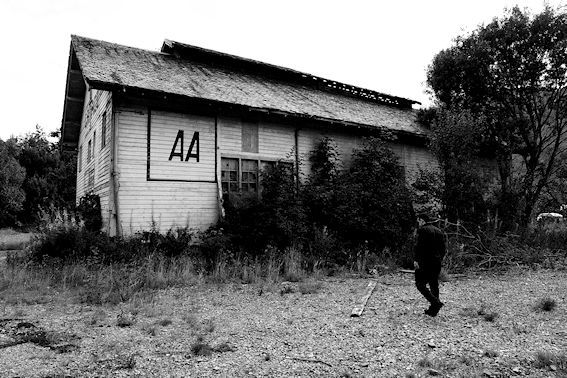 Being back on tarmac wasn't so much fun, but a detour to see the old Ballachulish Station engine shed was a nice last little excursion before we headed south. The sun was setting, we were a little tired and hungry, there was only one option.
Been too long since I sat in the Real Food Cafe with a pint of coffee and dinner. I was recharged, revitalised and ready for the drive home.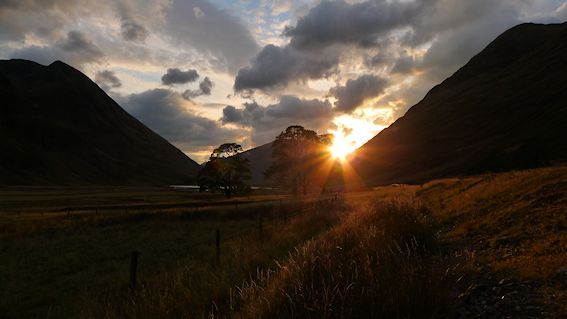 Home was something special. I don't think I'll ever forget the reception I got from Holly who'd stayed awake to see me, or the reaction she had to her presents, a little sprig of holly and a pure white stone.
Today is the very day I first posted something on this blog five years ago. It has brought me joy recording and sharing it all over those years and there's no better post to go up today than this one.
Here's to all my favourite things.