A wee while back I had cause to walk home from the edge of Glasgow after leaving the motor in the garage. It was a lovely day and I had the best lightweight footwear on for putting in the miles: purple Converse.
I was down by the Clyde anyway so I skirted the docks and then in time passed the new Clydebank College which has been built on a part of the ground that was once John Brown's shipyard, the place where they built the QE2, HMS Hood, Britannia and more.
What was a place of mass employment, innovation, skill, industry, a supplier of the means to shape the world and the #1 target for German bombers is now a flat expanse of ground–up rubble. That rubble though has blossomed and the whole place is a meadow with a riot of flowers in purple, yellow and white. It's quite beautiful.
The Titan Crane, now over 100 years old, still stands as a monument, a memorial, a tombstone to the activity that gave the town its life and purpose.
I've seen Clydebank sink in my life like so many other industrial Scottish towns, I hope, like Paisley seems to have done, it finds energy and enthusiasm to try again.
Whatever location and inhabitants make the headlines, there are good people everywhere. It's just that they always seem to have the quietest voices.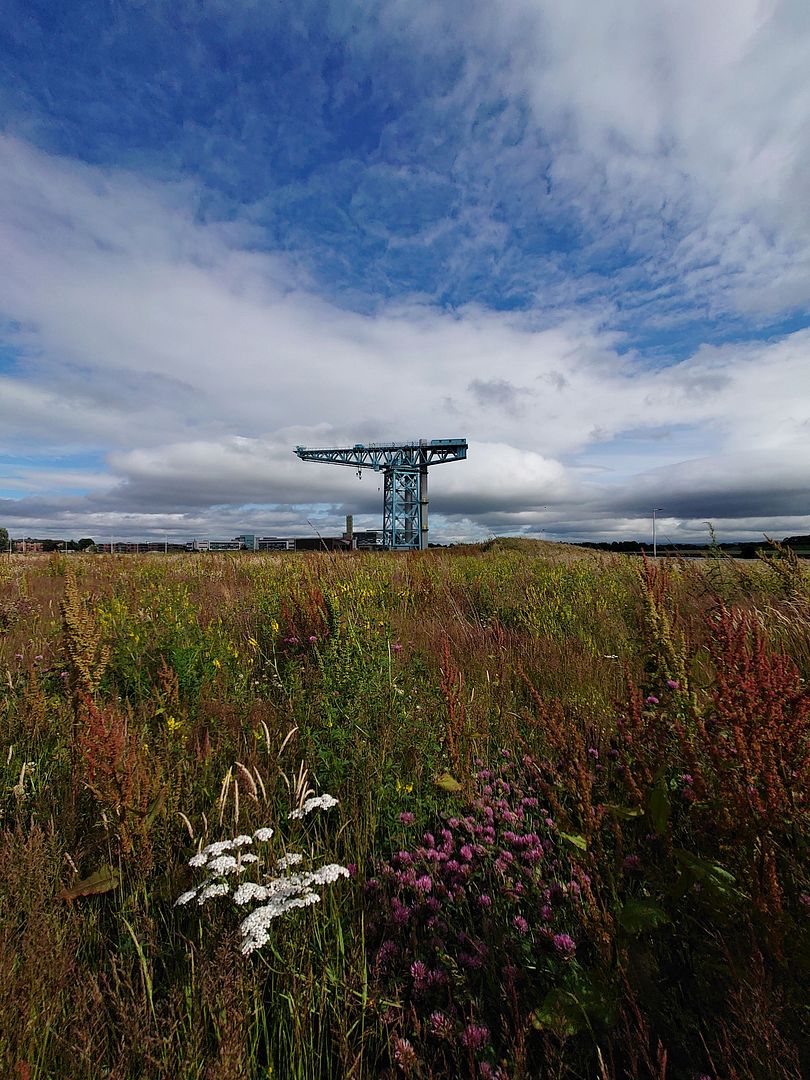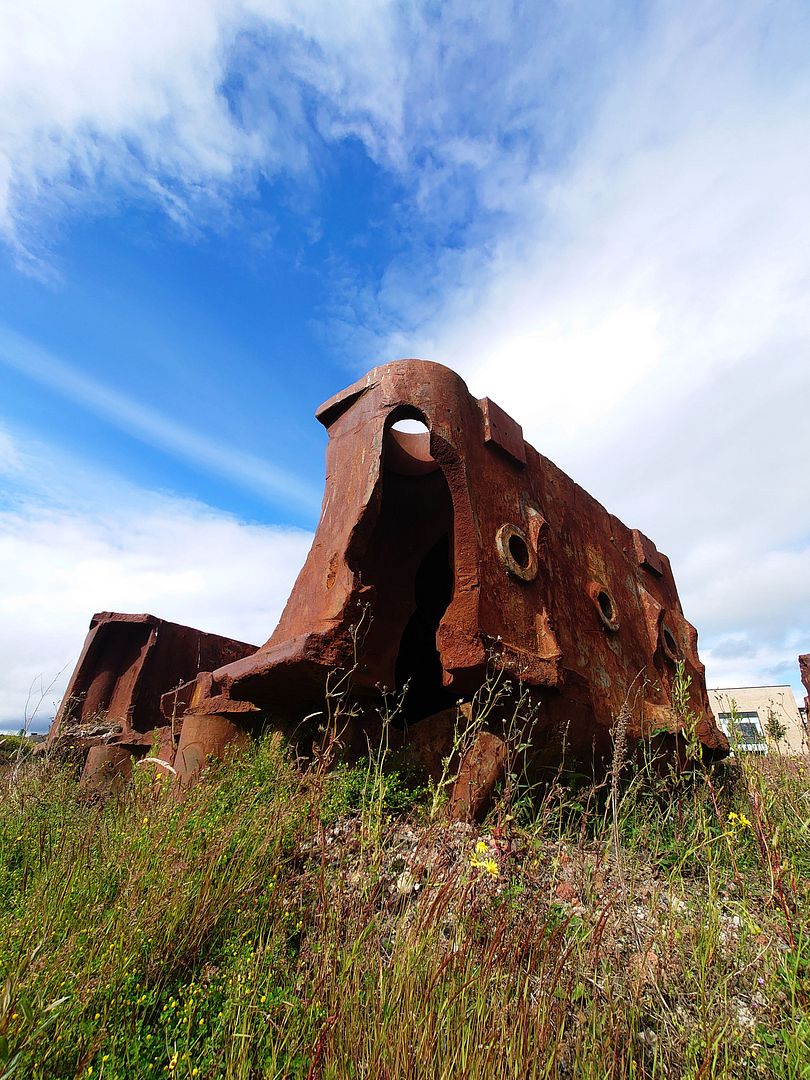 Further along is another odd remainder. They could wipe away every trace of a mile wide shipyard but this 1920's German built hydraulic press was just too much for the hungry scrap men apparently.
It's cast iron, and it's an incredibly complex casting too. The skill that went into making this is quite stunning when you know how they do it, and even at that I still think there's more than a touch of magic in it. Sand, molten iron and clever hands.
I hope they leave it here. It's a reminder and it's a warning, where we were, where the hell are we going.
I'm not stupid, I'm not looking at this slice of history through rose tinted welding goggles. I know enough about the realities of life back then and I worked with many who served their time in the shipyards but I do mourn the loss of the knowledge and ability that lived and worked here and prosperity that could have been had for the area if, well I could go into a profit and politics spiral here, but the bottom line is humans, we just ruin it for ourselves just being us don't we.
Ah, but here was something wonderful about seeing a ship launch.
I walked on through broken fences to where the dock has been filled in. The transatlantic cable laying ship ran from here, the road is even Cable Depot Road and at it's junction to the main road used to stand the Boilermakers Social Club. Generations to come will wonder about these strange mystical names.
I had to detour around the Golden Jubilee hospital as their fence is tall and unbroken which was a bit of a pain, but this took me past the 1904 Dalmuir sewage works with it's lovely old brickwork and surprising absence of nasty smells which were an all too familiar visitor to local noses not so long ago.
The old Caledonian Railway bed is accessible here with the occasional wooden sleeper or other jagged remnant of infrastructure to remind you of what once was.
I clambered over concrete blocks into the old oil depot at Old Kilpatrick to take an easier path back out to the modern world with plans to pick up the canal or the riverside trail for the last few K's home. Still surrounded by industrial history on every foot step though.
I know this sounds stupid, but when I'm doing this stuff I often have an equation in my head that I can't solve to my own satisfaction. Back when all of today's route was full of living industry, thousands of people worked in these places, the towns were all smaller and the population was hundreds of thousands less, so where the hell is everyone hiding in 2022? Are we just all sitting shoulder to shoulder in offices or what?
I know, the population increase is probably retired folk living longer and the actual working population might be smaller, I dunno, maybe I'm too lazy to research.
Actually no, not lazy, it's a rabbit hole of fascination I don't want to stick my head down and get my ears jammed for countless hours.
Anyway. That first photie is when I took Jimmy to show him the hydraulic press after my walk, I have seamlessly blended it into this incoherent account.
Also, by the time I got to the Scout Hall in Old Kilpatrick, Linda's offer over the phone of a run home was welcomed enthusiastically. The Converse were great the miles that I'd done so far, but I think my feet might have started taking issue as the heat ramped up as I marched along.
It was a magic walk, a proper wee exploration of places I haven't been in ages, even years in some cases and also some corners I'd never seen at all.
Given the amount of trespassing involved in it though, we'll have to talk about specifics over a cuppa at camp.