I'm thinking getting this phone one of my better 2020 experiences. I was coming back from a wee church heating callout and while the road was clear all the way when I turned into the village I was straight into a wall of fog, proper horror movie style.
I could see the sun fade in and out of thinner fog patches and it looked magic, dead atmospheric. I knew I wanted to take some photies.
But it was nearly tea time, it was baltic and I knew if I went home for a camera I'd put the kettle on and be sucked into the couch with it being particularly heavy centre of comfy gravity whose pull any orbiting object is too weak to resist.
I was dressed warm and bright, one is as important as the other. Where to go was the next puddle to jump. I'm always at the beach, I didn't have the keys of the Wee Spark on me so I couldn't get into the harbour so the derelict Scotts of Bowling shipyard was an obvious choice. I hadn't been in there for months, so it was worth a wee explore anyway if I didn't get any photies.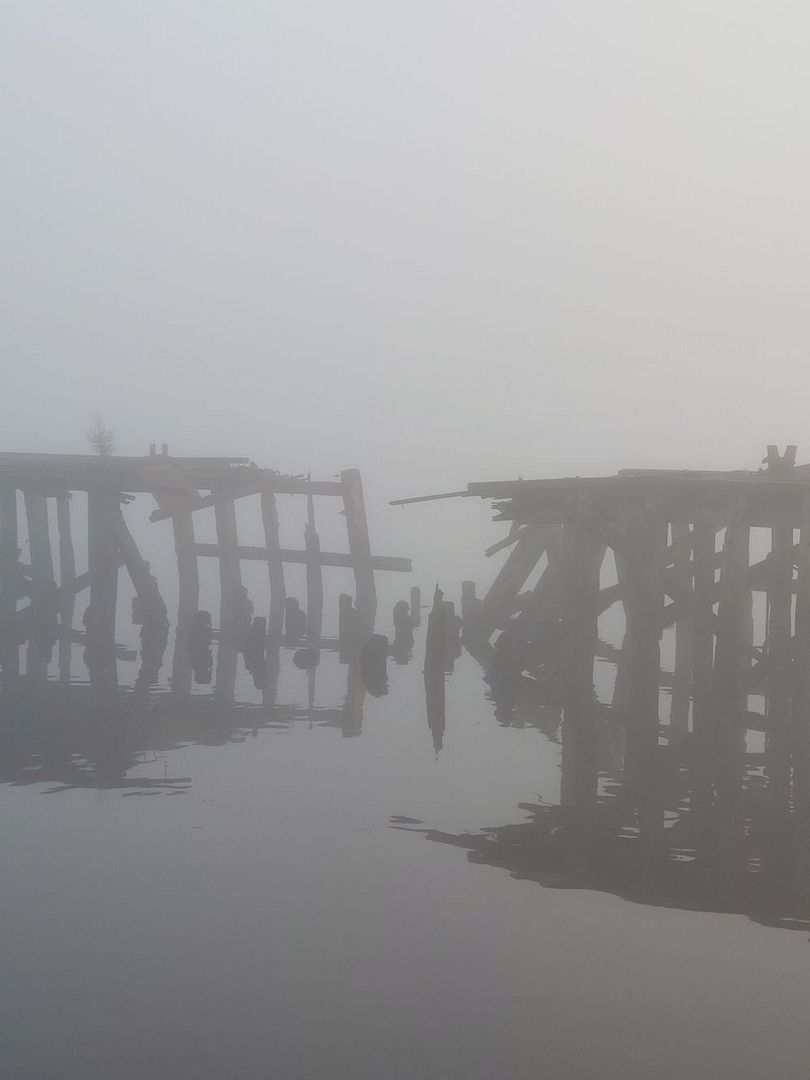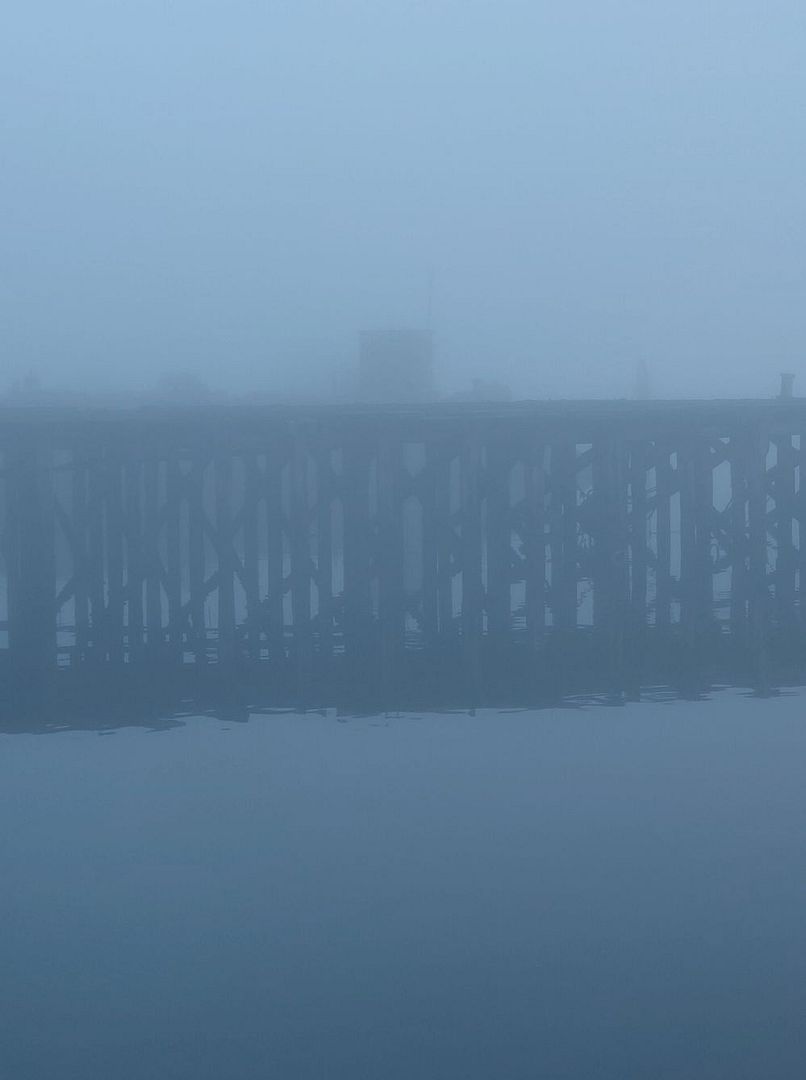 Ice and snow everywhere but a lot of footprints too once I'd slipped through the gap in the fence. Mostly left by neds I think, it's an accessible but still out of the way place for ne'erdowells, but there's folk come in for fishing too as there's deep water by the piers and it's still a decent venue for urban explorers although there's less and less evidence of it's previous life now, more birch trees than steel and concrete now.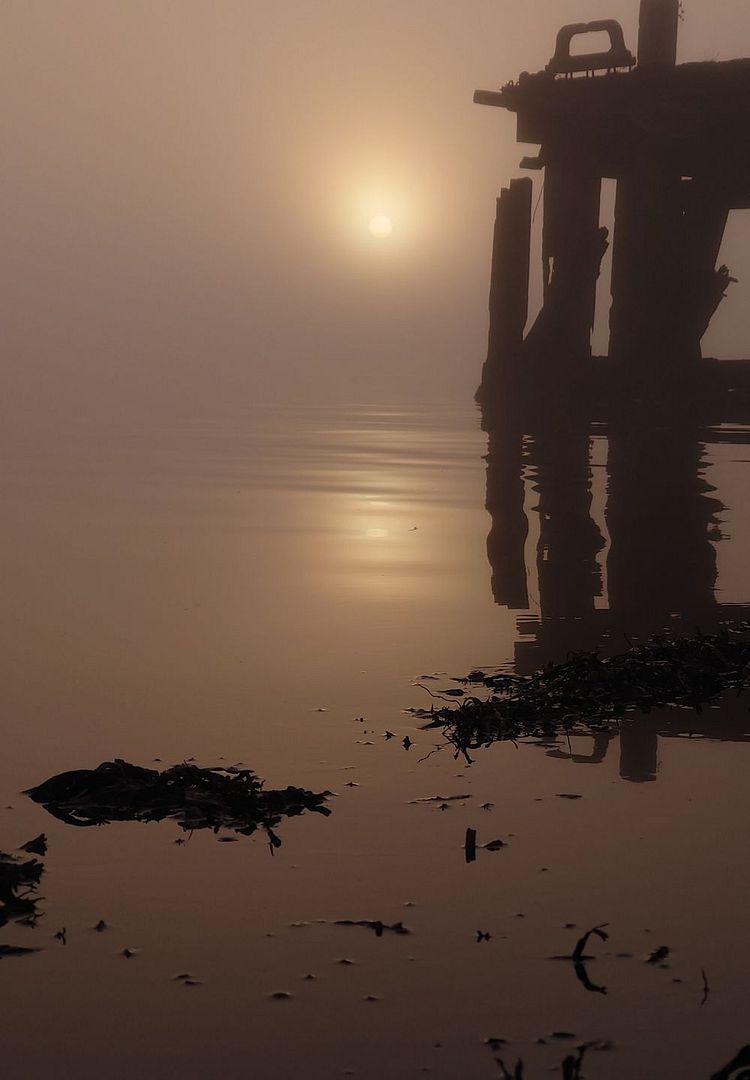 It was lovely. The river had a blanket of fog although looking behind me a hint of blue sky and the outline of the hills could be seen. Some hibernating butterfly bushes sat like they were ready to pounce, their once violet tipped arms reaching out into the frosty atmosphere for my wallet and phone.
The skeleton of Frisky Wharf was fuzzy and indistinct, with no horizon and no southern shore the timbers just floated in the grey. The grey warmed though, the sun pressed through as it got lower and while the light felt warm in colour if not sensation, the shipyard faded to black under my feet.
It was eerie. And utterly joyful.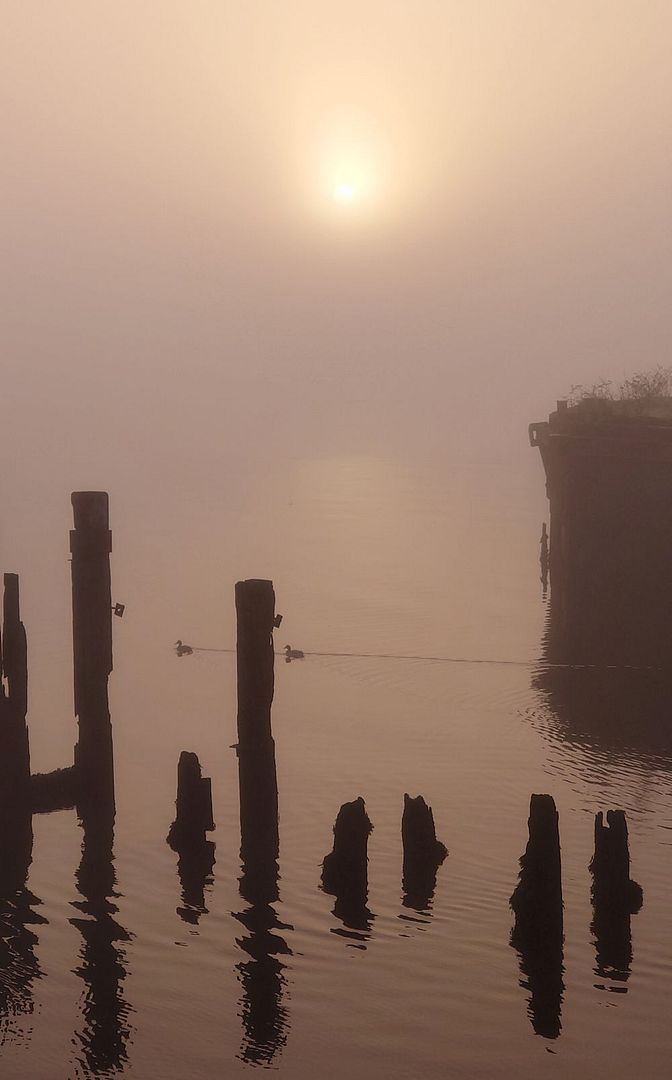 I clambered onto the slip over snow crusted trees and debris to get to the waters edge. The concrete block I had my eye on pulled me onwards and over the ankle breaking terrain like it was, well a summit. Or a pot of fresh coffee. Or an unexpected vintage Karrimor Ebay listing. Odd that, I think I just get excited at stuff. Nice to know that although I might be broken I'm not one dimensional.
It was magic, I loved watching the sun sink away like a torch on a frozen windscreen. The water was rippling but quiet, the only sounds were the occasional burble as a bird dipped or surfaced nearby.
I eventually headed to the west side as the sun faded, just in case something esle was happening. I'd seen the best of it though and I was striding back home with a phone full of shots and frozen fingers. Aye, the camera's got proper buttons.
I love getting distracted. Weather is awesome.
*amusingly, it's actually purple.