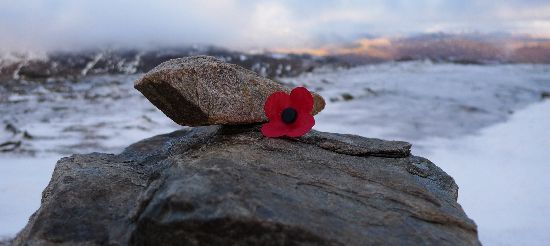 Lunch at Tiso:
Sniff, I dunno?
I'm tired man, I dunno either.
Later texts:
What do you think?
9ish and we'll see once we're on the road?
0845 next day by text:
I've just stuck a foot of of the duvet for the first time today, don't hurry.
0930, Phil picks me up and we hit the road.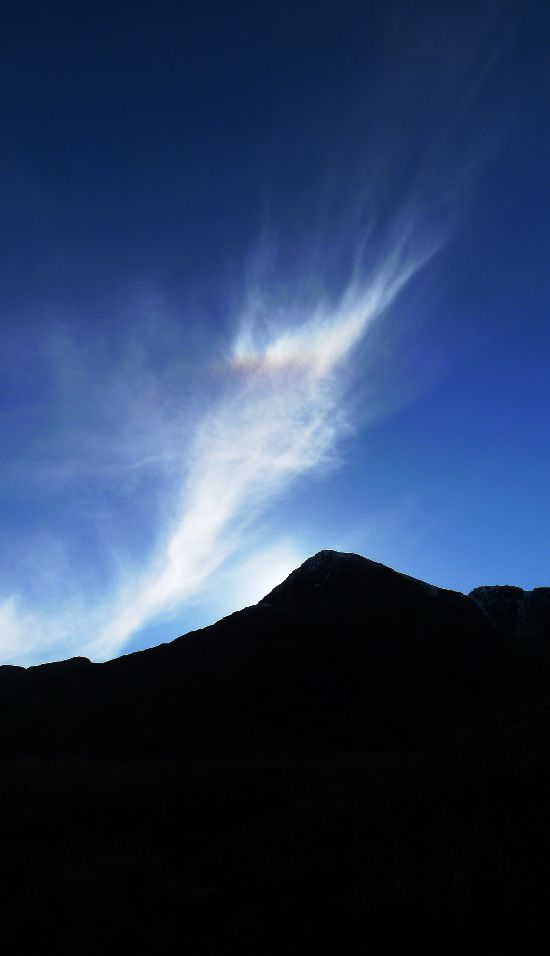 Spirits were higher than we expected, the sun was bright and it bounced off the snow on the tops. We looked at options on the two maps we'd brought, but as we caught sight of a snowy Ben Vane through the trees before the tight right-hander down to Inveruglas, it looked like we'd found a plan.
Joy of joys the wee visitor centre was open and I emerged with hot cuppas and sammidges for my rucksack. It was bloody cold and gear was pulled, wrapped and zipped as quickly as possible.
The Loch Sloy power station was running, machinery whined and roared from the main building and the water boiled and surged on its way into the loch below the road. The loch itself was dark and cold, Ben Lomond a fine tapered peak splashed with white, cloud pouring from it's top like it was auditioning for a part in a straight-to-DVD mountain movie starring Dylan McDermott.
The track is familiar, most recently I was here when I slept under a rock on Ben Vorlich, basking in the whole three bars worth of warmth from that happy memory we slinked along until we were in the wide bowl formed by the circle of peaks, Vorlich, A'Chrois, Ime, and Vane itself: dead ahead.
Haven't been on this stretch without sitting in a saddle in a wee while, feet are awfy slow you know. But still, we manoeuvred ourselves off the track and onto the hill. It's still steep, erosion isn't making ascents easier anything like fast enough.
A strange mix of very cold and pleasantly warm had hats on and off as we climbed, and the frequent stops to "look at the view" were spent as much looking at the views as they were wheezing outr lungs back to full capacity. It was just stunning, clear, but with thick ribbons of cloud rolling from the east over the tops, bright but with a warmth to the light from a sun growing tired of the year. The  ochre of the grass held fast against the white charge of the snow and as they day passed the flow of the battle changed direction a few times. I think I know who the winner will be though. I'll keep you posted.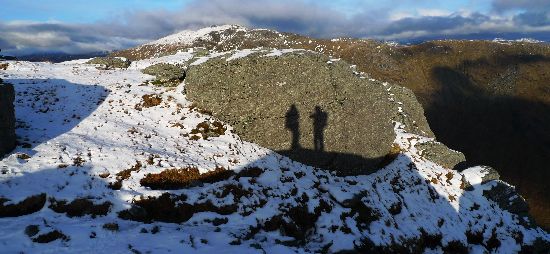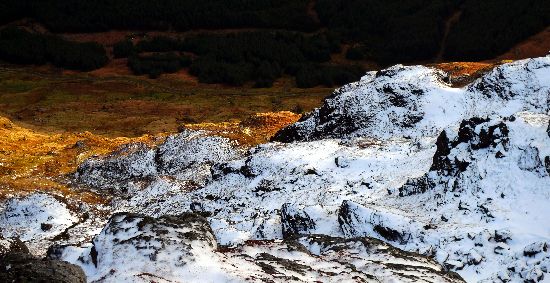 We stopped for a cuppa and some grub in a little hollow, the snow cover growing more constant. There were people away up there, and people down behind us. The hill didn't feel busy though, and everyone had time to talk. One thing I was amazed at was the lack of winter kit, Phil and I had axes as well as Microspikes/Hillsounds and I needed mine long before I got to the top. There were a lot of tentative and nervous people up there above the snowline, the snow in many places, including steep ones was rock hard. Hmm.
Lots of lovely outcrops all over Ben Vane, and the snow was thick between them. It's a rocky, steep wee bugger. Stop and climb it instead of driving up the A82.
The sun was slipping down and as we gained the summit it was in deep discussion with a bouffant of cloud on top on Beinn Ime. We pulled up a rock, stepping inside some insulation and waited to see what happened. A bloke came onto the summit, hung about for a bit and went away again, the cloud continued to style itself in ever more dramatic fashion and we sat until darkness was moments away and I couldn't feel my fingers anymore.
We wandered the crags of the top hands-in-pockets, pockets of our warm jackets too, we didn't take our insulation off until we were well down the hill, it was that cold, no hurry though, this was glorious. Flat spots for tents tugged at us, speaking of hot foot and sleeping bags coziness, it would have been perfect right there. But, we wandered slowly down the ridge to the lochan, the sky playing every warm note in the spectrum before finishing on one big blue note that faded slowly to black as we descended to the dark waters of Loch Sloy below.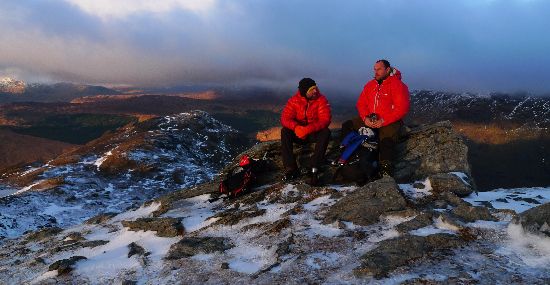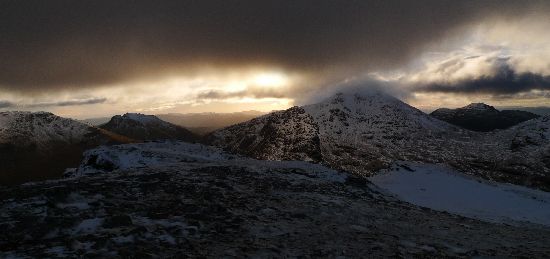 We picked through the caves and crags of this wild hillside, there was no rush to fall through the snow into a deep cleft in the rock (it's a good place to do that) and the dam got closer as the moon got brighter. Tarmac is no friend of mine, unless I'm driving, then it is a close personal friend of mine, but for the purposes of this demonstration where I'll be showing the class very warm footwear, tarmac is no friend of mine. Especially a big long bit of it like this.
Still, a walk in the moonlight without torches is rather pleasant and we walked quietly away from the black shapes above us and towards the orange glow in the sky to the south. Usually depressing, this orange just meant one thing: hot food made by people in uniform.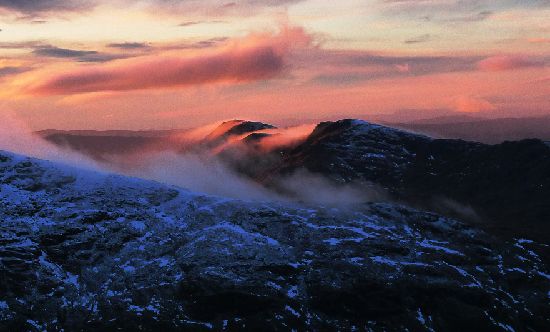 We sat in the Balloch McDonalds, guilt-free and warm. A spin through the camera brought a smile or two and I was home moments after we left.
This was a close call, neither of us could really be arsed going out, but it was brilliant. Thank Jimmy we went. No agenda either, a day on the hill and that's it. Magic.