The weather is unrelentingly grim but I don't care as I'm all about indoors right now. Spent all day recording in Red Eye Studios in Clydebank with Craig and his drumsticks, we spent some of yesterday in there too rehearsing which was pointless as it turns out as I improvised every bloody thing when the tape was rolling today anyway, Tape, ha I wish, when the "button had been pressed" shall we say.
Got the track home and the first mix sounds good, I'll live with it for a couple of days and probably remix i tbefore inflicting on the world as a couple of things are sticking out a little, mostly my shouting and hitting things. Three and a half minutes long it is, bloody hell, what's that, a third of the length of the last track we did?
Such good fun, making stuff is where it's at.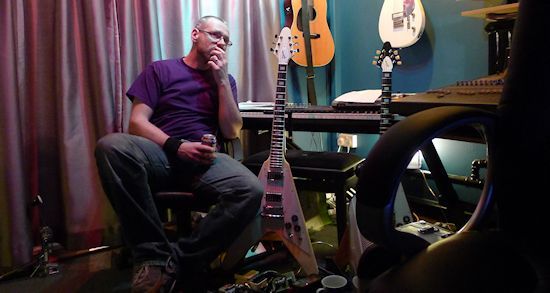 What next in holiday land I wonder, not a lot if this weather doesn't get its shit together. Still that crescent moon up there is nice, if you can stop your eyes watering in the gale force wind long enough to see it.
Time for another selection box.