Lots of cafes look out onto pedestrian precincts with torn faced people striding by or over to traffic slowly grinding by, our local cafe has floor length windows with this view. The fact you can see Holly's jacket floating like a giant ghost across the loch  is the giveaway that we're behind glass, so there's no point in lying, here's another shot taken from a few paces back.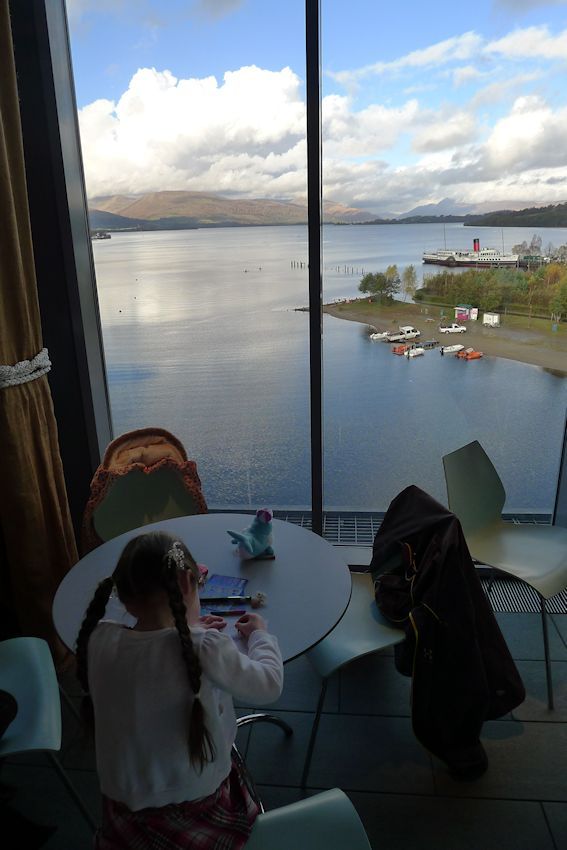 Now, while I'm looking out here I noticed something a little odd, Ford's new Aqua Transit? No no, this guy's reversed a boat trailer into the water and its nearly dragged the truck into the bay.
As you can see there's some arm waving and shouting going on, this was followed by the small white pickup leaving and not returning. The arm waver spend a good while on the phone and after maybe an hour (we were there a while) a big blue 4×4 apperad and dragged the whole thing out. The trailer was at least the same size as the Transit, it could have dragged it right under, lucky boy.
By the time our friends arrrived it was all under control and we could leave to visit the sharks and turtle downstairs (It's the cafe at Loch Lomond SeaLife) without missing anything. I like lunchtime cabaret.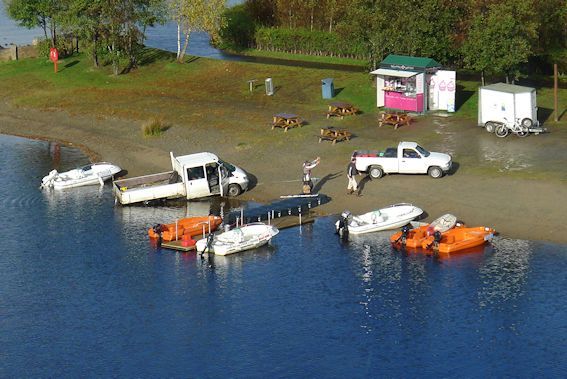 Christmas is all over the shelves, including this most definite Fail tree decoration below.
More cheerful is the wee fella below, a tribute to the main character from Dalton Trumbo's Johnny Got His Gun. Which, when pointed out, got an "Ooooooooo….." and a grimace from Joycee.
I bought it of course.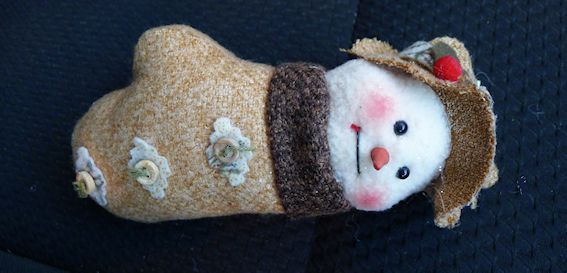 I don't think you've got time to work out if you're right or left handed if you don't already know when the building's ablaze and you're wanting to get out. Mind you, Jimmy says that as a leftie his school days in the 40's was hell as you got a ruler across your knuckles if you tried to write with your left hand. He reckons the left handed emergency exit is actually locked to make a trap for fleeing lefties, I tried to tell him that times have changed, southpaws are fully integrated, but he still has his suspicions.
Holly didn't care for such things, she was blowing kisses to a very inanimate pike. The pike remained unmoved by the encounter.
Here's something unusual, Dumgoyne looks down at the final stretch of the West Highland Way, final for me anyway as I go north to south. It's unusual in that it's daylight, I've only ever been on that bit of track in the dark. Happy memories.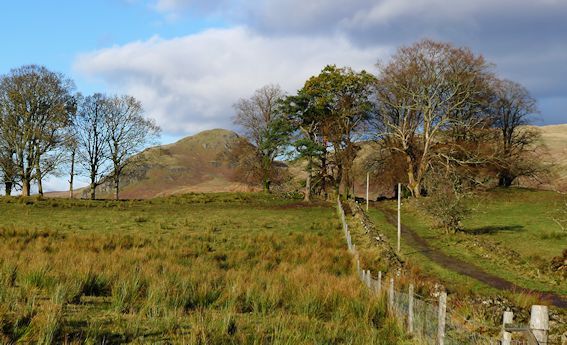 Alfonso is somewhere in the Highlands and I hope he's doing well. I wanted to give him a conditions update but ran out of time before he flew in. I've been out and about and I think he's in for a treat.
Good grief, I need to work on my comms skills.