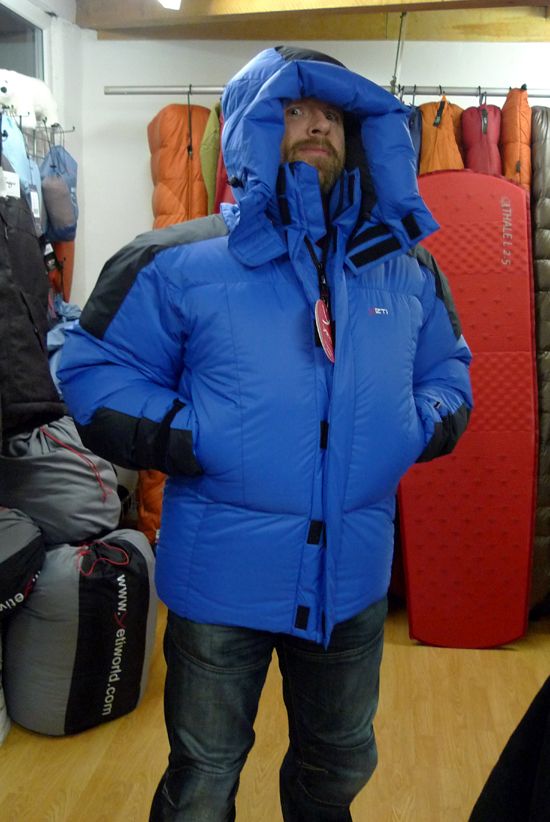 That blue monster above is the Yeti Professional Jacket, the biggest and most badass of the Yeti range which is now available in the UK.
It's not all arctic extremes though, there's some properly lightweight gear in there too. I had a look through the range last month when I was down south and was loathed to leave some of it behind as I drove from the showroom straight home.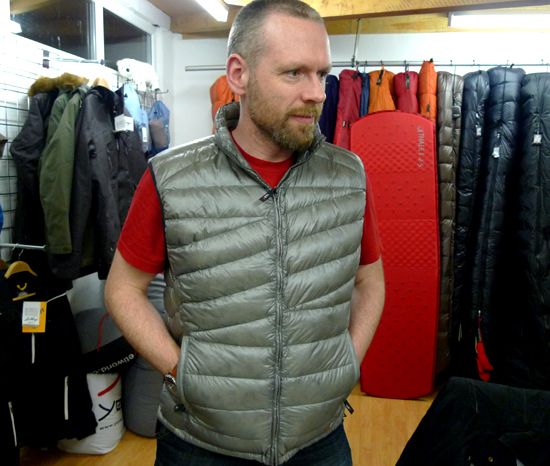 Above is the Solace vest, and below the Purity jacket, 180g and 240g respectively. Both 800+ Eu fill and with Toray's world beating down-proof face fabric. Both pack into your trouser pocket, and having learned that if down is handled well (Yeti is hand-made in Germany) pack size is not related to warmth, it's the quality of the components and construction that supply that. So, I'd be expecting good things from these.
I love the look as well, that slanty front baffling is gallus.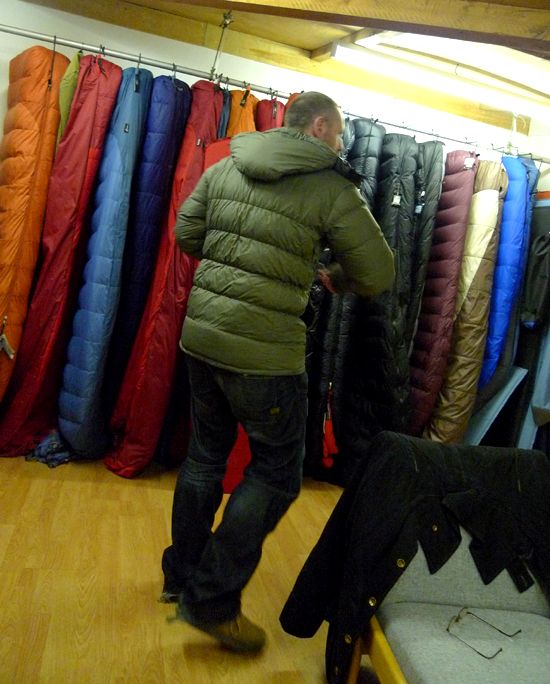 This green hoody is the Barricade Jacket, which is hiding a lot of grunt under that olive green bonnet.
It's got unusual sloping-box chambers to try and keep a fat wedge of down sitting to attention at all times to maximise heat capacity,there's stretch seams in back areas (which you can see above), and there's synthetic fill mixed into shoulder area for better wear protection. The shell is Pertex Microlight with a beefy DWR, the fill is 700+ 90/10 European down and it looks to be a general hard-wearing piece as opposed to just hill-wear.
They way our winters are going maybe we'll all end up with stuff like this in our winter wardrobes instead of denim jackets.
The hoodless bag below is the V.I.B. 150, a 415g minimalist affair with 800+ fill and unusually for this spec of bag, a full-length zip.
The mat in the photies is Yeti too, a Daybreak I think (?!), which are available here too.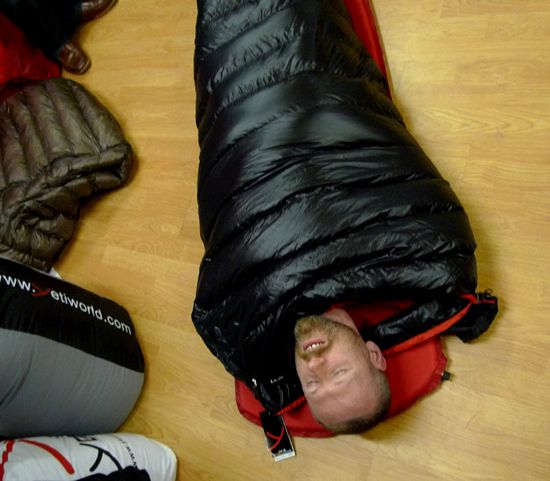 Two extremes here. Above is the Passion One, the worlds lightest down bag they say at 265g and 320g for the medium and large sizes. For that you get 100g of 900+ down fill, a full-length zip and and a few square yards of Toray's amazingly fine LightyGram RipStop Nylon inside and out. It's stitch-through, but balance that with the 900 down, and from experience this will be warmer than it looks and boost a bigger bag well into the minus degrees world if used as a liner.
Below is the V.I.B. 1200 which was about two feet high before I even got in it. It's well out of my sphere of operations, but I always marvel at this stuff and the frankly insane temperatures it's designed to operate at, -43°C extreme rating for this bugger for example.
The footbox is multi-layered, there's 1250g of 800-fill down in it, and like all the Yeti kit you can't help but marvel at the quality of it. Don't need it, just want it.
Another view of the V.I.B. above. It's like the Rolling Stones big lips logo isn't it? Although there's more chance of this sleeping bag having written more than one good song in the last 30 years…
Below is the Powerizer 750 , it has water resistant sides and back, a water resistant zip and 700+ down fill. I like this idea better than a fully waterproof down bag. I have visions of the down never fully drying out, and whether that's accurate or not, I'm not alone in having that notion, so this should appeal to some fence sitters on the matter. Plenty of bags get extra water protection on the head and foot, this is just a sensible extension of that.
There's a whole bunch of other stuff, non-down technical clothing, various mats and variations of the bags above. Accessories too like the Professional Down Shoes below, and the quality looks to be top end, no doubt.
I'll have plenty more to say when I get some road miles on some test kit.