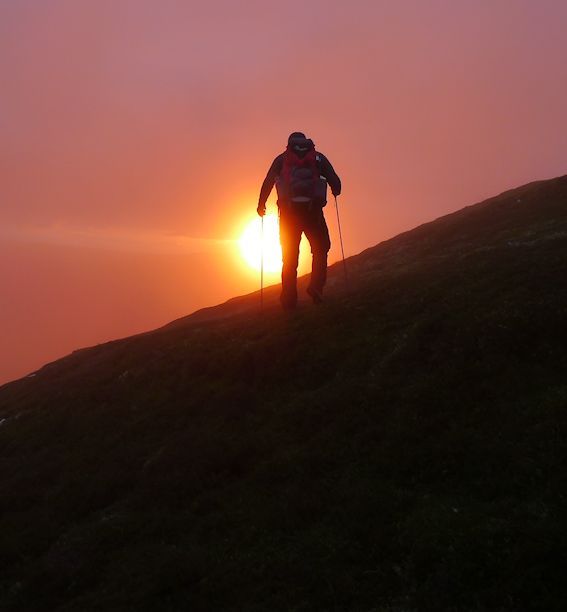 Whatever I post after my little break is going to be out of sync with reality and memory, so what the hell, let's start with the most recent and maybe I'll get it right.
The most important thing is that it was late when we left.
There was no way we were making Escape Route in Pitlochry before it shut and we were in need of both a cuppa and a bladder style bottle for some extra water carrying capacity. We pulled in Baxter's Soupworld at Blackford and picked up a Platy bottle in the eternally deserted Tiso outpost and then failed to get a cuppa as Baxters hurriedly locked their doors as soon as they saw us walking towards them.
We ended up at the next Tiso up the road in Perth as the cafe is familiar in style and open until late with ample parking in its ghost town of a retail park. Cuppas, cakes, spare cakes in bag for later and all was well. The weather was looking neither one thing nor the other, no doom, no excitement, it was all wait and see. It was Joycee's first proper wild camp for a long while and it was all up the air, literally, as we were aiming high for a pitch for the night.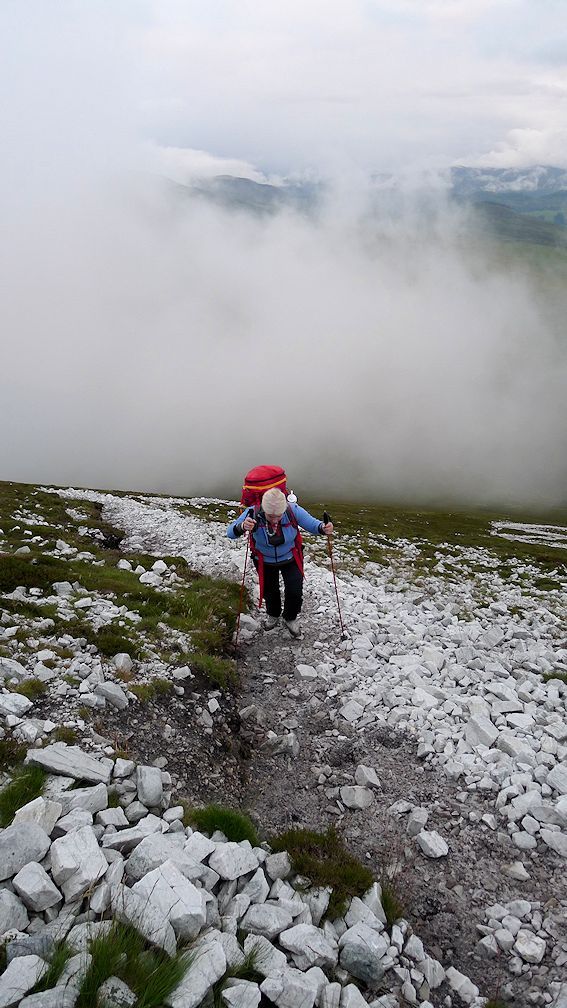 Blair Atholl hides itself away, it's a nice wee place and the bypass must do it some harm as it's got lots to offer a visitor but you can flash past it without noticing it on the A9 just over the River Garry. 
We trundled through the narrow backroads and into the pleasant rolling landscape of the Forest of Atholl. It's proper countryside this, picturesque, airy but not dramatic, at least not on the road. Slopes rise to the east, glens cut into the horizon, you can tell there's more there if you want to look for it.
At the car park we spoke to a Norwegian hiker who was being picked up by his mum after his day in the hills, he liked the look of our gear but his mum had a streak pie in the oven back at the diggs so he had to go. We chatted to a local as we kitted up by Loch Moraig. The fella used to run the farm and now runs the museum in Blair Atholl in his "retirement", it was nice to pass the time, and as well  as covering local and national politics and funding options, I got to make sure our route wasn't going to upset anyone working with the deer.
All was well as we trod off and through the gate marked Shinagag. And, good grief, look at the time.
There were coos on the track, big fluttering eyelashes and bodies that could crush you flat should the notion take them. We skipped by them.
The terrain is undulating, you can see for miles, only straight ahead was the view blocked, and by our next task, Carn Liath. The cloud was broken and multilayered, some skimmed the ground, some grabbed the tops and some drizzled lazily as it passed slowly. We caught the edge of a shower, but only a few drops came our way and jackets stayed packed
Toes got damp as we crossed the bog to find the track. It's a Lake District style track this one, the big white scar you can see from the A9 which happily doesn't seem so bad when you're on it.
We made good progress, even as it got steeper and bit looser. Joycee was finding all sorts of new physical stuff going on as she hauled a loaded overnight pack up the slope, but she was moving well and the weather and views kept grabbing us and distracting us from the climb and the hunger. It was late and dinner was still in bags in our packs.
The sun spilled through some gaps in the clouds, watery yellow streaks which never reached us. Look at that gap in the cloud cover by the horizon though, I wonder?
We climbed on, it was a little duller now, cooler too, thin streaks cloud snaked around us and it seemed like the day was draining away when it all suddenly went on fire.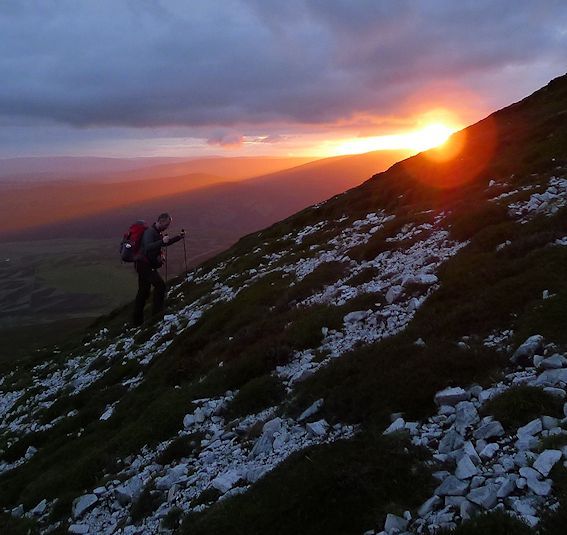 The sun blazed through the gap just above the horizon, deep orange burst through and bathed us in light. The light was caught first by the thin cloud and broken into rings of orange and purple which was reflected in a brocken spectre of the same two colours behind us. The cloud around us broke apart and reformed, changing the scene every few seconds as the light shifted intensity and hue as it played with the cloud.
I've never seen anything quite like it, higher up or lower down it wouldn't have all lined up to put on the show, if we'd have been earlier or later we'd have missed it. Karma, luck, the mountain showing off because Joycee was there, whatever, it was a Win.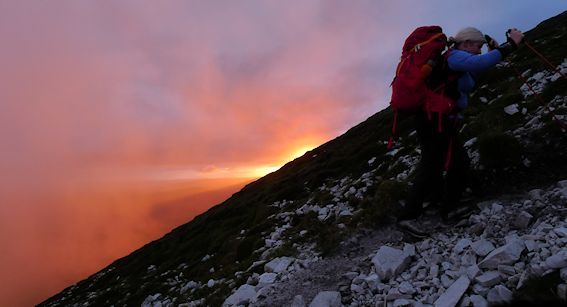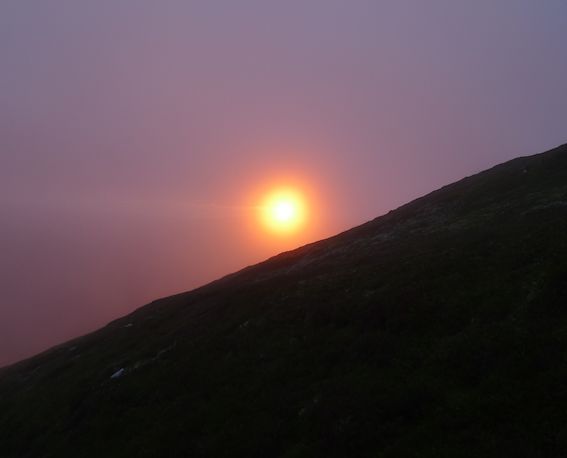 It soon faded and we were in clear air with only the occasional wandering cloud to briefly amplify the dying rays. We had an extra spring in our step now, the top was near and the rocky summit may have been dark and grey but we grinned our way across it to the trig point.
Cloud snaked through the glens and over the passes of Beinn a'Ghlo, dark shapes rose from it into get more layers of cloud while the last of the sun burned pink in the west. It was flat enough just by the summit cairn, our packs were off, honey we're home.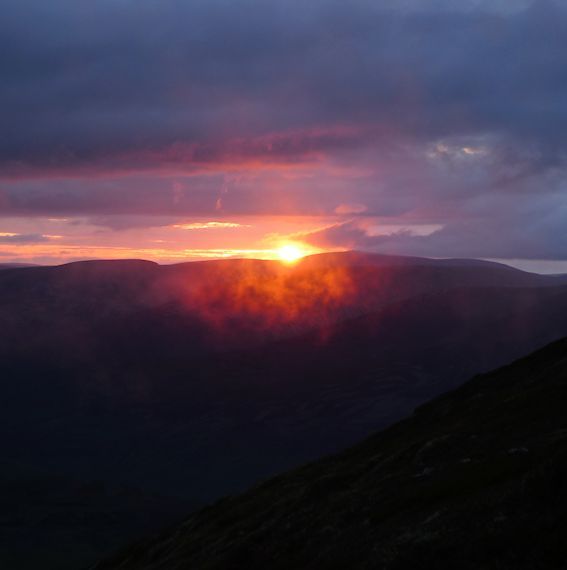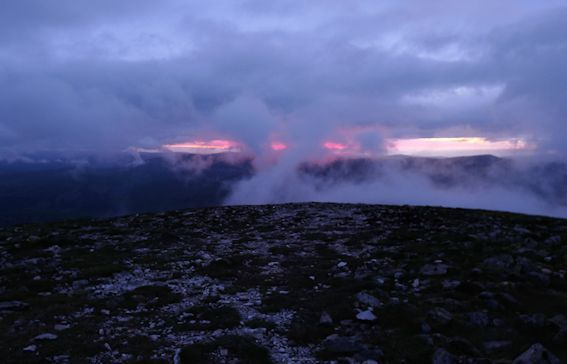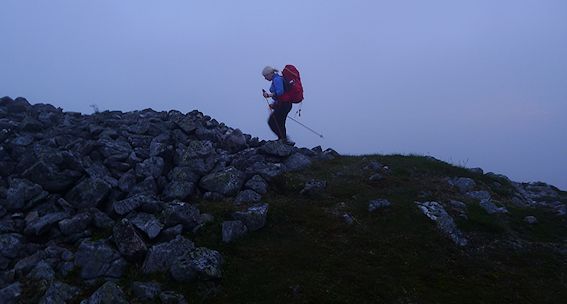 It was rocky, but the tent went up fine, I just destroyed some pegs in the process. Joycee admined the mats and bags while I was hammering in pegs with a rock and camp was done in record time.
The huge broken cairn supplied some flat cooking stones and we were wrapped up inside with the stove burning away ijn the porch. Boil in the bag was a good call, less water use, and despite carrying an extra two litres we used all we had before we found another good source next day. Besides, what price real sausages for dinner. even at twenty five minutes to midnight?
Cuppas, cake and some music. A home from home. We'd packed warm, Joycee would be fine under so much down and she was asleep long before me. I wandered a little, but the cloud made everything a little indistinct this night. A photie or two, a swig of Irn Bru and I slipped into my own excess of down as the lack of wind didn't rattle the tent one little bit. I'd forgottten that mountains could be so quiet.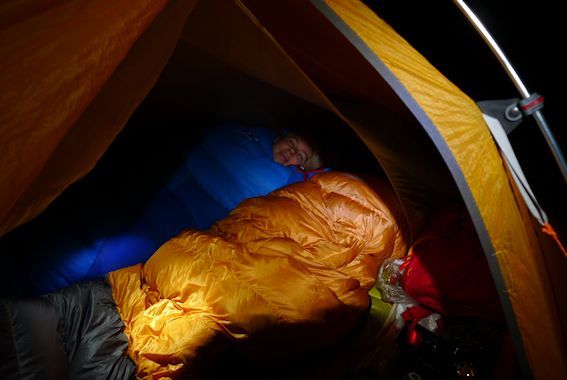 Bright, Joycee still sound asleep, where's my watch… fumble.. 0515. I unzipped the doors and saw light grey and some darker grey shapes in it. It could wait, I was warm and cozy and sleepy and then it was five past eight.
The doors were opened, the stove was on, the mugs were ready and sitting next to our porridge pots. Luxury. It was bright, the cloud was breaking and lifting and it was dry. Can't ask for a better start to the day.
We weren't long at camp. We were feeling fresh and the rest of Beinn a'Ghlo was getting clearer by the minute so after some binocularising, oh these are great fun at camp, and a last cuppa we packed and left.
I could see the hearse was still parked where we left it and I could see someone getting dropped off as well, we were going to have company at some point.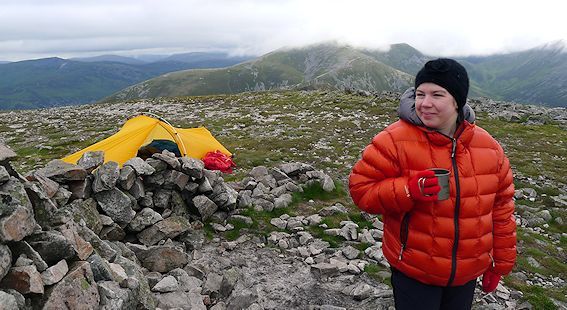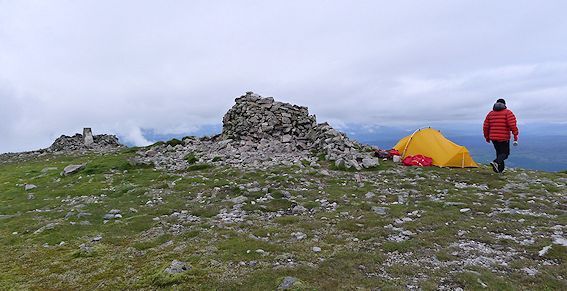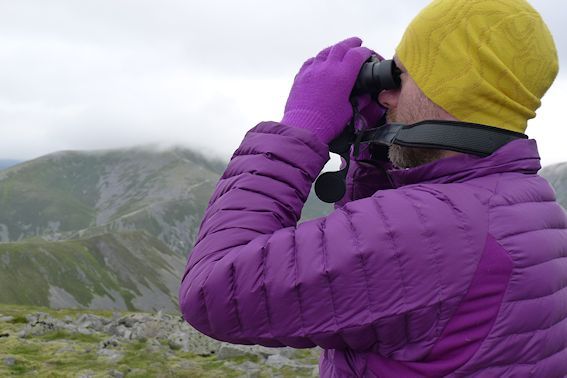 The ridge onwards is a delight, it swoops down and across to Bhraigh Coire Chruinn bhalgain which makes it look more like a monster where it's really just a nice wee climb up its ridge. There's good path all the way and with much lighter packs we were in good form. It was getting brighter still and we sat taking some air a little figure popped up onto Carn Liath's summit. See you soon.
The summit is a little unremarkable in itself, the good stuff is in the views, the Cairngorms edging out of the cloud with some streaks of snow still clinging on. We didn't hang around too long, still stuff to do and time was getting on, already bringing thoughts of lunch to the fore. The bealach below Carn na Gabhar seemed like a likely spot and so it was.
Patches of blue sky could be see to the left and right, not above us of course, you can't have it all. It was nearly half twelve, time for lunch. Stove on once again as we sat back in the spongey grass and moss of the bealach. It was nice to be under no pressure, time, daylight, supplies, energy, all the gauges looked good.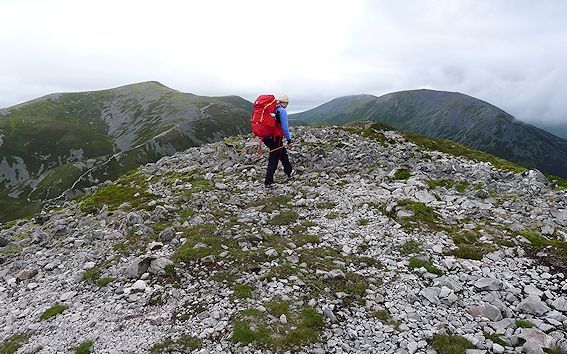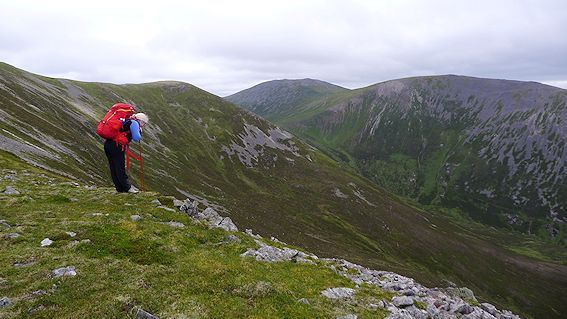 The previously distant figure appeared above us and soon caught up. Up from down south on holiday he'd been dropped off today to skip around Beinn a'Ghlo and was hoping to time it just right to get a lift back from the road end. Nice to meet someone else on a midweek hill day, a day as good as this one had become should always belong to more folk than yourself. 
"I think I've read your blog"
"Ah, er… Hi, I'm Petesy"
That caught me out a little, it happens now and again, but my first thought is always "Oh shit, what have I said…" I have offended many people it seems. But, no offence had been taken and all was well.  The internet can be a wonderful thing can't it?
Matthew, I hope you caught your lift in good time and didn't suffer too much on the trek out on that bloody peaty path.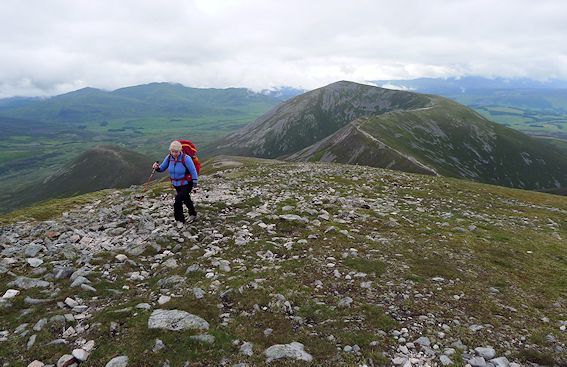 We watched Matthew climb out of the bealach and decided on a plan. Joycee was happy where she was and would footer around here for a while, maybe read a book, maybe do a sketch for our joint exhibition later in the year.
I was summit bound though, my chest pack converts into a sholder bag so I grabbed a few bits and pieces and told Joycee that if I wasn't back by half two to just leave, forget me and start a new life somewhere else with the girl. "Okay" she said and didn't even look up from rummaging in her rucksack.
With slightly dented confidence, I took to the slopes ahead.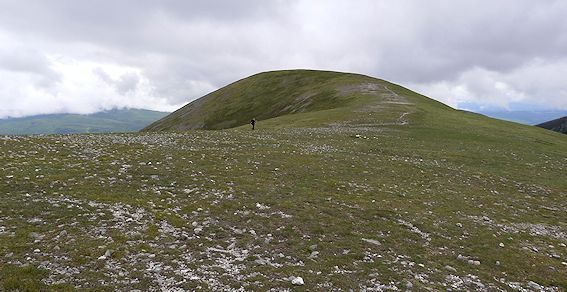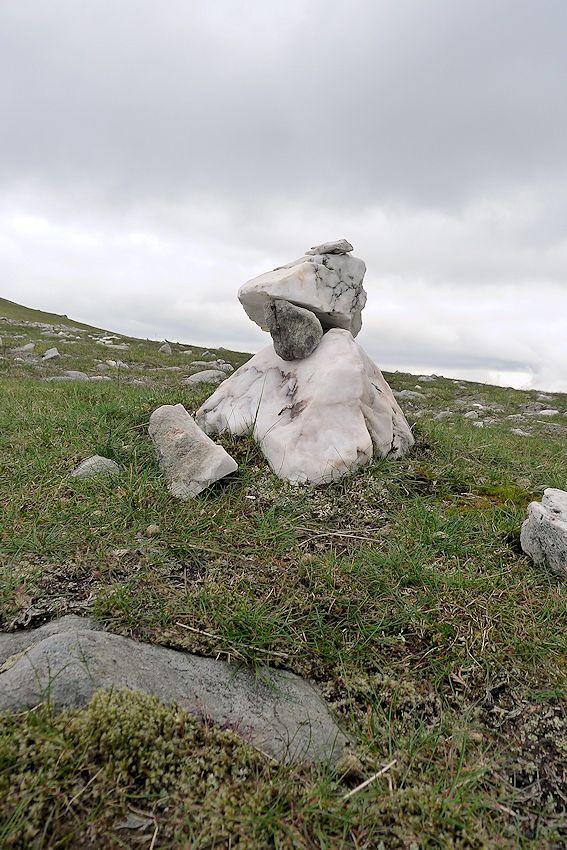 Matthew passed on his way down with a wave as I pushed on, now worried that I had to be back by half two. The first shattered crag prepares you for the wonderful summit ridge ahead, carpeted with broken rock and shining under the bright thin cloud cover above. It has to be the best part of the route, so different and it feels like an island, floating beyond the rest of the range. I clambered to the far end and gazed to the now very visible dark slopes of the Cairngorms. Glen Tilt cuts deeply below you and invites a long walk to Braemar, one of these days.
It was two o'clock I'd been away for forty five minutes, time to go.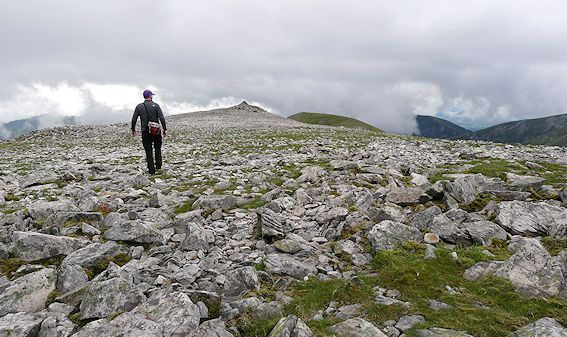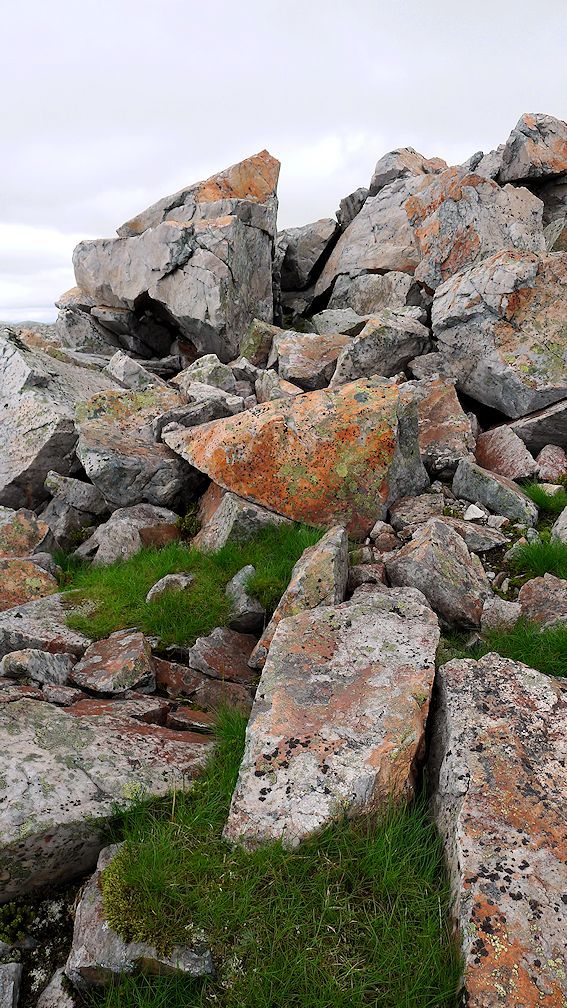 The spots of orange meant that joycee and my rucksack were still at the bealach, so I took a direct line down across the western slopes, Joycee did have spare keys for the hearse and you just never know.
On the way to Bhraigh Coire Chruinn bhalgain's summit I'd managed to scatter a family of ptarmigan which scooted off quickly out of harms way. I now id the same trick again at a rock patch on the way down. The babies ran for cover while mum did the broken wing trick to make me chase her instead. I always feel bad when this happens and feel obliged to play along so that the next time the ptarmigan family has a fox chasing it, mum will feel confident in playing the same trick.
Self sacrifice for the one's you love, one of the finest human traits demonstrated by a wee burd in the mountains while the "British" Prime Miniuter leaves his child unattented in pub. Yes, a ptarmigan would make a better Prime Minister than that retard Cameron.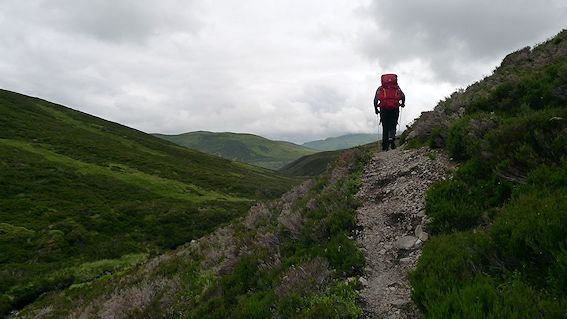 Back at the bealach all was well, I'd made it with ten minutes to spare. Joycee was in her down jacket and was doing a sketch of the view north. It was bright up there, full of colour, patches of blue sky. Lovely.
It was a long walk out ahead, and I think we were both a little tired now. A late night, heavy packs and the thought of the drive home. We made the best of it though, it was boggy in places, slippy in others with welcome stratches of pure white gravel through brown and purple heather.
The hills loomed over us a first but as we emerged into the light the rural landscape started to replace the mountain world again, always a melancholy feeling. The rain came on before we reached the estate track and for the first time waterproofs were pulled on. It was fine though, it wasn't too cold, it wasn't windy and we'd won the day. The tops were now buried in cloud behind us and the light had faded to a thick grey emulsion over everything.
Those miles were hard though, there was a lot of "I can nearly see the main track". Lies, all lies…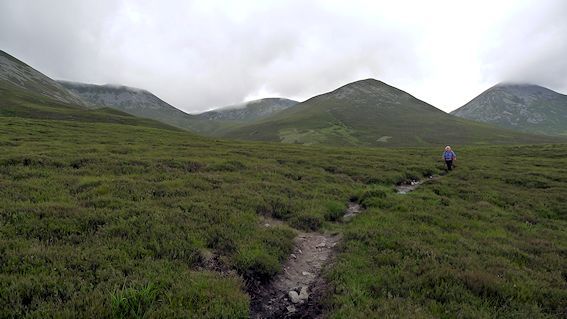 The rain stopped and we packed our shells away with a mile to go. It started spitting again and we ignored it, it got heavier and we shrugged it off. As we crossed through the gate near the hearse the rain was dripping from my nose, ears and fingertips with Joycee just the same. It wasn't cold, it was cool and refreshing and dry clothes were just a few feet away from us. A nice way to wind it up.
I opened the tailgate and pulled the soggy leaflet from under the windscreen wiper. I was expecting a stalking related pamphlet but it was from the auld fella John we'd spoke to the night before. He'd left some bumff about the Atholl Country Life Museum and complimentary ticket for me and Joycee to visit it. That was so kind of him and I was so frustrated that it was late and the day and we'd miss the museum and a chance to say thank you. Doing just that is a future must.
Dry cotton t-shirts were a delight as we drove back to Pitlochry. We sat in the hearse on the main street eating a chippy as Brian Burnett's radio show played Stones and Beatles originals and cover versions in turn, 50th anniversary of both bands it appears. I had a local made steak pie with my chips and Joycee had a haddie from the coast. The origin of the tub of curry sauce we suspect is further afield.
Joycee learned two things. Firstly that she's still got the balls to do this stuff, her first wild camp since Holly was born and it's on a 975m summit. Plenty of regular and experienced campers wouldn't do that. Secondly a little insight into what I feel on trips these days, I love my mountains but I love my girls more. Getting home to pick up Holly from Granny's was a reunion of super joy.