You can always rely on X Bionic to take the simplest item of kit and make into an android exoskeleton of technical wizardry, here's some new stuff.
The X Sock Accummulator below on John from Ardblair's leg is due next out spring. The look is familiar, but these socks are zoned to a greater extent than before and with that over-calf length you've got something that is bridging the gap between socks and leggings I think. Cool weather biking and running looks like the home for these, compression, sweat and temperature management, no low cuff for the crap to get and no hem to ride up? It would interesting to see how these performed, there would be no shortage of folk casting a glance at them as you passed either.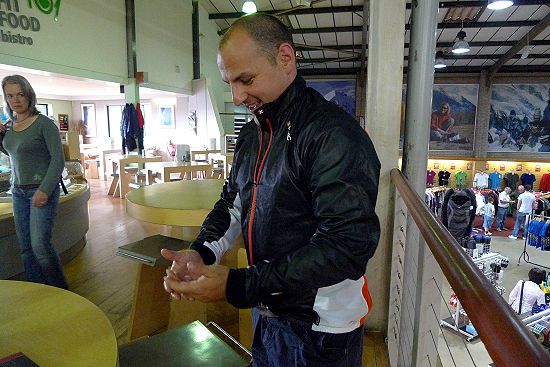 Phil's getting to grips with a Spherewind Jacket. It's a bike specific windshirt, but with plenty going on. The black fabric on the front, arms and shoulders is their badass Symbionic Membrane stuff, they've had riders strapped to roadbikes in a windtunnel at 110kph testing this apparently. Testing or torture?
Elsewhere the fabric is more geared to moistaure management and movement, it's nicely stretchy and has that trademark 3D-Bionicsphere triangle on the back, a thing that does keep you dry and feels thankfully annonymous I've found.
Also on the back above the bionic triangle of doom is their Climatespeed-Spoiler, a feature which looks like the vents on old running jackets, and indeed the recent Gore-Tex Active Shell test jackets. Apparently they've found that biking with this vent is all aerodynamicatronic and also increases venting, I dare say you'll have to be shifting for that stuff to come into play, but a Formula 1 car would stick to the ceiling doing only 60 mph, so I don't think X Bionic are at it here at all.
The fit looks neat, long arms with nicely shaped cuffs, the body is very short at the front and very long at the back, so perfect for roadies. There's a big zipped pocket in the middle at the back, reflective detailing and a bunch of different colourways for him and her.
The liked the trekking baselayers they brought out a while back, the long shorts were genius, now there's the Summerlite Trekking Top. The black version is at the top of the page with the back of it below. All the tech from the models for the, shall we say, more demanding sports is there but in a nicely understated package. I've got a rather sharp looking white version in for test so I'll do a proper look at that later.
There's the debate about the technology in the X Bionic kit and whether we need it, the fact that so many brands are now trying to copy the design and even the general look of X Bionic gear would suggest that there really is something in it and when you wear it it does work. Made in Europe too, imagine that.