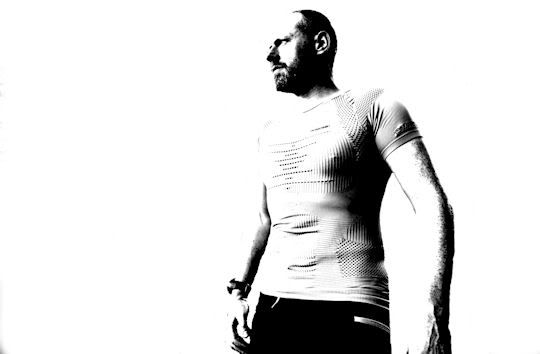 I've had the Trekking Shirt and Shorts on test for a good while now, and it's taken me that good while wearing them across a range of conditions to try and find something to talk about. Now, that might sound strange considering the amount of research that's gone into the kit, and the complexity of the finished product, but when it comes down to it, after the first couple of times where I was looking and feeling to see what was happening, I've just been pulling them on and getting on with it.
Is that damned by faint praise then? Not at all, it's not as if you normally look at the mixture of materials, monitor the different areas of compression and the like when you're cutting around the hills. Probably the most obvious performance aspect of baselayers is how it manages moisture and temperature. If that's not right you soon notice. Anonymous baselayers are what you want, fit and function married invisibly in a cocoon of comfort.
So, after a gap of a month I pulled on the t-shirt again for a refresher on a hike-a-bike around the Kilpatricks.
The first thing you notice is the softness of the fabric, it's lovely against the skin. The fit is still close, but the huge amount of stretch will accommodate any size or shape or person. I hesitate to say this, but for a synthetic it's bloody close to feeling as friendly on your person as merino.
The close fit will be a sticking point for many, but baselayers should be close, they work better that way from a moisture management perspective. I'm not exactly adorned by a mail-order catalogue aesthetic, but I'm on the inside looking out, and I'm comfy, so don't give a shit I say.
The close fit has other benefits, I was reading a study into clothing using compression, and they say that zoned compression works much better than a general compression, ie tight leggings or a skin-suit that you see mentalist Olympians wearing. The X-Bionic kit is super-zoned in that case, taking the concept much further than most. But can you feel it? Well aye, if you're watching for it. The shorts not so much, your man-tackle is supported and "encapsulated", and there's total free movement, but in the shirt you can feel an elusive something depending on what you're doing. It's support, but support that holds no resistance when you move against it, but even that is making too much of it, it's so subtle.
This was my difficulty in writing the kit up, talking about this stuff makes it look like you're wearing an exoskeleton and it's all hinges and pivots, but in actual fact you don't feel any of this unless you concentrate on it.
Moisture management is outstanding, I can get the shirt and shorts damp, but never overloaded. The fabric sucks up the sweat or vents it through the open weave zones on the chest and back. It seems to spread out whatever moisture is there so you don't get the unsightly patches of sweat that are the curse of most things made in such a light shade of grey. It's not a sweat-box either, it looks chunky, but it's not, it's light and the surface is contoured rather than thick, so you're in that "just nice" zone, even when working hard.
There's another merino comparison in that it's quite happy as an outer layer, a light shower when you're on the move is no trouble and a cool breeze seems to get absorbed by the fabric. Smell wise it's not too bad at all, I've been pleasantly surprised by the synthetics on test, times have indeed moved on and into a much fragrant area.
The shirt has what looks like loose-knitted patches on the hips and shoulders that catch a rucksack's contact points. These do seem to keep these areas dry, but as to their load absorbing qualities, I can't tell, my shoulders are too used to pack these days.
Summing up, I really like the shirt, it's close to merino in its feel, it's very comfy indeed and keeps me dry at all times. The shorts have the same fabric performance, but because the fabric is softer compared to the last shorts I had from X-Bionic, it means that the legs ride up a bit. It might just be a personal fit issue though, and they do longer-legged shorts which I like the look of.
I like the X-Bionic stuff, and as I've said before the technical looks and hype that comes along with it shouldn't intimidate you, because all of that becomes irrelevant when you pull it on and head out there, it just works.
Hey, I didn't mention their horrendous packaging once.