I met Rob from Ardbalir Sports Importers last week in the Tiso cafe in Glasgow to have a look at some of his kit, and first up was a rake of new gear from X-Bionic.
As you can see that hat is very stretchy if it can fit over my head, but it's still very soft. There's a few other pieces of headgear, Rob sporting a bandana-come skull-cap below. The different zones of fabric that X-Bionic are immediately recognisable for apply here as well, so I'd be expecting a comfy napper under pressure.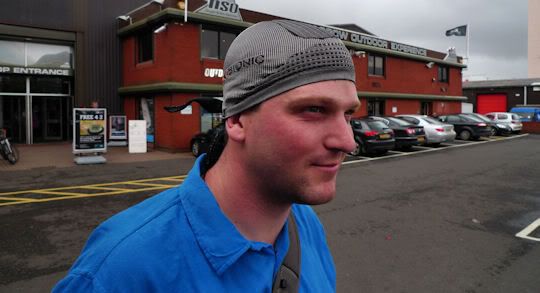 Below we have an Apani merino short-sleeve, It's constructed in the usual X-Bionic way, compression, cooling, the mix of fabrics and textures from the other base layers, but in a plain black which definitely softens the aesthetics. The merino itself is a soft and open weave, the plains sections remind me of Dale of Norway which was very soft and stretchy, and the open weave dried very quickly. It'll be interesting to see how it performs out in the field, cybermerino?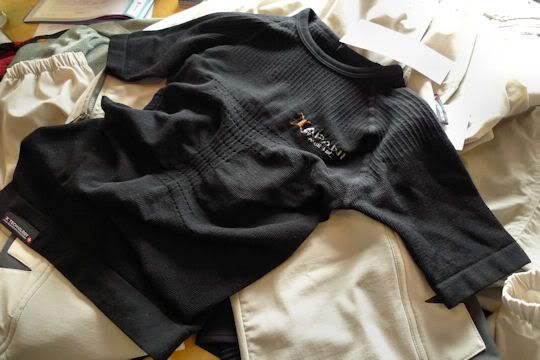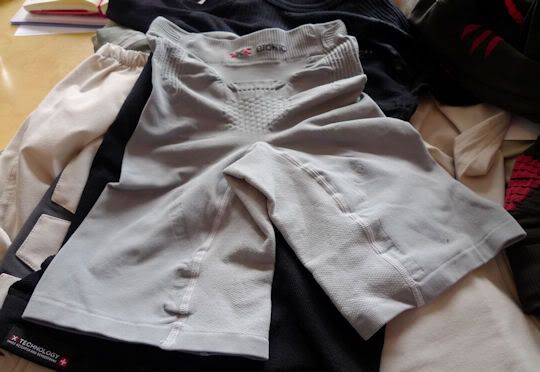 The much anticipated long shorts above are on their way, and as you can see they really haven't held back on the leg length. I like the look of these, the dimensions should work, and I know this fabric is good 'un.
The shirt and 3/4 leggings below look like a cracking winter combo, elbows and knees designed to maintain fabric performance even when stretched across the joint when it's in motion or locked at a tight angle.
The jacket above is a new softshell, and there's a lot of outerwear from X-Bionic now. I liked a softshell pull-on and they've got some interesting trekking pants in different weights as well.
Those little techno-sausages you can see inside the jacket are meant to keep the fabric in the correct position to maintain your own wee bubble of equilibrium. What that would be like with a pack on I've no idea, your very own air-back system that doesn't add 600g?
I've often criticized X-Bionic for their ludicrous packaging, and they have downsized it for next year, it's smaller and has less er, pages. But below, I have to say, is the best packaging I've ever seen for anything in my entire life. It might be a mock-up of sorts as it's pre-production, but I want one! Action Man!
I've got bits and pieces of test kit, including a sweatband (alright!), so I'll be back in a bit with more.