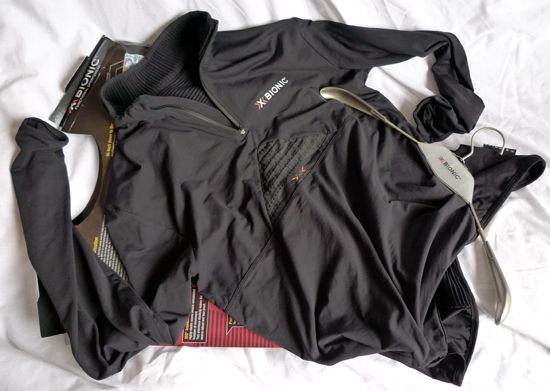 Just in for test is something a little different from X Bionic, the Humdinger.
It's a light midlayer, but the close fit means it's a good next-to-skin piece as well.
It's much smoother on the outside than we're used to seeing, but does have the familiar front and rear venting triangles which line up with the same features on the base layers, the idea being to keep the mechanics of the fabric intact through both layers. These zones are ribbed inside as well to promote ventilation, the inside of the collar has a similar effect, which does feel nice against the skin.
The collar is a good height, and the zip has a decent length for pulling on and off and getting some direct venting too.
It's very soft feeling, unrestrictive and if the performance is up to the usual standard, it'll be a great alternative to a microfleece on upcoming trips.
You'll see below it has much diminished packaging, just a bit of cardboard on the shoulders. Good job.
I'll have some more X Bionic coming up soon, a look at next year's kit and news from the factory including some answers to our questions.