Just in for test is this retro wonder. It's a blend of polyester and cotton, not something you see much of these days, certainly not in jackets. It has a fixed hood, six external pockets, two zipped, two lower patch with hand-warmers behind. The body is long, longer than most current shell jackets so it'll keep the weather off of my arse. The full length zip has a wide poppered storm flap, as do the cuffs, and the hem and large hood have cord adjustment.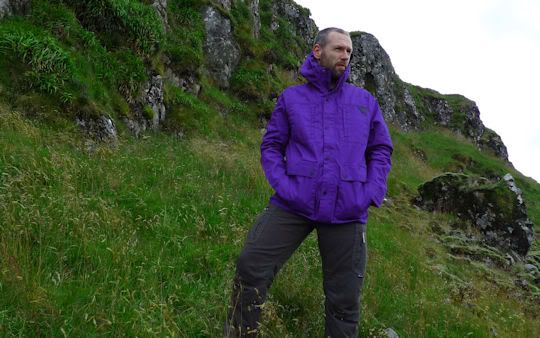 Bollocks, I'm not fooling anyone am I?
It's yet another H&M plunder of long forgotten hillwalking gear for their autumn collection. If it said "Design courtesy of Peter Storm" somewhere I wouldn't be surprised.
Still, it's purple, I mean, of course I was going to get it. And there's a skull on the wee black badge! Joy!
Anyway, back to the proper waterproof first look…