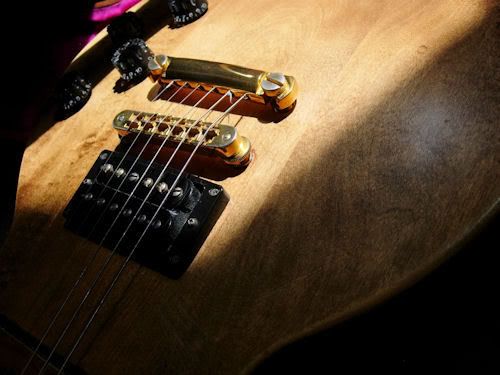 The place we're working just now has a huge victorian kitchen. You really expect servants to be scurrying around preparing the masters dinner and Gordon Jackson should telling us off for chatting to the maids and dipping a finger in the pot to taste the broth.
There's a huge centre table with a spalted beech top, two inches thick and maybe five by six feet, split in the middle and opened in a book-matched style. It's a lovely bit of wood and has been finished semi-matt, which has really brought out the grain and colours. However, I've been sitting near this thing  for weeks with a cuppa smelling "something". And it's Tung Oil.
Way back when I looked like that monochrome guy with the hair many pages below I used to have great fun invalidating the warranty on Gibson guitars by stripping the finish off an replacing it either with a matt oiled finish, or do what later became popular with many manufactureres and "age" the guitar.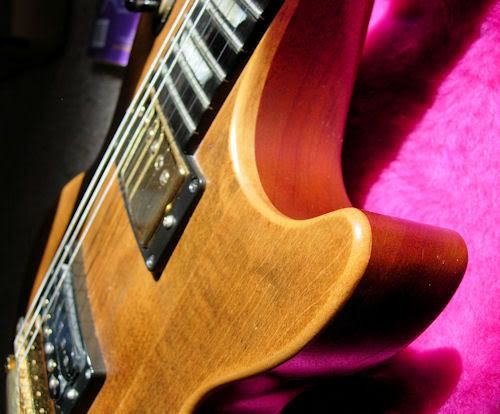 I used the Tung Oil for some of the finishes and the smell in the kitchen was like "Go straight to 1992, do not pass GO do not collect 200 Euros". It's true what they say, smell is the biggest memory trigger.
My main guitar was (is if ever get off my arse) a Les Paul which was once wine red and is now what you see in the pictures. I love the oiled finish, it feels smooth to the touch and brings out the grain on the plainest of woods. It lost it's smell many years ago but for months after is was finished it smelled like that kitchen table until sweat, smoky clubs (aye, them were the days…not) and beer rendered it harmless. The guitar itself is the thing I would throw to JYC out of the window of the burning house after the photo albums and before I jumped out myself. It has so much history attached to it. Friends long gone, songs long forgotten, stories never told and the scars of being dropped, thrown into drumkits/drummers.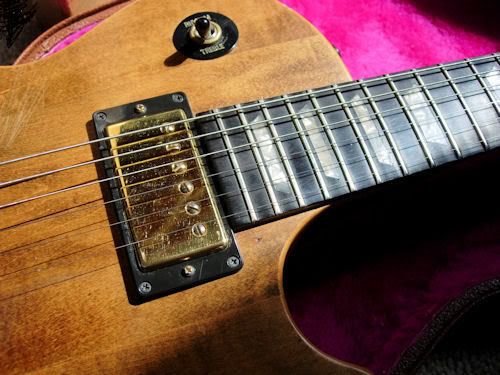 Also, it has almost no treble frequencies in it. If ever a guitar was designed for C# and 30bpm, this is it. Alright!