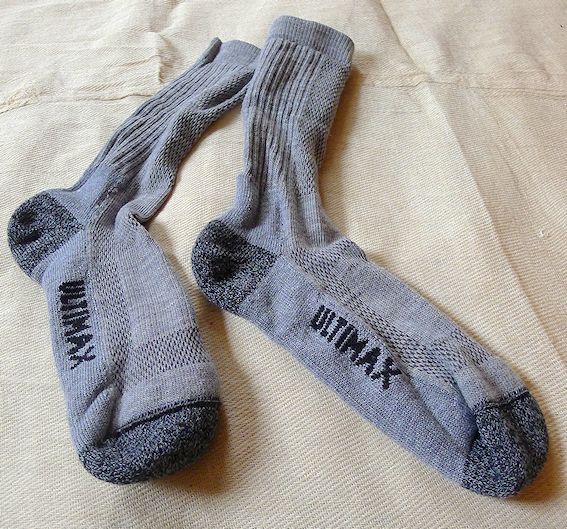 "Wigwam's patented ULTIMAX moisture control system combines with soft Merino wool for the world's greatest Merino sock"
That's what it say on the packaging of this new sock, they're not pissing about by making vague insinuations about performance are they?
Wigwam have sorted their range out which is something of a relief, the packaging all matches now and is colour coded which brings the brand together on a stand rather than it looking like TK Maxx at closing time on a Saturday. Green is for Trail/Outdoor Socks and the Trailblaze Pro's here are a new range-topping super sock.
Socks can save you or ruin your day, simple as that. A wrinkle inside a boot, fabric that holds onto moisture, socks that stretch when wet inside a trail shoe, all misery and the supplier of discomfort and blisters. I've used a lot of Wigwam's in a lot of footwear and a lot of different conditions and they've all been reliably anonymous fine performers, the worst case scenario for a review.
The Trailblaze Pro's share the family genes and bring together all the best bits from the socks I've been using the past few years, below, one of the socks is ootsides in to give a better view of the construction. The toe is described as seamless and the join really is devoid of sensation on your foot, I'm still getting test socks sent in that have seams here that feel like pipecleaners have been sewn across the toe, Wigwam have got it right, and it's a feature across the range too.
If I was pushed to give this sock some sort of tag it would probably be enduro because of the mix of styles, there's cushioning under the foot and around the heel for soothing the miles, where the top of the foot is light mesh to dry you quicker. This works really well in mesh shoes and if you add in the Ultimax moisture control which directionally pulls moisture from the foot to the ankle to dry it, it makes for a comfy time on the trail.
Also comfy is the merino content, it's a soft sock, performance doesn't have to be unfeeling you know. There's enough synthetic in there to hold it all together though, the truth is that a mixed discipline sock lasts longer than pure merino.
See this Ultimax thing? I've been given a pair of white socks to test the theory, you put the bottom of the sock in a bowl of water with food dye in it and the sock should suck the dye up towards the ankle. I have purple food dye, and I'll give it a go when the girls are out for long enough and come back with the results. As long as I can still wear the socks afterwards.
For now, whatever the hype and wacky technical explanations, the Trailblaze Pro's are a cracking pair of socks and they're a good weight for walking in trail shoes and lighter mids or boots. They keep their shape after washing and on your feet too, be they dry or wet with sweat or from bog hopping. Stink avoidance is good, the merino content plays its part ther and there's a Fresh Guard treatment too, which is represented by an amusing drawing of a nose on the packaging.
See, socks are more interesting than you'd think.