A wear a lot of Wigwamsocks, from trail runners through to their Weather Warrior big assed winter models. They do their own thing, the quality is high and I recently go some new models through to test, so lets have a shufty.
Above are the Diabetic Striders. Now looking past the name what we have is a virtually seam-free sock, a smoothly padded foot area and a high super-soft ankle cuff with a large amount of stretch.
What that makes is an incredibly comfy sock, and I've been wearing these on foot and bike constantly. Even when soaking wet and hiking with the bike on my shoulder, these have been a total joy. They dry fast and manage moisture well in normal use. I don't know what the longevity will be like, but we'll find out soon enough as they're in and out of the wash and on my feet pretty constantly.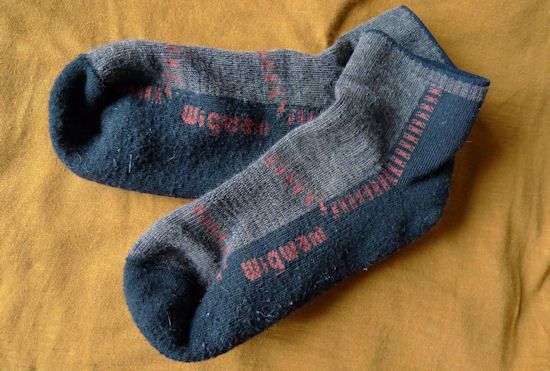 Above are the Trail Trax Pro, a wool/synthetic mix trail shoe sock. These are low cut and are quite well padded, and as you can see they've had a few wears already. I like the thickness, the comfort is good for walking in trail shoes, I know pure runners might look for a thinner sock, but for mixed stuff I like these.
The Trek Trax Pro below feel a little thinner over the top of your foot than the Trails above, the ankle cuff sits a little higher as well, so I've used these with trail and bike shoes. A similar mix of wool and synthetic applies as does the performance, but the higher ankle opens up the opportunities for use a little more for me.
The Cool-Lite Hiker Pro's below are one of my favourite socks. I've been wearing a pair of these since last winter and for wearing with trails shoes for anything they're brilliant. They're mostly Coolmax which is a great performer, butdoes suffer a little from stinkiness the next day. You see, we're all spoiled by that one aspect of merino.
The Hiker Pro has medium/light padding all over, as well as the usual seamless feel, but that grid section that runs along the top is uniformly thin. This keeps you dry and cool, but it relies on your shoes fitting well and you being used to putting in the miles in them. For the first time ever I can see why they put "Pro" on a bit of kit, it just means "If your feet are ready, let's rock".
Interestingly I lost my first pair and found them balled-up together, dried out and mouldy in the motor weeks after a trip. They washed up fine. Nice.
I haven't worn either of these yet. The IronMan Fast Lane Pro's above are designed for triathletes, are smooth with a good bit of padding, all in synthetic materials. I like their higher cuff for mixed use.
Below the wool runners are 62% merino, also with silver through the weave for added antimicrobial performance. They feel padded and warm, a proper winter running sock I think.
Socks never seem to get shown enough importance when they're absolutely vital to out happiness outdoors. I'll be talking more socks in the future.