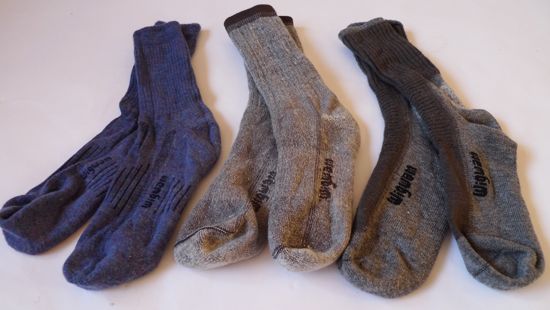 Socks are vital. I was told that folk are only interested in reviews of waterproof jackets and tents because they cost the most money, I hope not, that'll cause me much dismay, because rubbish socks will cause more misery on a trip that a little bit of condensation or a flysheet rattling in the wind.
So with that in mind, I'd like share a little joy this Monday morning (or possibly afternoon) courtesy of Wigwam.
Above we have my Silver Wool Walkers,  Merino Comfort Hikers and the synthetic Hiking/Outdoor Pro's, the unseen support crew on many pre-winter trips and low level shenanigans since the snows came. Toes that seem seamless, gentle stetch zones to keep the sock in place and not one sign of bagginess creeping in after numerous wears and washes, both wool and synthetic models. Also, they don't stink the tent out after a day or two, the mix of merino and silver is the belts and braces option to keep things fresh.
They do some wacky stuff too, the Ironman Endurance Pro down below brings some compression technology in for your calves and the Ultimate Liner Pro's are the business for under a fat winter sock.
That's all very well, but you need to see all this for yourself, so I have a box of Wigwam socks right here to give away. I have Merino Comfort Hikers, Silver Wool Walkers and Wool Runners (good for the bike too). I've got various sizes. UK3 – 5.5, UK5 – 8, UK8 – 12, so there's something for most folk.
Thanks for the huge response folks, I'll go through the entries and work out the sizes an' that as soon as I've written up my very late tent review and email the winners in a couple of days.
All I needed to know is: What year did Wigwam start? And the answer was: 1905.
Terms and conditioner.
1. No, you can't get an extra pair for the wife/boyfriend/your mate/to keep as spares.
2. Nobody gets to see your details but me, and I'm not selling you anything so you won't be bothered. In any case once it's all over and the socks have been posted I'll delete the whole thing and pretend it never happened.
3. No, you can't send them back for another size, I don't have another size, another winner has the other size.
4. I can't think of anything else, anyway, if you don't trust me by now you never will.