We talked in the carpark as our pals went home and we headed to the bus to go and find the accommodation. Iain could go no further. The boys had run almost two marathons off-road, and would have to run the same again to get home.
Iain's self-preservation instinct is very much like my own, family and then work before any of this nonsense. Everytime I had a sketchy bit of trail that was 50/50 to make it past safely, I'd think of home and dab or get off and push. So with legs on the verge of folding underneath him, Iain was out.
Craig was caught in a difficult situation, go on alone or get Iain home in the morning? I said that I would be quite happy to go home and see the girls too, I was tired, it was late and the whole thing was getting more pointless by the moment.
We never really resolved the issue by the time we'd stopped parking in folks driveways looking for name plates and finally dropped Iain and Craig off at Glengarry House and I was distracted by a call from nearby Strathfillan House where we were staying, asking when we were arriving, about 30 seconds was the answer.
The driveway was dark, the building was dismal with unlit windows, the hidden sign said "Welcome to Strathfillan House, you'll have had your tea".
John and Phil took some gear up the stairs inside while I faffed about as usual and joined them hearing only the end of the conversation "…this is Peter now"
"Yes, hello"
"Blah blah, late, blah blah, phone call, missed a night out blah blah…"
I'd missed most of that and could only offer "What?"
"I told you at 1730 that we would be 4 or 5 hours, and that's exactly what we've been"
"I missed out on a night out at seven thirty and I'm irritated by your lack of communication…"
I moved towards him and Phil and John, probably subconsciously, leaned into an intercept course.
"Maybe I'll sleep in the van…"
"No, no, stay, what about breakfa.."
I walked past him into the room before a line of some sort was crossed that I couldn't jump back over.
There was no milk in the team making facilities, no hand soap in the fancy dispenser in the lavvy and no chance I'll ever go back. Bastard place. I charged my bike lights for free though.
No mobile signal, no phone, no comms with the boys.
I'd had enough, I wanted to go home right now. My seemingly simple idea had gone completely on its tits and I just wanted to walk out of it. We all had showers and that soothed the mood a little.
Phil was adamant that he was going on, solo if needs be. He was getting up at 0630 regardless and going for it.
I would wait and see. Physically I was okay, just a Little achy maybe. I had a piss poor sleep where I had time to think about it. I know what it's like to fail at something that's attainable, and to succeed when it looked a little unlikely. Either was possible when i got out of bed.
Phil put his light on at 0630 (we were sharing) and I found that neither my eyes are hands worked. I lay there in the fuzzy light as he cleaned and oiled his bike outside the window in the drizzle.
When I got dressed, it was into my bike gear. I didn't even think about it.
We left the house of horrors to pick up the boys who had had a fine time in their B&B. They were still in their running gear as they'd left their bags in the bus, but while we sat at the Green Welly Cafe eating breakfast, Craig appeared in his jeans and it seemed that that was that.
Phil was getting twitchy, I was my usual nonchalantself which must be infuriating for folk who are wanting to get under way or feeling pressure, so he went and got his bike reaa while I got another latte.
Craig seemed to like the idea of leaving with me, I could easily stay in touch on the trail for safety, we weighed up options, I tried to offer possibilities without coercion.
Phil waved his hands from outside and I gave him the "Come here a minute" signal, to which he responded with the "Screw you guys, I'm off" response. And with that he was on the bike and away.
I finished my cuppa and wondered about what to do next.
Craig wasn't coming. I took the bike out of the bus and gave it the once over. I only needed a bit of oil on the chain. I went back to the cafe, now clumping in my bike shoes, and filled my water bottles. It was time to go.
Phil must have been as much as 30 minutes ahead, I'd never catch him on the trail unless he'd been knocked unconscious or otherwise rendered immobile. I'd have to try the road down to Crianlarich and take it from there.
I shot onto the road and built up as much speed as i could on my fat tyres. An immediately pulled over again as the rain was so heavy I had to put on all my waterproofs.
While I was doing that an old fella asked me if he was going the right way, "To Glasgow? Yes" He was actually wanting the West Highland Way, so he turned around and went back the way he came. I wonder how far he'd walked?
The road was horrific, car drivers are mostly arseholes, the rain pounded down and ran over my face. I watched evey inch of visble Way to try and spot Phil, but by the time I reached the point where it crosses the road it was obvious he was well ahead. I'd have to push on and try and catch him in Glen Falloch.
I trundled down the A82 in the pissing wet, shutting my eyes at truck passed and trying to be both as visible and unobtrusive as possible in the grey light. I hated it.
I could see alot of the Way, but not Phil. He must be really moving. The bus passed me near the bottom and then I cut off into Beinn Glas farm to rejoin the Way. I waited, sent a Tweet, had a snack and thought about what was next. I slung the bike on my shoulder and headed into the trees as the rain fell through the vents in my helmet, gathered in the pad over my forehead and them ran down my face everytime I looked up and compressed the pad. Each time the little flood got warmer as I toiled with the ground underfoot and the weight of the bike. I felt very much on my own.
The top half of Loch Lomond is horrific for a bike. It's unrideable most of the time, or rideable in such short stages that's it's more annoying to clip in than just keep pushing or carrying the bike.
It's also dangerous in places, it's wild and unmaintained which is part of its beauty, but the obstacles you have to tackle are frankly ludicrous, it's like they've been designed to make you cry. I fell several times, trying to balance the bike, trying to stay upright on metal cleats instead of rubber soles. My shins are a mess. I will never do this again. Probably.
One smile I found was when I was greeted by "PeeTeeCee I presume?". It was scotpat who comments here out for a walk down the loch. It was a magic wee moment.
I asked him if he's seen Phil, but like the handful of walkers I'd passed, Phil was unseen. He must be so far ahead by now. I couldn't go any faster, it was just so difficult. But, maybe I was in front? Surely not.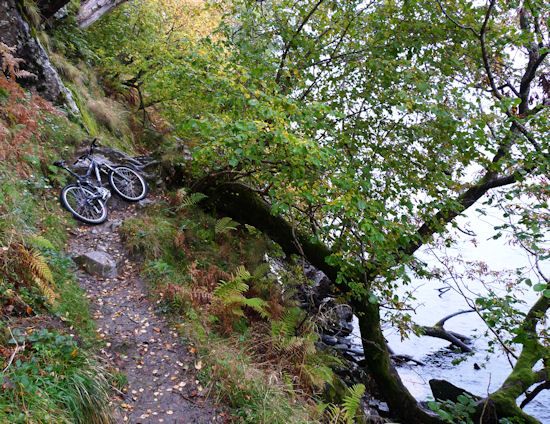 I passed my campsite by the loch from last time, and I had wee flutter of emotion. I'll walk this one day without any pressure and really enjoy it.
I met a bunch of friendly folks at Rob Roy's Cave and stopped to chat. Another of my downfalls, I like folks and hearing what they've been up to. As I scrambled up the rocks to the next section of the track they started shouting "Your mate's behind you". I thought Yeah.. Yeah… and carried on.
It turns out he actually was there, we met up shortly after and actually rodeinto the Inversnaid Hotel carpark together. I'd passed him somewhere at the bottom of Glen Falloch, he'd met the bus as well. So taking the road was the right idea, I'd never have caught him otherwise. Grumpy sod.
Inversnaid has a reputation of being rubbish, but when I walked in I was ushered through to the bar where I had sammidges and coffee, two coffees in fact. It was fine in there, and full of elderly Americans who'd come over the loch in a boat from Tarbet. Bless 'em all.
I downed a can of Irn Bru outside before we set off again into weather was drying up under a sky that was getting brighter all the time.
Now, I joke about Irn Bru a lot, but whatever its nutritional merits, Irn Bru kept me on the bike from here to, well, the bottom of this page.
There was still some obstacles, but the trail was ever more rideable and now back as a team we kept each other moving and I felt happier, but at the same time something of a sense of urgency had returned.
We had a break where I finally got my waterproofs off and had another wee snack. After that the ground flashed past under us. So much time pushing out of the saddle dulls your handling (it also makes you cautious to the point where i was think that a fallen leaf in the middle of the track looked rather aggressive and I'd I'd better dismount to safely avoid it) , so when you're really moving again, it's easy to get it wrong. I had a couple of moments, but stayed upright. It was the bike that saved it every time, it was never me.
We reached the bus parked at Rowardennan for a quick Irn Bru stop and then it was onwards. It had taken us five hours to clear the loch, five bloody hours of which it felt like ten minutes were spent in the saddle.
We all had jobs the next day, lives and beds to get back to. We would take the road to Balmaha and then see what happened.
What happened was, that as we left I spotted Ange on the beach with her Nephew, more friendly faces to lighten the mood for a little while.
But the boys were gone and I had to leave and chase them. Tarmac and fat knobbly tyres again, my legs got pumped, my lungs expanded to maximum. I caught Phil and we made good time on the ups and downs to Balmaha where we had more Irn Bru, fixed our lights and had to make a choice. Conic Hill or the road?
Conic hill has the single sharp ascent, the road has several longer ones, but we could ride those. Milngavie at 2200 or 2100 was what it came down to.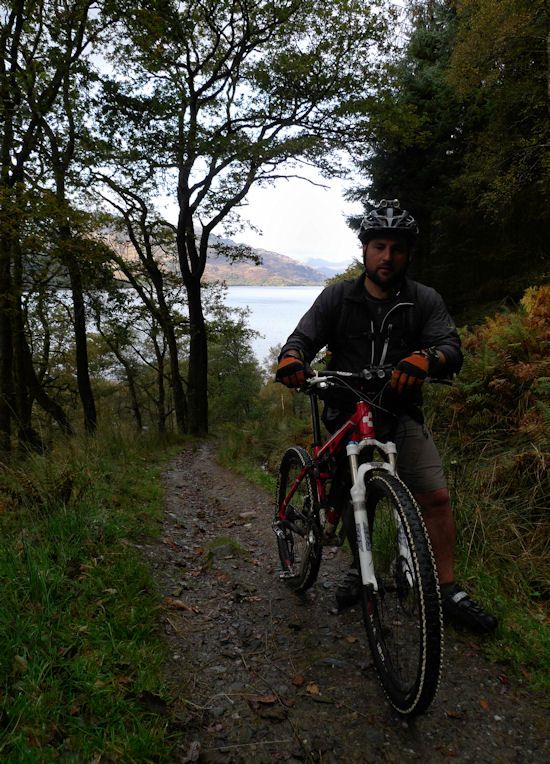 We rode as hard as we could on the tarmac to Drymen, yet another terrifying experience courtesy of clueless bastards in cars. I did have the one joyful moment of "making" a car and caravan overtake me as I matched the speed limit and he fishtailed his caravan around the corner in front of me no doubt to the sounds of a stern telling off from his wife in the passenger seat.
Out of Drymen you cross this ridiculous stretch where I got lost last time. Some posts randomly scattered around a field. Even in daylight it was task. But from here it was quiet tarmac and we made good time as the sun set. We knew we were close and rather than hold anything in reserve we just pedalled, and we flew from here to the Beech Tree Inn near Dumgoyne. The frequency of the gates is annoying, but it was fun again. We were bantering and just riding like it was any other day.
Some Irn Bru and jerky at the Beech Tree car park and we were away onto the last trial, the climb at Carbeth.
Darkness was upon us, but it wasn't that cold. We rode out of the Blane Valley which is full both of family and childhood memories for me, and into the hills for the last time. It's not the climb I remember, and we rode most of it. One wee steep loose bit especially I just couldn't face, and it's the last bit of wild trail as well. After you reach the new sloppily built and totally inappropriate looking gate it's all man made, and not for distance covering or agriculture, but for leisure. A subtle difference perhaps, but you can sense it.
Doesn't mean it's not fun though and we rode as hard as we could from here. Past the loch, through Mugdock Country park and across the Moors. The one mishap was when I thought I'd dropped a bottle, an event which turned out to be entirely imaginary.
We paused above Milngavie. We were home, near enough anyway.
Phil spun up to the pillar as I found the 3″ high kerb on the road below an insurmountable obstacle. Hey, I was tired and emotional.
John took a photie and it was all over.
I felt surprisingly good. No need to lie down or call a medic at all, I was just happy that from all the bollocks and disappointment we'd managed to pull out a fun bike ride.
Phil was a great team mate. Physically we weren't too far apart, so there wasn't frustrated toe-tapping waiting for one of us to catch up. In sometimes trying times we went home friends at the end. Bless you my boy.
For an ordinary bloke like me, doing things like this are a big deal.
I got a text from a friend at the finish congratulating us, and I know that he could have gone up and back in the time it had taken us to get south without him breaking into a sweat, but he knew exactly how we'd feel having done it.
We had so many folk wishing us well during and after, it's hard to know what to say. I really do appreciate every single thought, I love you all.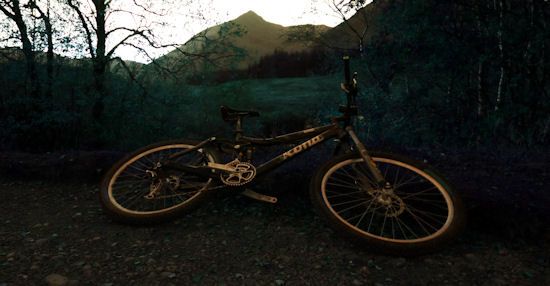 I know that everything I do is in the bracket of "mild adventuring", but why should only the sexiest, fastest, highest, farthest, be the ones that people get to see?
The 'net has given us the ability to see each other do things that to each of us are an achievement. Be it your walk by headtorch, your first high camp, your first Munro, walking the Cape Wrath Trail in winter or completing the TGOC.
Good on you, shout as loud as you can. Every attempt by one of us ordinary Joe's to go a little bit farther, successful or not, is a beacon of light shining across a dark sea of naysayers.