There were five in the bus when it left base, and there should have been seven. It was going to make a few differences to peripheral stuff, but not to the actual task of covering the miles from Fort William to Glasgow. Those miles were the same length as they were last time, I was a year older, no fitter and with a head full of mixed emotions.
We booked into the hotel. Luckily the bike bag disguised the bike just enough to fool the receptionist with the "Bicycles not allowed in hotel" sign behind them. We had an extra room now, so only Craig and Iain had to share. They've know each other since the were still on their own planet, so that was fine.
Dinner was relaxed, awright from an eating perspective, and the banter was good. We all turned in quite early and I watched some telly, a repeat of the IT Crowd and then that BBC2 arts show had that bloke that dresses like Little Bo Peep as a guest. He managed to be the most articulate and least pretentious one on it. Good lad.
I went to bed with my iPod for a bit and them spent the rest of the night trying to work out what the machinery humming away outside was. When my alarm went off at 0730 I still hadn't found out, so I thought I'd get up, get dressed and go outside into the cold and put the bike together.
Below are John (driver of the bus, blessed is he), Phil, Iain, Craig and then me.
Bike assembled, it went in the bus and we all headed to Morrisons for breakfast. Rolls on bacon and multiple coffees were just perfect.
The runners had left at 0700 in the freezing cold and fog. We couldn't figure out where they'd be, no point of reference. I know about walking it, but even on the bike I had no idea of what pace to expect or aim for. It really was all "wait and see".
My phone rang.
"Hi, the heating won't go off in the church"
"I'm in Ft Bill, phone the electrician, it'll be that frost stat again…"
Time to go.
We kitted up in the carpark next to the now repaired sign. "Congratulations, you've walked the West Highland Way. Welcome to Fort William, please make your way to the train station and go back to where you came from". Or something…
It was cold. I had my hands curled into fists to keep my fingers mobile and it's not often I ride in a powerstretch top. But as we climbed the side of Glen Nevis the sun was warm and bright. We stopped, layers were removed, smiles and sunglasses donned and pedals pushed onwards once more.
The climb is gradual, but long. The speed wasn't great, but it wasn't overly tiring either. I had to stop to move the camera tripod which was digging into my back, and then a little later I stopped again as much in surprise as at the sudden loss of forward motion due to the the gravelly surface. Where there had been a little winding trail through the trees there was a huge big tarmac switchback. It's bloody awful, ruins that bit of the Way and they should be ashamed of themselves.
The Way drops back into the forest on twisty and fast singletrack, with a few obstacles that I just had to dab to get past. We were both very aware of not taking any chances with coming off so soon, as well as not blowing our legs on any long climbs right away. That would prove to be a wise policy.
In a combination of gay whooping abandon and extreme caution we rode through the forest with grins a mile wide. Stopping for a drink with the Ben peeking through a gap in the trees (below).
There was some pushing, some carrying, but plenty riding it's a great wee section.
There's a change in atmosphere as you clear the forest, and of terrain too. The Ben still looms, but the track is solid hardpack, studded with angular rocks. It's fast, but you have to concentrate. It's just fantastic.
We'd been advised to ride narrow tyres, 2.1″ or less with a minimal tread for a low rolling resistance. I had 2.35″ Maxxis Igniters and Phil had 2.35″ Schwalbe Nobby Nics on. Fat mountain tyres have more grip, steering security and neither of us had a puncture all weekend. Aye, I'll take the hit on speed and extra pedaling effort.
The Way on a bike is stop-start, fences, stiles, cafes, all stop you dead. Also, none of these boundaries has any concession to a user being anything other than a tall, able bodied individual. If you've got any physical issues, never mind having a bike, the Way will get you at some point.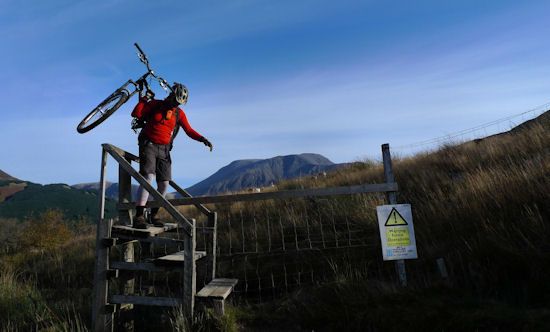 The Way shadows the Mamores all the way to Kinlochleven. It's a wonderful, quiet place, quite beautiful. The riding is uninterrupted and fast. The trail is rough, but built with one eye on the land, so it feels natural. The sun was shining, it was warm and where the hell were the runners?
We passed the little bus shelter with the interpretation board inside, I wonder who got the waterproof pants that were hanging in there? There's been a lot of tree felling, it felt a little different to last time. But also it felt smaller. Being on a bike magnifies and diminishes the Way in equal measure. On foot it's more constant, on wheels it's one extreme to the other.
We stopped for a proper rest with Stob ban ahead. We sat in the sun, had some food, a drink, talked to the folks walking north. Everyone seemed in good spirits with such a glorious day, but there's always a few stoney faced bastards out there. Our job is to give them motivation.
We met John at the end of the Glen. He'd parked at Mamore Lodge and biked in to meet us, and take a photie.
I was having the first little signs of tired legs, and was thinking of what was on the menu at the Ice Factor, not too far away at all.
But first there's the ascent. I'm sure there's been some heavy erosion here since last year, the track is rutted, bouldery and really difficult. I was all over the place, and Phil in front was faring no better. I was dabbing, I was off, I was bunny hopping and losing one wheel or the other. After a dead-stop feet-out of the pedals incident Phil got clear and I lost sight of him. I pushed like crazy to catch him again, sliding and eroding what confidence i have in my own minimal bike handling abilities. I was out onto the road and ther was no sign of him through the drops of sweat pouring out of the padded brow of my helmet.
The bus was at the Ice Factor, John was there, but no Phil. I immediately knew what had happened, there's a junction in the woods, which from the north looks like you should curve right when the correct track actually rises a bit too the left (there's a sign as well, but we'll gloss over that). Phil was away on a day trip to the countryside all on his own.
We saw him coming over the bridge soon enough and when he got there, it was time for lunch.
As I got started on my spicy tomato soup, it transpired that we'd caught up on the runners by 30 minutes. Was that good, bad? I had no idea, but I liked the idea of it. I finished my coffee and we checked over our gear and the bikes, everything was fine.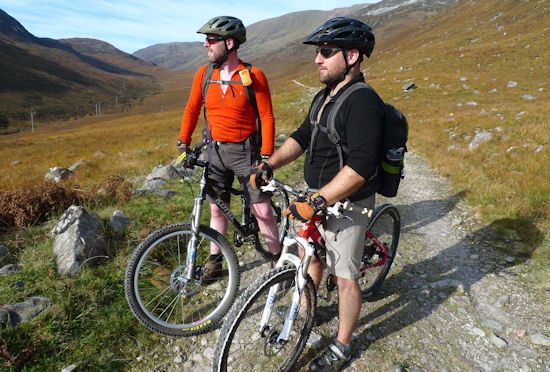 We'd talked about the next section several times in the run up to the weekend. I felt that I just wasn't a strong enough biker to attempt the climb out of Kinlochleven. It's long, unrelenting and a misery if you're not in good form and carrying no weight. I knew that I'd blow my legs and my weekend would probably end right there.
As we rolled towards the rickety wooden bridge at the bottom of the water pipes, we dismounted as one and pushed. And pushed. And pushed.
There were some brief moments in the saddle, but they were short glimpses of hope and no more. Loose gravel under cleated bike shoes under a hot sun. Yes please.
It was nothing short of blessed relief when we reached the cottage at the start of the Devils Staircase path, well, until we remembered that the next few km were not overly rideable either.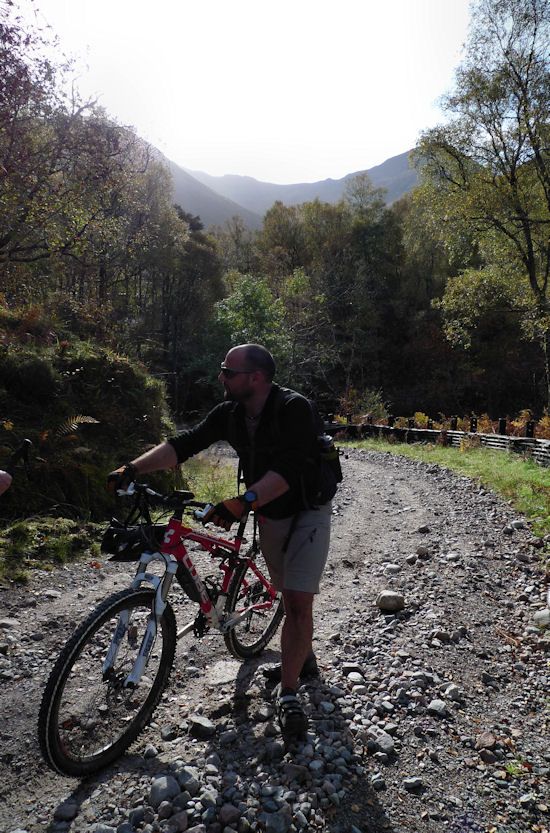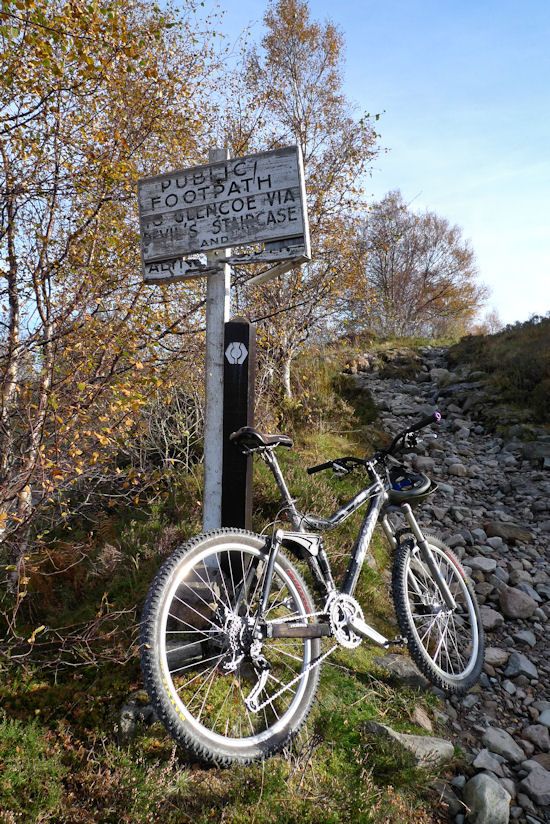 We pushed, carried and rode this impossibly long stretch until it turns south towards its high point (below).
It was glorious, the mountains, the sky, the rideable trail ahead, the two girls with hangovers.
It was good to be spinning again, even though some of the storm drains here caused me some difficulties (I like to have my wheels on the ground where I can steer them, the air is a little indistinct for me).
There's sharp pull up and the familiar triangle of the Buachaille pops up. It was a dark silhouette now, it was afternoon. Were we slowing down?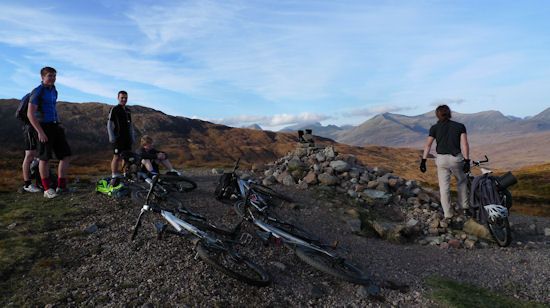 It was all bikes at the top of the Devils Staircase. We had a tourer from "Europe" and some young lads doing the same as us but in the other direction. It was getting cooler as well, so we had a quick bite of Babybel and headed down.
The Devils Staircase is as rubbish on a bike as you've heard. It's rideable, but it's also very loose with big storm drains and a high chance of going on your face or breaking something on the bike.
We slid, pedalled, skipped, dabbed and cursed our way to the bottom. 
The sudden shock of traffic noise was very unwelcome. Bastards with their noisy engines.
We were at the bus parked at Kingshouse in no time. We'd lost that 30 minutes we'd gained and the boys were long gone. We fixed lights on the bikes, had a wee snack and a drink and I fielded a call from the nights accommodation. It was 1730 and I answered his question with "We'll be there in four or five hours…"
I'd last been on Telford's road when I was pulling the Wheelie from Radical Design earlier in the year. It feels familiar, and I enjoyed it. But our pace was slow and I hopped off to walk for a bit, it felt good to stretch my legs.
The evening colours were glorious, the view back to Glen Coe worthy of it's reputation as "nice place to visit".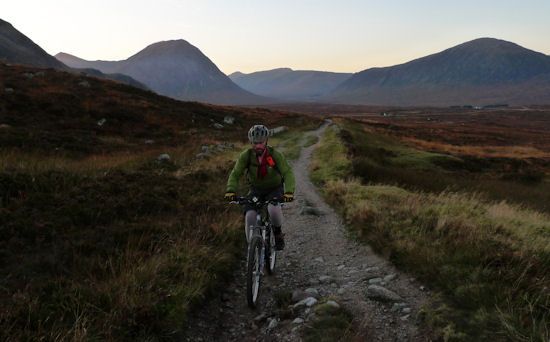 We reached the high spot on the shoulder of the hill and paused. Stags roared, as they did all the way home, the air was sharp and light was getting low. We rolled over the crest and down hill, faster and faster in the narrow strips worn by estate vehicles. My already cold-stiffened cheeks were pressured further by a grin of joy and relief as we effortlessly coasted down to Ba Bridge. It was a release, an unburdening, it was just great fun.
I paused at the bridge to take the blurry shot below and them had to spin like a maddie to catch Phil up. When I did we had a proper pitstop. Food, drink, pee, align bike lights.
From here it was a blur of starkly lit fringes of scenery and cobbles as we tore down to Inveroran. I had no glasses on now and my eyes were half shut and streaming tears straight back into my ears. I couldn't have stopped for anything, I didn't want to anyway. All the pushing and snail-paced granny-ring spinning was gone, the support band had packed up and gone to the hotel and I sat happy in my seat watching the show.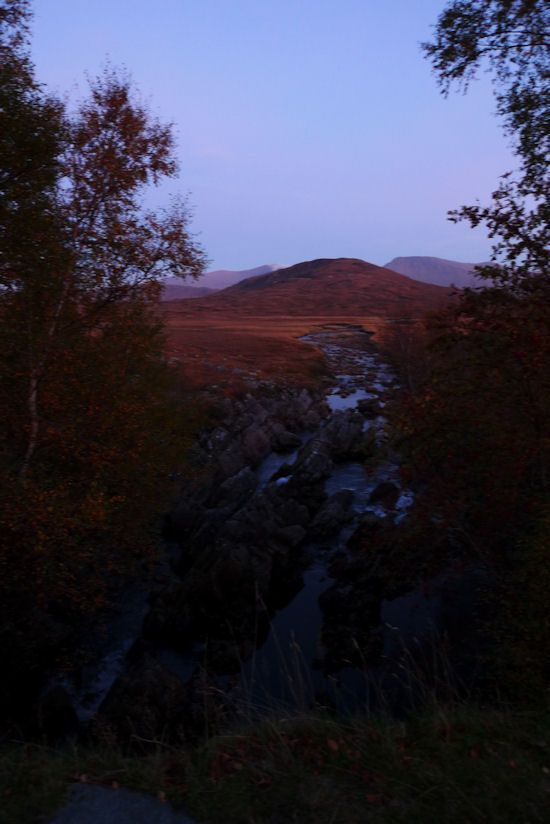 There's always a gate through, so rather than cruise out onto the road we had a dead stop and dismount.
We were on the move again soon enough and Phil immediately had his eye on some cans of Guiness left on a car roof by an absent minded camper. But of greater concern was the trail ahead. The trail had been closed to bikes at some point recently due to erosion (turns out not any more) so we elected to follow the road to Bridge of Orchy. Dicing with cars driven at speed while trying to spin your wheels through treacle isn't my idea of an ideal short cut, but by the time we met John and the bus at Bridge of Orchy the news was that the runners had just left, 20 minutes at most.
It was now freezing cold, so it was a quick stop and we pushed the bikes up to the train station where we jumped back on and pushed into the darkness, now watching for our lights picking up some reflective detailing bobbing away in front.
I think that made us push on, we didn't rest until we hit another gate at Auch, Beinn Dorain completely invisible above us. The long rise from Auch gave us what we were looking for, a jumble of little lights moving in the same direction.
"Two fat blokes on mountain bikes coming through!"
Two headtorches turned around to greet us. We hopped off an walked on with the boys.
The cobbles had been a bugger, the poles had been vital, when is dinner?
We pedalled away after a while, the novelty of pushing having long since worn off. We immediately hit that stupid diversion that goes uphill under the railway tracks before dropping to the old, and fast tarmac road.
You cross over the tracks again and it's a fast winding descent into the lights of Tyndrum. It chilled me to the bone as well, It really is winter out there now.
My teeth were chattering when I went through the door of the Real Food Cafe, and waiting for us there with John were Elaina, Steve and Sandy. It was so nice to see friendly faces, and the present of a six-pack or Irn Bru was both wonderful and as it turned out later, vital.
I was in and out of the door a couple of times sorting the bike, and when I finally sat down I felt faint. I wondered about what would be the best place to fall, what direction would lead to the least serious head injury?
I felt better as I ate and drank, chatted to my pals, and by the time the runners came through the door I felt pretty normal again.
I'm not really that fit probably, I'm certainly not getting any younger. Going into a room that was too hot maybe… ?
I really enjoyed our hour there. It was upbeat, the folks, the food, all good.
It was after we left that things started to take a turn. A turn for exactly what is hard to define in just one word.