An old favourite seemed like a good bet when the weather was going to be unpredictable. I also had to get gear testing properly underway so me and Linda took two new Vango packs for a walk round the Glen Loin loop from Arrochar.
There was some sun, but the wind kept blowing clouds across it. The rain was not quite constant, but not really showers, not heavy bit not light. The upshot being I got wet then I got hot because I couldn't be arsed continually messing with my clothes.
What I'm taking from this is that I'm going back to baselayer, 100 weight fleece and a shell. Sue me.
Everyone else we saw was going the other way, doing it anticlockwise. Done it both ways many times and I think I prefer our way, you get the mountains teased through the trees as you circle round A'Chrois.
Met some ladies who were very concerned about a dropped banana skin on the other side of the glen. They even gave me a bag to put it in should we find it on our way back to Arrochar. I had low optimism for this which given how the weather went, was well founded. I'll go back one day.
Maybe.
It's all about fleeting glimpses until you get to the weir where suddenly exposed the wind decided we were not going to have a relaxing lunch. No it said, your Jetboil is going to teeter and totter and you're going to have to pack up and run for it. Yes, thanks for that.
It is wonderfully dramatic though, being deep in amongst the hills here. Steep and craggy, now dark and wet with a fresh dusting of snow, the littlest of tops with the biggest of wows.
The rain properly set it as the light faded. There's a good few miles to put in from here and we were walking by torchlight by the time we left the Sloy Dam tarmac to head into the forest to get back to Arrochar.
And I'd missed the banana skin by this point.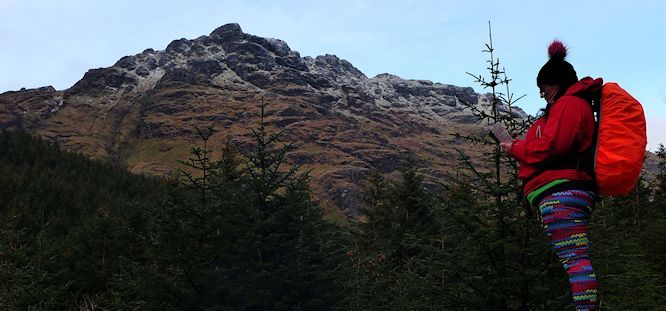 The mood got a wee bit serious at times, it's rough ground, especially in the dark and when you don't know it. I knew where we were and how long we would take but when all you have is a little pool of light which is full of wet rocks it's a little unnerving.
I've been doing this along time, but I've never forgotten those first times where I learned by my mistakes, and my wee victories. Hell, still learning by both methods.
Cold and tired we got there quicker than Linda expected, despite a few sideways and er, horizontal moments and all we wanted was hot food and dry socks.
It's a magic wee walk, I say wee but it's got plenty miles to stretch your legs.
Great views, interesting terrain and because of where you are you can be an honorary Macfarlane for the day. This magic affect will improve your appeal to the opposite, same or both sexes, increase the mpg in your vehicle, give you a remarkable ear for music and expand your appreciation of the full colour pallette.*
*Affect depth and duration will vary depending on exposure.