Still this photie.
We were going to meet in the middle, the middle of a sort anyway, Loch Tay is sort of the middle, a middle which is probably anything south of the Great Glen.
A quick run up to the ridge, a camp by that big lochan and a jog back down and back to reality before we were missed.
However I was missed before I even headed north and had to visit some broken museum heating. I was already packed, I was ready, prepaired and repaired (old Laser Comp had been sewn) and oh my god, it was still late when I left.
Gus was in the same boat, that is a rudderless boat full of gear and running late. I got to the NTS car park on the road over the pass to Glen Lyon first.
The cloud was broken but moving pretty fast and it was cold when I opened and then quickly shut the door. Nice bit of snow, nice to actually see it face to face after a weekend of seeing it all on facebook.
"I have arrived" read my message. After a wee gap, he was driving after all, a lovely picture of a unicorn and a rainbow came through from Gus.
I appreciated this effort and mulled over it's meaning before another attempt came through pretty quickly, "Grandtully!" this read. Not too far away then, back to worrying about the implications of the unicorn while I waited.
Soon enough there was banter and prepping in the car park, we were losing the light, but what the hell.
We wandered up the road, the sun already behind the ridges tumbling south from the Tarmachan Ridge. Showers roaming around but stayed away from us until we were higher and in the darkness.
Showers are just minging inconveniences at sea level, with a bit of height it's like watching a dancer swish across the landscape, the layered skirts of rain or snow flowing softly across the hillsides. When the dancer turns your way though the spell breaks and it's hoods up, get a move on. And we did.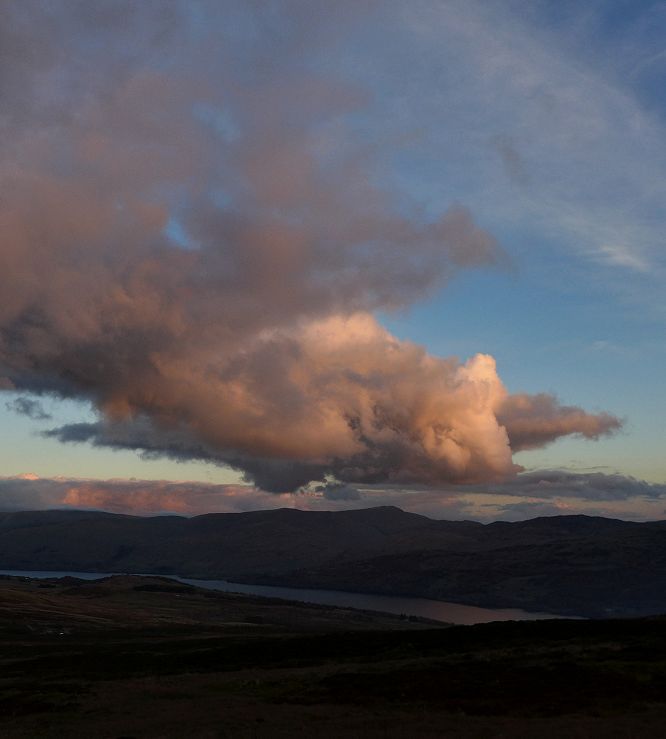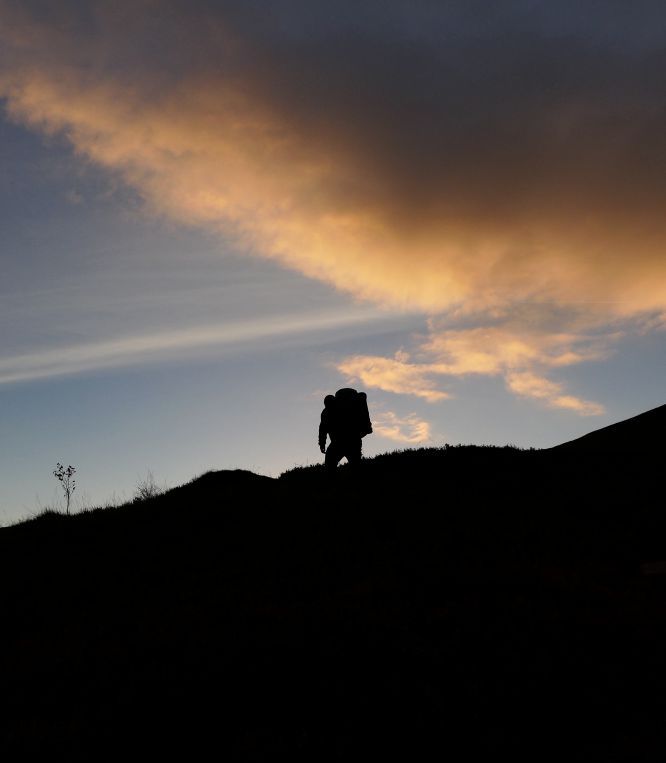 Met some familiar faces on the way up, the NTS Path Repair Team. I'd interviewed the team back in July for the current members magazine and having a catch up was perfect for a companion piece that I'll do on here.
Last time was on one of the hottest days of the year, now they're in snow and rain with mud up to their necks. Heroes.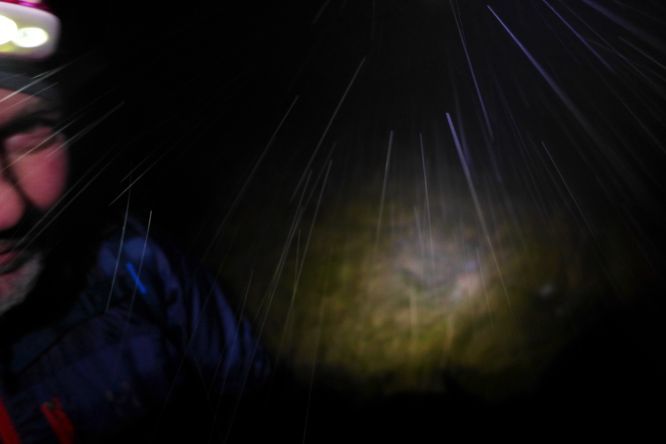 Meall nan Tarmachan gets pretty steep towards the top and we got wind driven snow, or it was more like micro hailstones I should say, to sting the cheeks and confuse the mind.
We'd rushed a bit and I was tired anyway, plus hungry and when we got to the ridge I confidently matched off towards the crags over the reservoir with Gus rightly saying "Er, no…".
Turning round took us in the right direction. Jagged edged white shapes flashing in and out of sight as we trudged on through the dark. It felt further than the map suggested, that's the hunger factor at work.
Been a wee while since I was in this situation, at 1000m at night in winter conditions looking for somewhere to sleep. It felt right, it felt good, it felt normal.
It helped that I was very comfy and warm. I was just right, even though I had a bunch of new kit on. I hadn't sweated myself into a state or blistered into a stumble.
The ground slipped away to the north, this looked like it, the big lochan was down there, not too far. We found it, it was the big flat part with snow on it. Hmm, looks frozen.
Clang
Hmm, that's very frozen.
"How much water you got?"
Er, a litre I think?
"Make it last…"
I could pitch this old  tent blindfolded and home was soon ready for residence with mat fattened and bags quietly lofting.
We made a cooking shelf on the bank behind us and the sound of gas burners cut through the unexpected silence as dinner bubbled ever closer.
Boiled in the bag chicken tikka, McK oatcakes and a wee Cabernet Sauvignon as the clouds cleared and stars twinkled above us ever so briefly.
This, I like this.
There was no night time ridge exploring, the lochan was circumnavigated to an extent, just enough to discover we'd found the best spot.
It got colder, the weather closed in and the only option was bed.
I was warm, in my old winter set up of PHD combi and liner, I was warm. I watched the frost grow up the inside of the tent as I kicked my socks off inside the bag.
In the early hours I actually woke up and had to pull down the liner bag as the temperature shot up, I lay there breathing in the cool air as the wind picked up and the tent started to shake. The spattering sound of frozen precipitation cut through the music in my earbuds. The temperature dropped again, I cooried in to my fat down layers as the red LED light showed the tent moving above me.
This old red flysheet had seen far worse than this, I didn't give it a thought. Torch back off, I shut my eyes and nudged the volume up a little.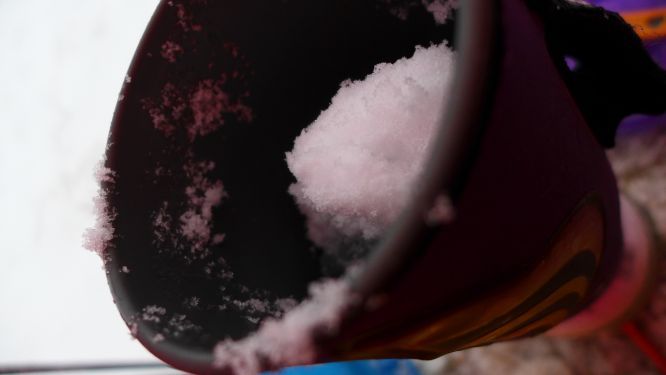 It was bright, not sunshine bright, diffused bright. It was half 7 or so, no way we were getting anything dramatic to look at over that ridge which was confirmed with a peer under the flysheet. A couple of inches of fresh snow had fallen and we were still in the clouds that had brought it.
Muffled coughing confirmed Gus was up too. Breakfast was now a priority, porridge and coffee. I had some water left and plenty fresh snow around to waste gas melting in the pot. The day was saved.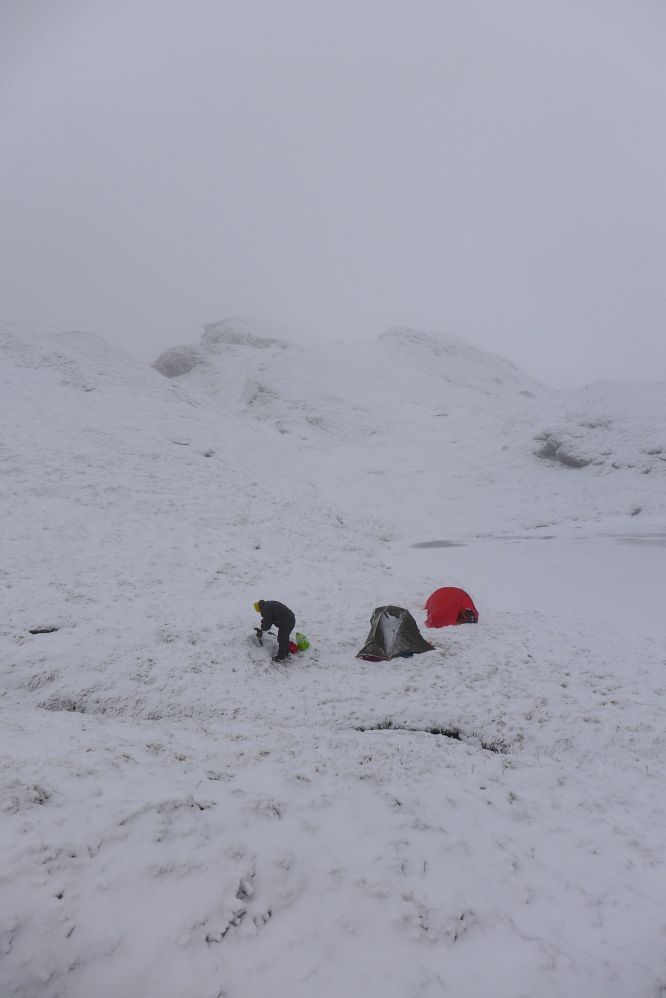 It was cold, but we were fine. A hot breakfast at camp is vital for me, it's psychological as well as physical, I feel ready, even if that fades during the first steps of ascent after breaking camp, at least I started fresh.
We stayed for a while, one more cuppa is always welcome. Our patience was repaid with a few patches of blue sky and ever so brief views across to Meall Ghaordaidh and Glen Lyon. Never had views on the Tarmachan Ridge, this is the closest I've got I think. Ah well.
The creatures whose eyes we saw shining back at us and whose cries we heard in the night left its mark on the lochan's fresh snow, not on us I'm glad to report.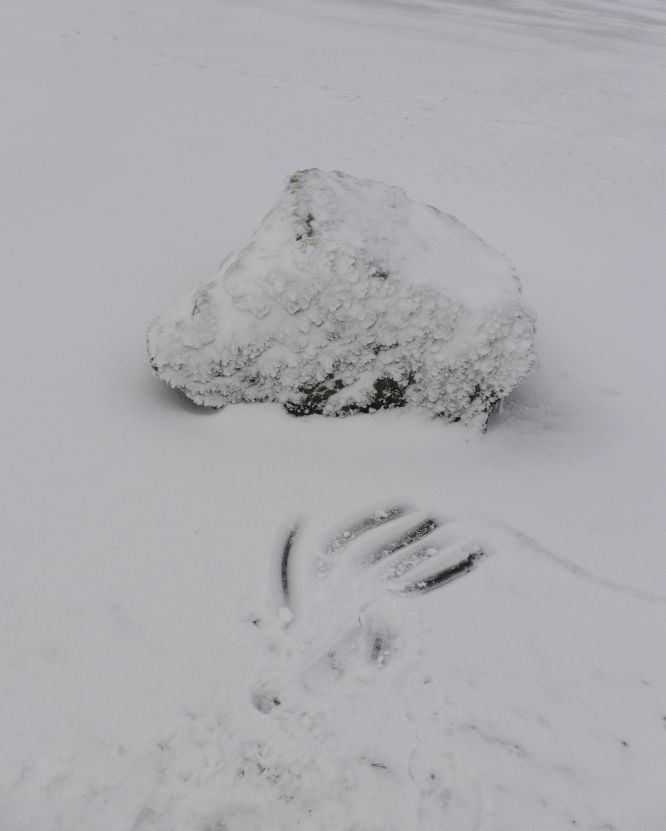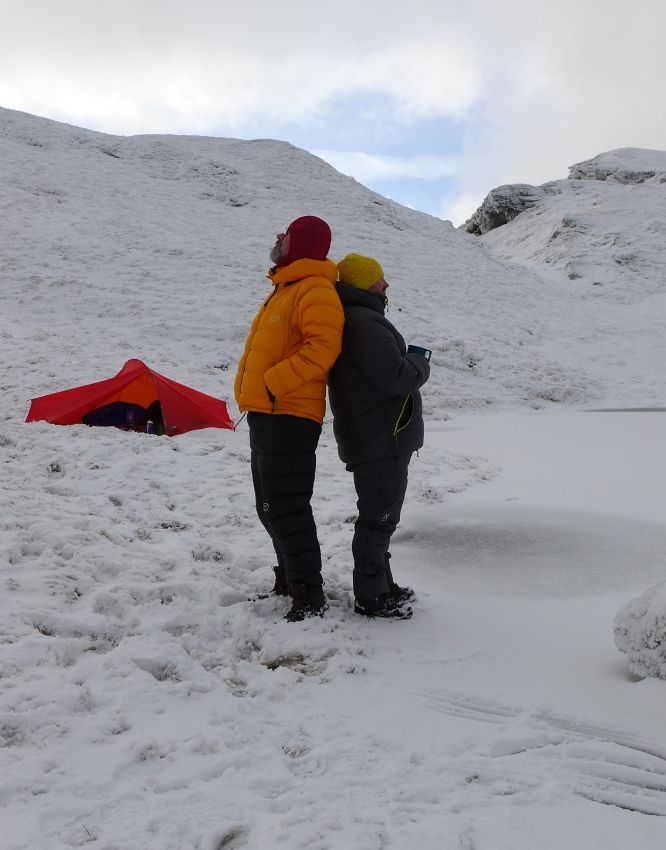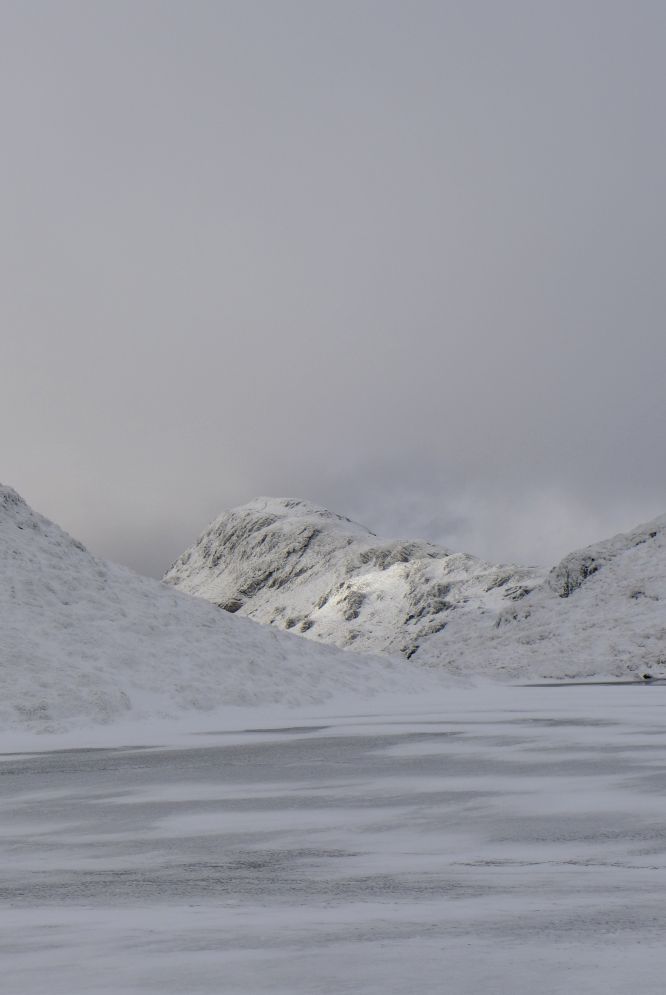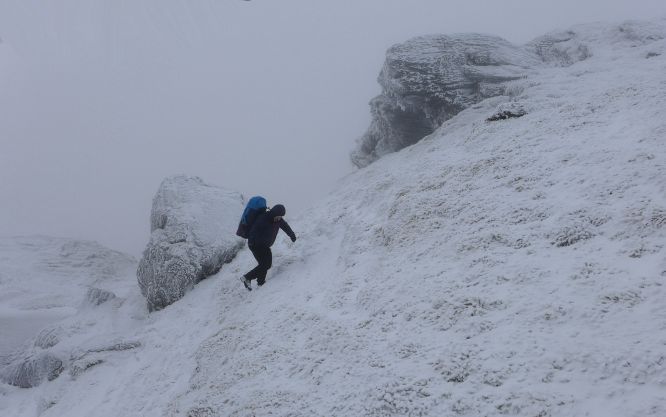 We packed, wrapped up and headed for Meall Garbh. It was windy with a bit of snow carried in the gusts, fresh I would say.
That was as far as we went as we suspected would be the case. It looked awesome that narrow stretch heading west from the top, but not in big packs with a dump of fresh powder on it.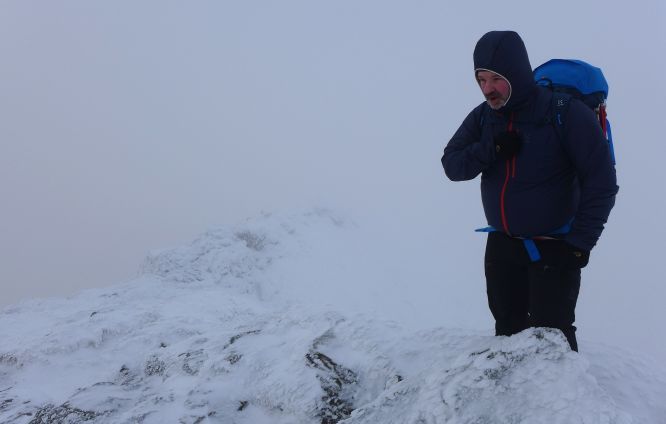 Back we went but this time we could at least see more than out pools of light. It's proper winter and I wasn't expecting that. Just awesome.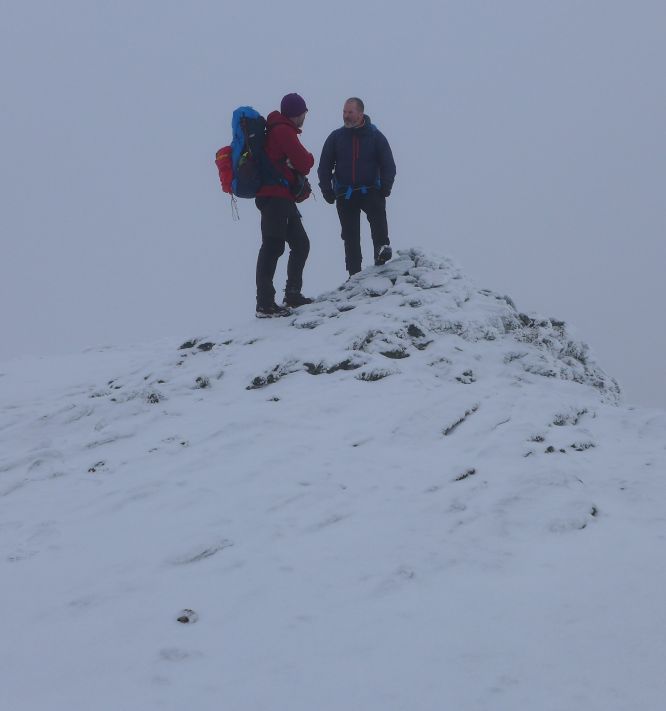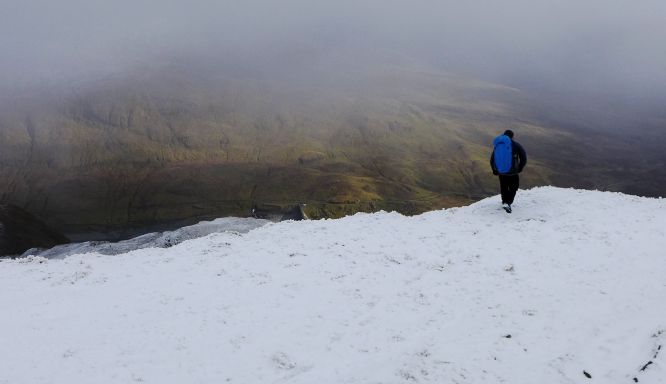 Under the cloud we saw colours again and the world was still there, just like we'd left it, maybe just with a lower snow line since the day before.
We met the paths team again, getting ready for lunch hiding in the helicopter rubble sacks for shelter. Really.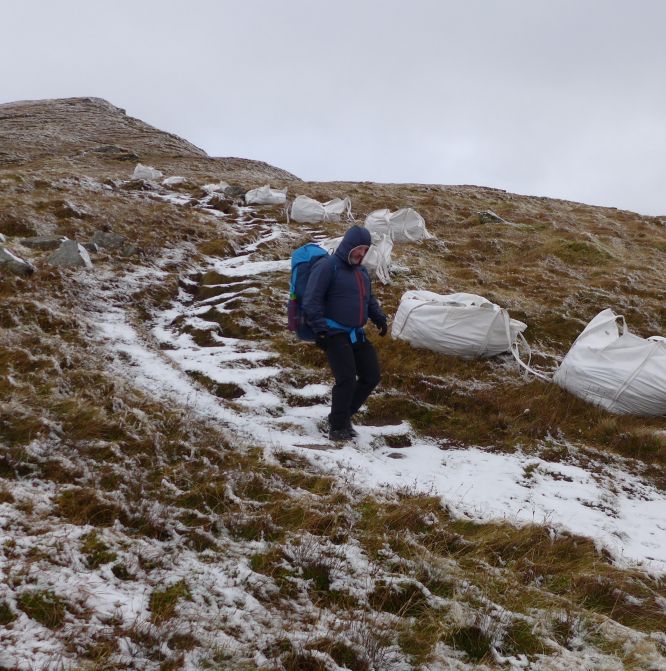 The plan was to grab some water at the burn and cook something hot at the car park, but it started raining and that idea soon washed away.
Dry t-shirts and socks and we were Killin bound.
Reading menus and peering through windows brought no transpiration until we got to the Falls of Dochart Inn over the bridge where a log fire and Halloweeen pumpkins had us pulling back chairs without hesitation.
The haggis was a joy as my cheeks burned and my suddenly gritty eyes looked ahead at the drive home.
A little bit #microadventure, a little bit hanging out with a china, all of it joy. New gear too, get around to that soon.