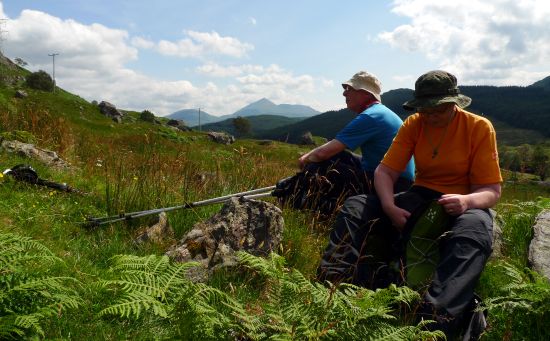 Maw and Paw said they'd come out to play, and so they did.
I was hot though, the first bit from the roadside is steep and while I parked down at the Inveruglas visitor centre having dropped them off I wondered whether they'd soon be coming back down towards me having decide that this was all a bad idea. But, they were nowhere in sight and I had to get the legs moving to catch them up as they sauntered up the the electric substation well up the track. I wheezed and dripped sweat on my shoes as they smiled and said how lovely it was.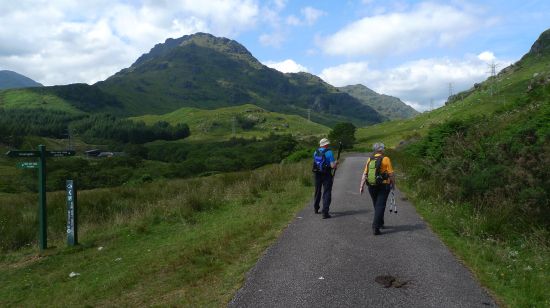 They were right of course, deep blue skies and vivid green hillsides with silver rocks shining out like giant coins stuck into every slope. Dragonflies swooped lazily around us at knee height, sheep hid under any shade they could find and we wandered onwards towards Loch Sloy.
My folks are no strangers to the Highlands, but haven't been out much in recent times so this was a wee tester for them, see how the legs did. My "Anyone having a heart attack yet?" comments were instantly rebuffed, so they were doing fine.
We found a nice spot under Ben Vane and sat down for a picnic, and as it's my folks it was an old-school picnic. I brought some new gear for them and they brought the grub, and this means I was eating pieces on the trail for the first time in ages. I'll tell you what, bread with stuff on it is great trail food, was I in denial or something? Pieces are back from now on.
Jimmy took a wander up towards the dam as I sat with maw, she wasn't pushing her luck in the heat. Jimmy appeared back with his camera quiet happy with himself, he's a Macfarlane too of course, and this is our home, this very glen is where our name comes from and he was long overdue a visit.
We were in no hurry and the walk back was slow and easy, the weather, the views, the mood all helped to make it so. I can't remember the last time we did something like this together, it won't be so long to the next time anyway.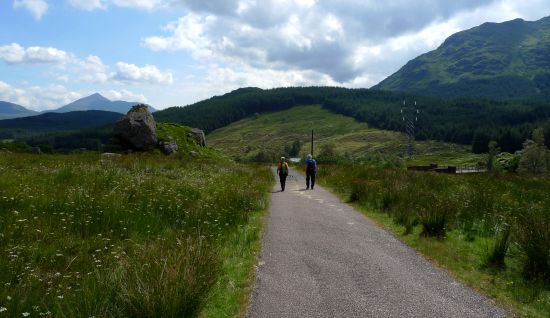 The sheep in a nearby field were going mental. Every one of them was bleating loudly and they were all milling around. Dinner time, a fox in the field, the farmers wife naked at the window? No idea but we watched amazed until they stoped as one and silence descended once again. It was a quiet day up there, no wind, no traffic, just grasshoppers and the buzz of those wonderful dragonflies.
Back at the car park we all sat inside in the shade for a cuppa in the cafe, three shiny smiley faces.
We're all getting older, and somehow that makes days like this even more precious. A day out with my mum and dad, carefree and fun, it could have been 1974 as much as it was 2011.
Happy days.