I've seen a few different clothing solutions in the past year, it's good to know that membranes don't have a monopoly of weatherproofing our persons. Retro gear has also featured large in these pages as solutions and features, as well as colours past, have been much lamented.
Covering all the above bases, and resolutely steering its own course is the Antarctic Smock from WestWinds.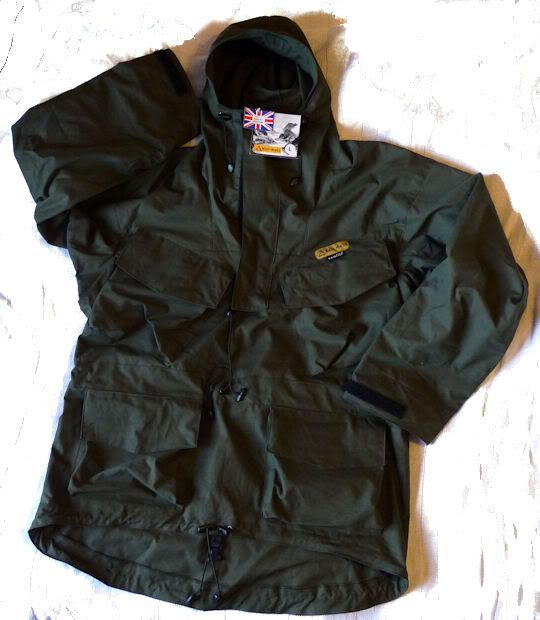 When I got the chance to test something from the WestWindsrange, the smock lept out at me, it speaks to me of real heroes like Shackleton and Amundesen, natural fibres and nerves of steel.
I've long wanted to try modern Ventile, I get the impression it's sidelined by its weight and of course fashion. But it's reputation for funcionality can't be ignored. It seems to be ideal for alpine and polar uses (indeed it's the daily wear of the British Antarctic Survey Team), cold and dry, but the fabric is highly waterproof, reacting to wet by swelling to prevent its ingress.
It seems to me to be a heavy duty softshell of sorts, and with usuable features it should be an all-day wearable item. As I've long declared, the weight of what you're wearing all day should be taken care of by personal fitness, so I'm not seeing an issue here.
There's four huge pockets, fixed hood, gusseted neck zip (to stop snow getting in?), inner elastic cuffs and a crotch strap. There's cuff, waist and hem adjustment, and it's soft and pleasant to wear.
I know the smock's a bit left field, but performance and functionality are universal, and this seems to have them both. Unfortunately the smock arrived a little late to make its mark on my winter trips, but I can see it being out on windy and showery days quite regularly. And, there's another winter coming later in the year…
Is the past the future? Why not Technical Ventile shells, 99% recyclable synthetics, leather and coconut fibre trail shoes?
I've been invited along to the 2009 Innovations for Extremes Conference where such things will be debated by the folk who'll make it happen. These are interesting and changing times.
I'll be back with more.