I'm still updating this page as memory allows.
Updated 7/4/08
I'm back. 0503 today at Milngavie. I'll have plenty of stuff to cover once I've had a bit of a sit down.
I'll leave that bit in. It was a day of high emotion indeed. Below are lists of my kit and other bits and pieces edited into past tense from the original page.
I started in Fort William on the Friday 4th of April at "lunch time". I got back at 0503 on Monday the 7th, well under three days.
I carried a SPOT Tracker and we had 3000 folk follow my progress live via the map at Adventure Trading Post and on LFTO. The Real Food Cafe in Tyndrum helped out. I was fed and watered, I used their computer to update here and the forums at LFTO and OM. They saved my soul for sure, and I will love them forever.
There was a wee news article on the official WHW site. I've had many visitors from it, I don't know whether my story will have encouraged or frightened them off.
There were reasons for me doing it. In no particular order; righting the wrongs of July '07 when we folded like a damp cardboard box under the weight of a falling wino at Bridge of Orchy, showing that it's possible to go lightweight on the WHW safely and enjoy it, doing something that isn't a hill, properly testing some kit, seeing if I can flatten the batteries on my camera/phone/ipod, having a laugh. I did all of that in varying degrees.
The lightweight aspect was important. I didn't be going super-light as it was still very wintery so I took some slightly beefier gear than I would normally, a 390g waterproof instead of a 175g for example. But my pack was small and that's the main thing. There's still too many folk on the WHW still carrying 90 litre packs, bent over peering at the scenery through the haze of suffering, it shouldn't be this way at all.
LINKS
Live courtesy of SPOT and Adventure Trading Post
News article on the Official WHW Website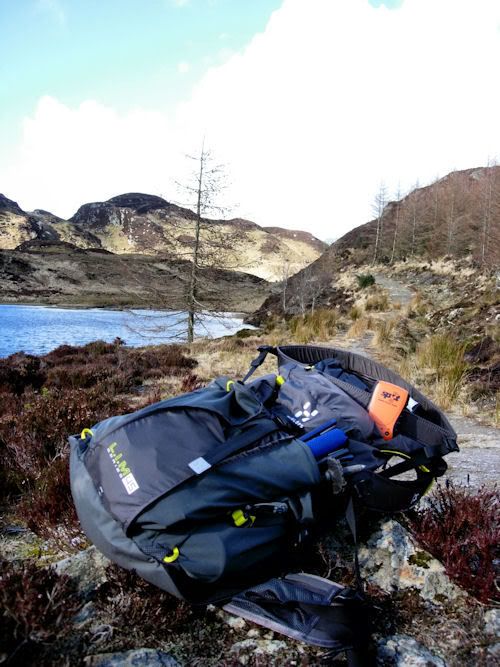 Kit List 
Test Kit (all now reviewed)
Haglofs: LIM Ozone waterproof jacket; LIM Utimate waterproof pants; LIM 45 Rucksack
Big Agnes: ThreeWire Bivy, eVent shelter
Rab: Quantum Top Bag AR, down sleeping bag
Exped: Synmat7; Drybags
SPOT Tracker
PacerPoles, Carbon
Optimus: Crux Lite stove; Terra Weekend Pot; Folding Titanium Spork
Dale of Norway: Merino Zip Neck long sleeve baselayer
Montane: Flux Primaloft Jacket; Oryx Polartec light midlayer
Own Kit
Smartwool Microweight Boxers
Bridgedale Ventum Light Hiker socks
Keen Targhee Mids
Buff 
Rab: Powerstretch Gripper Gloves
Food and Drink
Expedition Foods freeze dried food
Reiter Dehydrated food
Honey Stinger energy foods
Nuun Hydration
Jack Links beef jerky
Cadbury's Chocolate Buttons and Hot Chocolate sachets
GoAhead Jam Bakes
Maxwell House Capuccino sachets
Other Stuff
Dermatone sun/wind skin balm
Bloc Stingray shades
ASDA Handswash
AdventureMedicalKits #3 with Rennies, Ibuprofen, Paracetomol, Compeed, Spenco, athletic tape
Victorinox knife
Silva compass