Link to LFTO piece and LiveMap
Day One 
0300hrs I finished packing. This leads to inevitable mistakes, five main meals and one breakfast instead of an even spread of each being the most apparent once I was under way. So, little sleep was had and we left late as well. My folks ran me up to FT Bill as they were going to have a gad about Lochaber, but we caught every concievable obstacle on the way, the winner of the <em>biggest and slowest</em> prize being the car ferry under police escort moving North as best as they could from laybay to layby to let the queues clear.
So we got there in time for lunch at the Highland Centre next to the <strike>start</strike> finish post. A cuppa, a piece, a photie, a SPOT ping and I was on my way.
The first bit is rubbish along tarmac, but the inceasingly fine views down Glen Nevis with a snow capped Stob Ban did give me something to look at. I felt fresh at this point, the sun was shining, my pack was light and comfy.
You get up and away from Glen Nevis pretty quickly although Ben Nevis keeps it's head above the scenery for a good while. The track through the forest is a transition of sorts, in that you do get a sense of heading somewhere other than back to the car. I stopped to blether to a couple of guys in the trees who were on the home run. They'd given up carrying their kit as they were getting worn out and were being now being portered by Transit van having bought daysacks in Tyndrum. They assumed I was doing the same with my half full pack and that there was the first of a long series of explainations of what I was doing and why. A Lemon and Lime Nuun Hydration tab in each of their bladders set them right again. There's so many wee things like that that folk don't know about, there should be more made of the benefits of nutrition and hydration in the mainstream sources like the magazines. I think it's always a minor topic because it's percieved as dull. A new jacket or sexy looking boots always catch the eye more that a sachet of fruity smelling crystals which can actually have a much bigger effect on your enjoyment of the outdoors.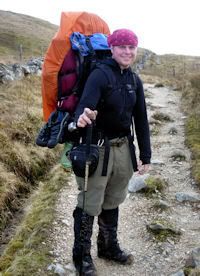 Once I was out onto the clear-felled slopes behind Mullach nan Coirean I met Jon from upstate New York. My opening line was "That's a big 'kin pack!", to which he agreed.
Jon was walking the Way, then heading out to see friends in Inverness and finally to the Outer Hebrides. The poor boy was burst, but having a fine time. We talked stoves, sleeping bags, mountains and weather.
I met so many folk over the days, usually in waves as they left the same hostels and campsites at similar times. There's a cameraderie develops it seems between the folks walking at the same pace, a support group of sorts. As I spent so much of the trip in isolation so that's something that's a bit beyond me. I liked being on  my own, but at the same there was times when I missed my pals.
I love the walk to Kinlochleven. The Mamores looming to your left, the track heading on seemingly without end. The miles pass easily, but the wind picked up, the temperature dropped and the sleet started. Time for a pitstop at Tigh na Sleubhaich under Stob Ban, a SPOT ping and a liberal application of waterproofs. And a cuppa of course.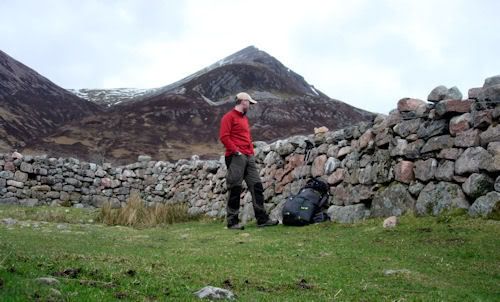 It was a bit miserable from here as it was cold and dreich, but chatting to Donald from Adventure Trading (the SPOT folk) helped the miles pass. I hadn't sent a signal for ages and it looked like I'd either lost it, it was broken, or I was dead. Whatever it could all have ben tits up, but no I'd just forgotten. Over the days Donald was very much Sgt Al Powell to my John McLane, bless him for staying the course.
Looking over to the water pipes above Kinlochleven and the descent and reascent to reach the top of them is a little upsetting. So I stopped for water and a sit down in Kinlochleven and headed up the track towards the Devils Staircase after sending a SPOT ping. I did remember better from then on.
The climb up is a bastard. It really is, the track is rough, twisting and endless. There's views and interest all the way, the hills, the pipes, but it's a grind. Here and Conic Hill are the two bits that are the downsides of going North to South. By the time I got to the top of the pipes the light was fading, the wind was up, the sleet was getting more solid and I knew my schedule was oot the windae. And, the sign is now burst.
I went as well as I could, but I was fading a bit. I was hungry, but there was no good shelter for cooking and eating so I pressed on.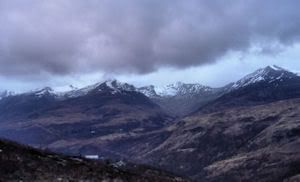 Even rounding a corner to see a snow capped Buachaille didn't fill me with the usual bubble of joy. By the time I was at the top of the Devils Staircase it was properly dark. The rain was heavy, there was a mist coming down, the wind was up, I was tired, I could see failure written all over the path ahead to the bridge of disgrace, with the only way home being a Post Bus straight to Hell.
Head down, hood up, I made my way down to the A82 and along towards the KingsHouse. I was now walking in water. I had brought my Big Agnes bivvy bag, hot food was looking difficult tonight. Ba Bridge as a camp site was out, the miles were few, but the weather was horrendous. I have an internal swingometer that goes to fun to the right, and suffering to the left. I can take a good swing to the left but it can't stay there all the time, that would be pish. I'll camp behing the hotel and nip in for something hot I thought.
The badly pitched tents, badly parked cars, gormless giggling and whispering was crowned by toilet habits to be condemned over the bridge from the KingsHouse. I walked straight by the camping area and into the hotel to be greeted by a cheery bunch in the lounge, "You look tired, come and join the girls. Do you want a glass of wine?".
I was on the cusp of failure. Again. I had so much riding on this, the SPOT test, I'd been shooting my mouth of as usual, all excited about the trip, the test kit.
I'd done a paltry 23 miles. I was tired, cold and hungry.
It was not looking good
Day Two
The sun was out, but the air was chilled. I set off from the KingsHouse with mixed emotions, I still had <em>all </em>the miles to do. But there was blue sky, snow topped peaks and the trail ahead snaked up the gap between Rannoch and the Black Mount into a wee bit of wildness.
It's an easy trek here, the path rises gently away from the ski access road and you quickly find yourself high on the heathery hillside away from any buildings or roads (apart from the Telford road under your feet, but we'll gloss over that for the sake of picturesqueness). It was all going well, I had a spring in my step after a good nights sleep.
Then I saw the curtain of snow closing from the East. The cold surge of air at it's bow meant a cinching of cuffs and hood and an "Oh bollocks" from me.
But it wasn't that bad, the showers were intense but maybe only half an hour long on average. On the move it wasn't that cold in the snow either. But it did slow me down, just a bit.
The trail gets hard under foot up here. As you go South the cobbles are in better condition and from about Ba Bridge the original road surface is intact. This kills feet, it's notorious for it. I started hitting the North bound walkers here as well, all of them stumbling along the verges of the road, trying to stay off the bare stones. Remembering the horror of walking on it last year I tried the verges as well, but it's rubbish tripping over grass clumps and stepping into bog patches. I took the centre line on the road and got on with it. It's quicker and it wasn't as bad as I remembered it either. But I wasn't sorry when the cobbles ran out of course.
I stopped for a breather at Ba Bridge. A snow shower had just passed and the sun was out again. It's a lovely spot. The bridge itself is much smaller than you expect it to be, a single arch with a grassed over flat top. The tumbling waters below are fresh and sweet to taste, it's a wee oasis for sure.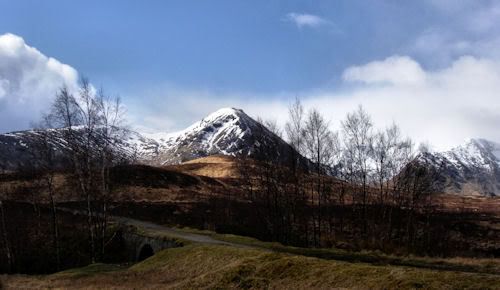 As I left here I passed agroup who had obviously fallen out. Two had barely concealed grins and the trailing third had the downward pointing straight arms and stomp of a chastised child and had just put a balaclava on. "You said this was a nice walk, I'm cold, I hate you, I want to go home…"
It's kinda downhill from Ba Bridge to Forest Lodge, and you know you're coming back to reality with the sight of buildings, roads and the familiar flanks of Beinn Dorain. Still on cobbles of course and I find down hill stretches more tiring for some reason. It's probably psychological, "Oh, I'm heading back to the car now. I hate driving" or some pish like that.
There was one last heavy snow flurry before I hit the tarmac.
The sun came out on tarmac land and there was a squad of football shirt clad "young adults" with bottles of Volvic in their hands and Jansport daypacks on their backs heading North. I'm sure the amount of plastic letters applied to the shirts would offer some weather resistance once they got up there. Or maybe not.
The Inveroran hotel is a miserable looking place. I've never been in it, I don't think they want people to be in it in general. I could be wrong, it could be wallpapered with sheepskin rugs, have soft lighting like a cold and flu remedy telly advert and have free unlimited Irn Bru in every room. And Cadbury's Buttons easter eggs out of season.
It's seems stupid really, this corner cutting over Mam Carraigh. It doesn't make sense until you're on the top, where luckily I got a clear view. It's a fine spot to sit and indeed SPOT. I rested up, mixed up some fresh Nuun took a couple of photies and phoned Donald, Joyce and my Folks. Sgt Al was the only one in, and he was going out that night so we loosely arranged when I would pitch up and sort the Live Map for the night.
I was down and out of the woods in no time and headed straight to the same picnic bench where last years attempt failed. I set up the stove, got water from the river and made custard and apple pudding with a hot chocolate. Of course when I lit the stove that was when the next snow shower arrived, but I wanted the joys of hot food so I just stuck on my Flux and sat it out. While I'm here, I'm not going into the gear because that's a whole other story, I'll be back to that.
The trail from here is familiar to anyone who knows the A82. It runs along the old road on the other side of the glen, contouring Beinn Dorain and Beinn Odhar. It's good going, the bridge at Auch is fine and the climb up around Beinn Odhar is interesting as the old road snakes in and out of it's weathered slopes. The road has collapsed in a few places here with no signs of repair or interest. It's a shame, not so much for the WHW, more for the road itself. It's was an amazing feat in it's day, and some was built for the economic development of the Highlands, not necessarily to get troops up here quickly. I think it's worthy of preservation as much as possible. Once a bridge collapses or the cobbles are washed away, that's it gone. So I don't mean re-instate, maybe just stop the rot.
Tyndrum. Never been so happy to see it. I jumped into the Green Welly <strike>Shop</strike> Stop and had a look. I'd obviously forgotten that I was carrying all my kit on foot and not driving, so I looked at the stuff as usual and nearly bought a pair of Sealskinz mountain biking gloves.
That was a mere distraction though to my purpose: The Real Food Cafe. They were expecting me (for lunch, we're still hours behind mind), and I was just in time for dinner at 1730. Chicken, chips, curry sauce and a pint of coffee. I've never been so content on a wooden high chair. Sarah, bless you also. Another hero. I sat in their office and updated on here, on LFTO and Outdoorsmagic. I had a look at the Live Map and was dead impressed, although I could also see that there was a long way to go. I had a lovely hot chocolate and cream, did some photies and I had to go. It as a melancholy moment leaving, I'll tell you.
The trail through the Tyndrum Community Woodland is lovely, I really enjoyed walking it. It's one of the little bits of the WHW worthy of visiting on its own. There's sculptures, interpretation boards as well as the views of the mountains and the shingled river banks. The same atmosphere continued all the way through StrathFillan, I stopped to read every board and sign, it's interesting stuff, so much history. And how often have we driven straight by on our way to Glen Coe without even a sideways glance? I'm going to go back and do the farm walks with Holly so she can see the animals at the SAC station in StrathFillan.

You cross the A82 and head into the forest that rises above Crianlarich. There's immediately a pair of hidden stone bridges in the trees and then it's forest track. Up and up into the oppressive and darkening forest, I couldn't tell if I was progressing as every footstep took me to an identical spot. I was climbing for what felt like forever when I came out onto a summit of sorts and could see the lights of Crianlarich away over there and below me. But I was turning South, back into the forest with my headtorch on. I lost track of time and distance, I was worried that I had missed a turning, but I was watching my navigation, I was just a little rattled because there was nowhere to camp. Really, not even the bivvy. I had to clear the forest and stop in Glen Falloch.
I fell out of the trees onto the shit strewn mud bath boulevard that is the track above Glen Falloch. My heart sank and I started wading through it, I couldn't stop here. In fact I knew I couldn't stop any where in Glan Falloch as it's farm land, I had to get round the bend at the bottom and start towards Loch Lomond. There were signs of diversions and works ahead and in the dark I took one of these and missed the track junction and found myself on the road. The tarmac burned my feet for the next few miles, it wasn't good. I found a flat spot just of the road and made a brew while I checked my feet. Two toes had been rubbing and a fine blister has grown between them. Hurrah. There were other signs of distress, so I applied a few patches of Spenco and lay back, tired, in the grass with my cuppa. "I could just pitch here" I told myself, but that would leave me well over 40 miles to do on Sunday, my pace wasn't that good and now I'd seen that I wasn't impervious to damage. I'd come quite far, what's another mile or two?
I rejoined the track just after the lovely Falls of Falloch. the works on the hillside that had diverted me were extensive, huge cranes, giant arc lights, hammering, clanging and shouting. It was to me exactly what HG Wells had in mind when he was describing the Martians working in their pit on Horsell Common. So just in case I turned up the wick and made a bee-line for Beinglas. Which I walked straight by, there was people, clanging bottles, happy holiday bantering, what was this? This had no part in my plans! Since I left Tyndrum the only people I saw were a couple cooking sausages while dressed as Apaches at the StrathFillan campsite. I was actually annoyed, tiredness must make me even more unreasonable.
I didn't look at my watch, I knew it was really late, there was a frost creeping over the ground, standing water was growing still and lines of ice were creeping across as my breath grew thick and heavy in my torch beam. The trail is rough, very rough. Every step is up or down, you're contouring the steep hillside on the east of Loch Lomond, a stumble would be very hard to catch. As tired as I was I felt strong, I knew I had to get to a good pitch, the first likely candidate was across from Ardlui, flat soft grass, a bit of shelter. Too soon, another mile or two, I didn't want to see street lights either. On I went through the twisted mossy trees in a circle of stark light. The gable of Dounes gave me a fright as I wasn't expecting it, but I didn't pause. I felt like I was freewheeling on the move, but when I stopped I could feel my calves tighten. The next time I stopped I was going down.
I walked into a tiny sheltered bay with flat grass it was out of the worst of the wind. I stopped, pitched the bivvy admined the sleeping bag and mat and got in. I don't even know if I had a drink or food, I can't remenber. When I say I went out, I mean out cold.
The last few miles I was starting to think that I'd pushed my luck, the three days wasn't as important as finishing. Can you get summit fever without a summit? 34 miles doesn't sound like a lot, but I was properly tired as I stretched out in my sleeping bag. The last thing I did was send a SPOT ping that gave my bedtime as 0250.
Sgt Al just missed it.
Day Three 
I stirred, focused and found myself lying on my front. I was warm enough, if a little groggy, but I got myself sunny side up and and unzipped the bivvy. The face full of snow and generally white surfaces I saw out there said to me that 0720 was far too early to be rising on a Sunday morning. I zipped the door and hit the hay for another half hour.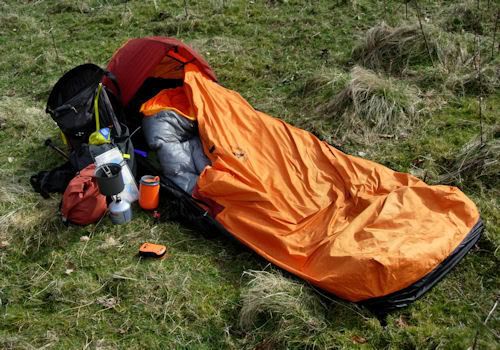 Way more than half and hour later I got myself sitting cross legged in my sleeping bag with the stove on. Having already eaten the single breakfast I brought, I improvised shall we say. It was a lovely spot, there were ducks in the burn behind me and flock of black and white geese by the water in front, I was surrounded by proper trees, and crags hung above me shielding me from the low rising sun. A few flakes of snow drifted down with little commitment, I breathed in the cool air deeply and finished my Frankenstien Al Fresco breakfast. I took my hot cuppa on a stroll around my garden, none of the wildlife batted and eyelid. I think they were happier to see me than the sinister orange coffin emanating breathing sounds that they'd whispered about all night.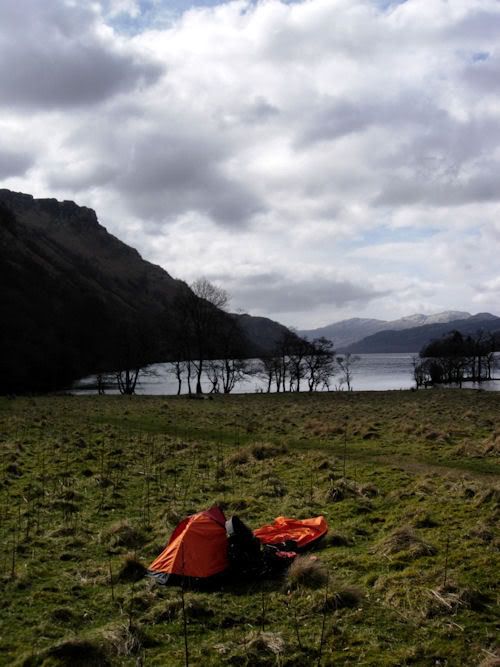 I broke camp and was away, this gear packs so quick. The trail was still rough, but the atmosphere was different. The loch sparkled with sunlight and white horses danced in the middle where the wind funneled down unopposed, on the bonnie banks at my feet it lapped and slurped at the tree roots and rocks…I loved this. I was happy to be on my way again, the day was beautiful, the legs were working, Inversnaid was just down the road.
The trail is fine indeed. It's narrow and squeezes its way around and through all the obstacles. Sometimes you have to pause for thought as the next step gets your arse hanging over a sheer drop into the loch.
At one point I came across the marvellous feral goats. Evil horn<em>e</em>d beasts? Well, no. Tame and aloof shaggy wonders I should say, perhaps like arctic goths?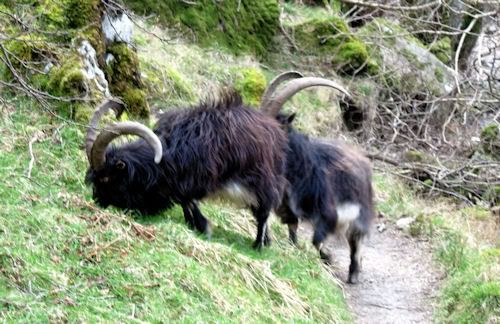 You pass the huge collapsed crag that makes Rob Roys Cave, a nice spot to linger, and then trail evens out as you reach Inversnaid. This place has a bad reputation for it's treatment of walkers. Indeed, a sign on the door asks that the rucksack adorned use the tradesmens entrance. The tradesmens entrance was locked and the handle was missing. So I went straight in the front door, by reception and up to the bar "I'll have a can of Irn Bru and a three pack of Chocolate Bourbon Biscuits to go, thanks". I raised and eyebrow and waited for a the response.
I enjoyed my wee snack out the front while sending a SPOT ping and gazing across at the Arrochar Alps. Hills so familiar, but oddly shaped from this side of the loch. Beinn Narnain in particular gains a bit of a pointly peak as you go down the loch. If this was where the A82 was I bet people would love Narnain more.
Away from the boatloads of tourists and Portaloos, I went South again. I met a lot of folks after here, but none seemed so keen to pass the time of day. Maybe I was really starting to smell by this point? It's rough as a badgers arse again, but changes to forest roads eventually, it's fine all the way. They're doing a lot of work at the top end of the loch in trying to re-instate the natural woodland, cutting out Rhododendrons, stopping grazing by ovine omnivores, planting indigenous species. You can see the difference, good on them.
However, conifer corridors take you to Rowerdennan. It feels like home there and I felt relieved to reach it, I couldn't tell you how many times over the years I've been there to climb Ben Lomond, or just stood on the jetty after a picnic. I went to fill my bottles at the tap on the Rowerdennan Hotel wall, but an inexplicable magnetic force pulled me back towards the bar and thrust me into a seat in front of the log fire. I tried to resist, but the spring had gone from my step, I was getting tired again. And <em>so</em> soon in the day. I dined well on a Ben Lomond Burger. Surrounded by limping Way-ers. I was chatting to the manager about my daft wee mission and he wished me well, sticking an espresso into my hand as I packed to leave. Good lad.
I left and headed down the road, meeting a few folk at a gate. One pointed at me a asked "Hey, are you that Pete guy from the website?", "Eh, aye I think?", "We were watching the map on LiveForTheOutdoors and thought we'd run into you". We chatted for a bit, they were a nice bunch and looked fresh, I hope thay're having a good trip.
I turned that over in my mind, folk were watching the SPOT test. I felt a wee flutter in my chest, it was probably the salsa on the burger, but maybe it was an extra flake of pressure stuck into my 99 cone of adventure.
I didn't get two miles before I stopped and had to adjust my feet. I had to sort that blister between my toes and I let them dry out as I sat in the yellowing sun. I had changed my socks every day, merino underwear will last a while, but fresh socks are a gift from the gods on tired feet.
While I was sitting there a couple stopped to talk. We passed a good while together, they live on the Way and told me of the amount of struggling and unprepared folk that pass there door, or even stop at it seeking help. I think there must be a great underestimation of the Way, I know I did just that last year and I'm a walker of many years and miles. How many tackle it off the couch on a whim or for good causes?
On my way again I soon met Beth from Outdoorsmagic walking North at a sensible pace. She'll still be out there, having fun I hope. After that I never saw a single soul face to face.
I followed the ins and outs, the ups and down along the lochside. It's lovely, but I wanted to keep the pace up. I could see the hills behind my house and I was turning away from them, walking away from home. That's just feels all wrong. I reached the outskirts of Balmaha, Ben Lomond which had loomed large in my backwards glances was now merging with the darkening sky in the distance. I could see the clouds easing themselves in. By the time I'd got the the coll before the track turns towards the top of Conic Hill the sleet had started so I had to stop and put on my waterproof pants, then my shell gloves and I stuck a Buff around my neck as well. It was cold, I was tired, I'll get over Conic and camp somewhere. I'll get up early and walk to Milngavie in the morning.

I took forever to get up Conic Hill, I stopped a lot, looking at the weather, looking for excuses to go home and a reason for me standing there. I don't know why my mood had changed so quickly. I got to the high point, sent a SPOT ping and carried on down the gritty slurry chute on the other side. I saw a light on the hillside where the track heads over the Burn of mar, other folk on the Way camped for the night. I'd have to give them space so I'd carry on past them. But even reaching them was a task, my calves were stiff, if someone was with me I'd have been whining at them. By the time I'd got to where the light was it was switched off. Poor bastards probably though I was an angry farmer with a stick wanting smack some hikers for spooking his sheep. Well, no it was me who spooked the sheep, Did I say spooked? I meant blinded. Why do sheep stare directly at your headtorch and don't flinch, do they have eyes like Spock with their long forgotten inner eyelids to protect them against Vulcans blazing sun. Do sheep need a plot device?
I could see the orange glow of the central belt on the clouds which were now breaking up, the temperature was dropping. Dumgoyne's distinctive shape stood black against this mottled sky. It sat half way from where I was to the finish line. And it was in the distance, it was on the horizon, if I could still have bent my legs properly I'd have sank to my knees. I'll get through the forest, down to Drymen. Find a chippy, call it quits, go home, camp, ah shite, I don't even know what time it is?!
I passed the eerie clear felled hill top and entered Garadhban Forest proper. The lack of route signs here is unnerving, my now unreliable sense of direction at odds with the map and the road. I started to look for chairs to sit on as the ground was awfully far way, even a tree stump two or three feet high would do, but they were either over a ditch, still had a spike of unsawn wood sticking up or were a stupid height. It's like every cut tree was cut by someone of a different height. I mean do they have a dozen guys between 5'4″  to 6'6″ with chainsaws who only cut down one tree and then go to another forest?
The forest went on mercilessly, the sound of Pacerpoles, and my laboured breathing mixing with the frequent screech of an owl giving up it's perch as I passed and sent all the furry snacks scurrying way. When I got to the final junction that would take me to the road at Dryman I sat down. When I say sat, it was probably more akin to a plateful of uneaten spaghetti hitting the bottom of a bin. I phoned home, they offered rescue or assistance. I wanted to be home, this was stupid what I was doing. As I lay flat on my back on the ground my right calf got tighter and tighter. I could be home in 30 minutes, in a hot shower, see my girls and this pointless endeavour would be over.
"No it's okay, I'll see you in Milngavie in four or five hours".
Where that came from I don't know, I rolled over and dragged myself onto my feet and set off towards the road. It was only 12 miles, this wasn't the last leg of a trip. No, now every mile was a barrier to me getting home and I was going to kick them in the balls one at a time.
I walked straight by the end of Drymen and immediately got lost in a bastard field. No track, just random posts for you to discover if you're lucky. The little hidden rusty gate (which, if this was a video game would be hidden urn that unlocks the infinte ammo Magnum or unlimited health) takes you onto a couple of miles of tarmac down to Gartness. Hell on wheels for my feet. I occasionally rested sideways onto  the grassy verge, but every time I stopped my calf would tighten, so I kept going. There's stuff to see which takes on a different quality in torchlight with tired eyes, the remnants of the disused railway bridges, farmhouse after farmhouse without a single light, the dark rushing water below Gartness Bridge. You reach the old Blane Valley Railway here where the trail runs for a few miles. The going is good, but the gates are like a Krypton Factor puzzle, a two handed thing with a dimpled lever to lift. Why, did the cows figure out the spring lever types? Unlikely.
You're always heading always towards Dumgoyne, it grew slowly larger and it grew slowly colder as the sky cleared. By the time I was wandering around a pub carpark trying to see if the Way did actually go through it (it did) I had to pull my Buff over my face for warmth and put my hood up. Dumgoyne passes on yout left and is lost into the bulk of the Campsies. 6 miles to go, I fell onto the grass embankment of the old railway. I was really cold and really tired, if I shut my eyes… The tank was empy, so I had to get out and push. I pushed up the steep rough track to Carbeth and over to Craigallian and into Mugdock. Several times I had to stop pushing and rest again. The track came to a wall and I just stared at it. How can I walk through a wall? I didn't even see the stepping stones sticking out of it.
In Mugdock I was home and I knew it, three miles to go. I phoned my folks, they had insisted on picking me up regardless of the time. I was happy with a taxi, but I was happier to be seeing family. It turns out that Joyce and my Dad had set off up the track to meet me. I jumped into the driving seat, the downhill slope must have let some fuel into the pump, I was off with renewed or borrowed commitment and energy. I got less than 1 mile from the end and phoned Joyce to see where they were. We'd passed each other in the complicated paths on the moors above Minlgavie, I'd have to wait on them coming back down and we'd finish together. Ten minutes, twenty minutes? I went down while waiting whatever it was, hanging off the poles like a pair of trainers knotted together and thrown over a telephone line. They arrived, we moved, I don't know if I articulated just how happy I was to see them, but I was so cold, so burst, I just wanted to finish so badly.
Out of the Allander walkway through a loading zone, we entered Milngavie town centre and I didn't even recognise it. I saw the pillar and leaned on it. We took pictures and I sent a SPOT ping at 0503. Sgt Al just missed it, sleep took him out whe he wasn't looking, but he was with me all the way.
I was in the car and it was over. 39 miles that last day, it really doesn't sound like much does it?
I sat on the couch with a hot cuppa and it was like I'd never been away. I know there were no records in any danger here, as adventures go it's pretty lame. But I found myself digging deep, looking for and finding reserves and motivation. I'll be mulling over all the ideas, revelations and lessons from this for a while. It was a very positive experience.
I may not have enjoyed every step, but I enjoyed the whole experience. Taking my pack over a couple of extra days with 350g worth of a change of underwear and the WHW would be so much easier and enjoyable for all these poor sods that passed me with dinghys on their backs. I caught all the weather possible, I only had lightweight gear and I was fine.
Any suffering endured was by choice. But isn't it always.