The sun was out, but the air was chilled. I set off from the KingsHouse with mixed emotions, I still had all the miles to do. But there was blue sky, snow topped peaks and the trail ahead snaked up the gap between Rannoch and the Black Mount into a wee bit of wildness.
It's an easy trek here, the path rises gently away from the ski access road and you quickly find yourself high on the heathery hillside away from any buildings or roads (apart from the Telford road under your feet, but we'll gloss over that for the sake of picturesqueness). It was all going well, I had a spring in my step after a good nights sleep.
Then I saw the curtain of snow closing from the East. The cold surge of air at it's bow meant a cinching of cuffs and hood and an "Oh bollocks" from me.
But it wasn't that bad, the showers were intense but maybe only half an hour long on average. On the move it wasn't that cold in the snow either. But it did slow me down, just a bit.
The trail gets hard under foot up here. As you go South the cobbles are in better condition and from about Ba Bridge the original road surface is intact. This kills feet, it's notorious for it. I started hitting the North bound walkers here as well, all of them stumbling along the verges of the road, trying to stay off the bare stones. Remembering the horror of walking on it last year I tried the verges as well, but it's rubbish tripping over grass clumps and stepping into bog patches. I took the centre line on the road and got on with it. It's quicker and it wasn't as bad as I remembered it either. But I wasn't sorry when the cobbles ran out of course.
I stopped for a breather at Ba Bridge. A snow shower had just passed and the sun was out again. It's a lovely spot. The bridge itself is much smaller than you expect it to be, a single arch with a grassed over flat top. The tumbling waters below are fresh and sweet to taste, it's a wee oasis for sure.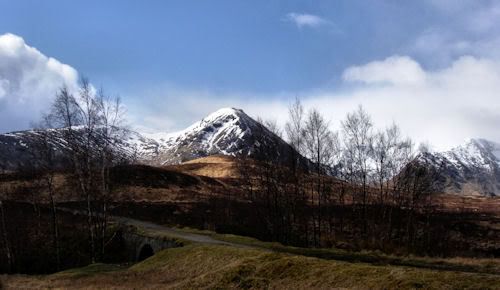 As I left here I passed agroup who had obviously fallen out. Two had barely concealed grins and the trailing third had the downward pointing straight arms and stomp of a chastised child and had just put a balaclava on. "You said this was a nice walk, I'm cold, I hate you, I want to go home…"
It's kinda downhill from Ba Bridge to Forest Lodge, and you know you're coming back to reality with the sight of buildings, roads and the familiar flanks of Beinn Dorain. Still on cobbles of course and I find down hill stretches more tiring for some reason. It's probably psychological, "Oh, I'm heading back to the car now. I hate driving" or some pish like that.
There was one last heavy snow flurry before I hit the tarmac.
The sun came out on tarmac land and there was a squad of football shirt clad "young adults" with bottles of Volvic in their hands and Jansport daypacks on their backs heading North. I'm sure the amount of plastic letters applied to the shirts would offer some weather resistance once they got up there. Or maybe not.
The Inveroran hotel is a miserable looking place. I've never been in it, I don't think they want people to be in it in general. I could be wrong, it could be wallpapered with sheepskin rugs, have soft lighting like a cold and flu remedy telly advert and have free unlimited Irn Bru in every room. And Cadbury's Buttons easter eggs out of season.
It's seems stupid really, this corner cutting over Mam Carraigh. It doesn't make sense until you're on the top, where luckily I got a clear view. It's a fine spot to sit and indeed SPOT. I rested up, mixed up some fresh Nuun took a couple of photies and phoned Donald, Joyce and my Folks. Sgt Al was the only one in, and he was going out that night so we loosely arranged when I would pitch up and sort the Live Map for the night.
I was down and out of the woods in no time and headed straight to the same picnic bench where last years attempt failed. I set up the stove, got water from the river and made custard and apple pudding with a hot chocolate. Of course when I lit the stove that was when the next snow shower arrived, but I wanted the joys of hot food so I just stuck on my Flux and sat it out. While I'm here, I'm not going into the gear because that's a whole other story, I'll be back to that.
The trail from here is familiar to anyone who knows the A82. It runs along the old road on the other side of the glen, contouring Beinn Dorain and Beinn Odhar. It's good going, the bridge at Auch is fine and the climb up around Beinn Odhar is interesting as the old road snakes in and out of it's weathered slopes. The road has collapsed in a few places here with no signs of repair or interest. It's a shame, not so much for the WHW, more for the road itself. It's was an amazing feat in it's day, and some was built for the economic development of the Highlands, not necessarily to get troops up here quickly. I think it's worthy of preservation as much as possible. Once a bridge collapses or the cobbles are washed away, that's it gone. So I don't mean re-instate, maybe just stop the rot.
Tyndrum. Never been so happy to see it. I jumped into the Green Welly Shop Stop and had a look. I'd obviously forgotten that I was carrying all my kit on foot and not driving, so I looked at the stuff as usual and nearly bought a pair of Sealskinz mountain biking gloves.
That was a mere distraction though to my purpose: The Real Food Cafe. They were expecting me (for lunch, we're still hours behind mind), and I was just in time for dinner at 1730. Chicken, chips, curry sauce and a pint of coffee. I've never been so content on a wooden high chair. Sarah, bless you also. Another hero. I sat in their office and updated on here, on LFTO and Outdoorsmagic. I had a look at the Live Map and was dead impressed, although I could also see that there was a long way to go. I had a lovely hot chocolate and cream, did some photies and I had to go. It as a melancholy moment leaving, I'll tell you.
The trail through the Tyndrum Community Woodland is lovely, I really enjoyed walking it. It's one of the little bits of the WHW worthy of visiting on its own. There's sculptures, interpretation boards as well as the views of the mountains and the shingled river banks. The same atmosphere continued all the way through StrathFillan, I stopped to read every board and sign, it's interesting stuff, so much history. And how often have we driven straight by on our way to Glen Coe without even a sideways glance? I'm going to go back and do the farm walks with Holly so she can see the animals at the SAC station in StrathFillan.

You cross the A82 and head into the forest that rises above Crianlarich. There's immediately a pair of hidden stone bridges in the trees and then it's forest track. Up and up into the oppressive and darkening forest, I couldn't tell if I was progressing as every footstep took me to an identical spot. I was climbing for what felt like forever when I came out onto a summit of sorts and could see the lights of Crianlarich away over there and below me. But I was turning South, back into the forest with my headtorch on. I lost track of time and distance, I was worried that I had missed a turning, but I was watching my navigation, I was just a little rattled because there was nowhere to camp. Really, not even the bivvy. I had to clear the forest and stop in Glen Falloch.
I fell out of the trees onto the shit strewn mud bath boulevard that is the track above Glen Falloch. My heart sank and I started wading through it, I couldn't stop here. In fact I knew I couldn't stop any where in Glan Falloch as it's farm land, I had to get round the bend at the bottom and start towards Loch Lomond. There were signs of diversions and works ahead and in the dark I took one of these and missed the track junction and found myself on the road. The tarmac burned my feet for the next few miles, it wasn't good. I found a flat spot just of the road and made a brew while I checked my feet. Two toes had been rubbing and a fine blister has grown between them. Hurrah. There were other signs of distress, so I applied a few patches of Spenco and lay back, tired, in the grass with my cuppa. "I could just pitch here" I told myself, but that would leave me well over 40 miles to do on Sunday, my pace wasn't that good and now I'd seen that I wasn't impervious to damage. I'd come quite far, what's another mile or two?
I rejoined the track just after the lovely Falls of Falloch. the works on the hillside that had diverted me were extensive, huge cranes, giant arc lights, hammering, clanging and shouting. It was to me exactly what HG Wells had in mind when he was describing the Martians working in their pit on Horsell Common. So just in case I turned up the wick and made a bee-line for Beinglas. Which I walked straight by, there was people, clanging bottles, happy holiday bantering, what was this? This had no part in my plans! Since I left Tyndrum the only people I saw were a couple cooking sausages while dressed as Apaches at the StrathFillan campsite. I was actually annoyed, tiredness must make me even more unreasonable.
I didn't look at my watch, I knew it was really late, there was a frost creeping over the ground, standing water was growing still and lines of ice were creeping across as my breath grew thick and heavy in my torch beam. The trail is rough, very rough. Every step is up or down, you're contouring the steep hillside on the east of Loch Lomond, a stumble would be very hard to catch. As tired as I was I felt strong, I knew I had to get to a good pitch, the first likely candidate was across from Ardlui, flat soft grass, a bit of shelter. Too soon, another mile or two, I didn't want to see street lights either. On I went through the twisted mossy trees in a circle of stark light. The gable of Dounes gave me a fright as I wasn't expecting it, but I didn't pause. I felt like I was freewheeling on the move, but when I stopped I could feel my calves tighten. The next time I stopped I was going down.
I walked into a tiny sheltered bay with flat grass it was out of the worst of the wind. I stopped, pitched the bivvy admined the sleeping bag and mat and got in. I don't even know if I had a drink or food, I can't remenber. When I say I went out, I mean out cold.
The last few miles I was starting to think that I'd pushed my luck, the three days wasn't as important as finishing. Can you get summit fever without a summit? 34 miles doesn't sound like a lot, but I was properly tired as I stretched out in my sleeping bag. The last thing I did was send a SPOT ping that gave my bedtime as 0250.
Sgt Al just missed it.