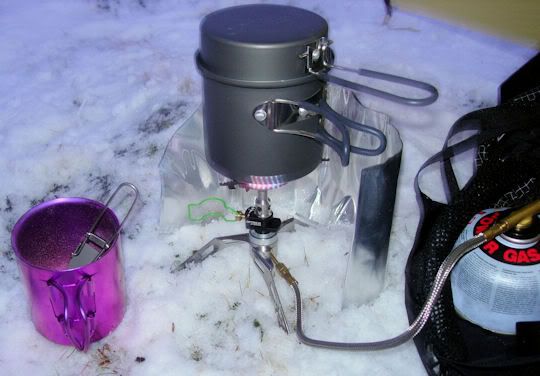 I saw this Brunton doodah at a trade show earlier in the year, and I was quite enthused. It's a set of legs for your mini stove, you just screw your stove on (it's an Optimus Crux Lite above) and you're away. It lacks a preheater for the gas so it'll never be as good as a true remote canister stove, so your canister has to stay upright or there will be flaring and burning and much despair as you sit in what's left of your tent.
But, it all went quiet on the Brunton front. It was supposed to be launched with much rejoicing at Friedrichshafen, but all I got were rumours of no CE Mark going their way and no one has mentioned it again. The distributors never wrote, they never called, so I got one sent from the US. I got a folding canister stand as well, but it's pish as it only fits Brunton canisters so don't buy one.
The convertor comes with an aluminium windshield wich was nice and inadvertantly made me soft on the thing at first. But. It's not really bringing the heightof the stove down any lower than if it was screwed into a 100 size gas, and although it's got a wider base the legs are quite loose and it's hard to keep them equidistant if you're moving it around, trying to get it to sit straight. It's also possible for a leg to swing right back and for the whole thing to fall over if you put it down without noticing. It needs a lock on it. But if the legs are set right, the thing is rock solid.
I used it with the canister sitting on the snow, sitting on my pack and with it wrapped up. The canister didn't frost up, but apart from that I can't tell you anything about the actual performance as I left my tricorder at home. The adjustment at the canister end is a small ribbed barrel, not the best with gloved hands.
I have a feeling that this bloody thing is a total waste of time and effort. I'll try some adjustments on the legs and do a side by side test with other stoves the next trip out (I won't be solo). I may yet change my tune.
I slept in an Alpkit PD 400, the best test I've given it so far. It's the biggest sleeping bag I've packed since there was snow on the ground back at the other side of summer, but the weight is okay, and the packsize is workable. It lofts well and the slim fit means less air to heat and more insulation. The hood is better than the old one that I used to piss and moan about. I'd still have it higher at the sides, winter bags should have a porthole above your face in fact, you don't need good periferal vision in your sleep. The cord adjustments are okay, maybe using dissimilar-feeling cords for the neck baffle and hood would be a better idea as inside a slim fit bag in the dark it's more of a task to get a hold of the right cord. 
I was warm enough, and at times I was cooked as I was still dressed. But I found a happy medium before sleepy time and didn't get woken up by temperature or comfort concerns.
The bag got a stack of condensation thrust upon it where I was breathing, and it beaded well on the Toray fabric and moisture didn't seem to penetrate it. The same goes for all the bits of snow I kept dragging inside the tent and the bag, I found damp patches of fabric, but no clumps of wet down. The down did migrate inside the channels in the night leaving several large empty spots, but down bags can do that and you just can't see it normally with dark or thicker fabrics.  I'll fluff it all up evenly again before the next trip with it and all should be well.
It's a perfectly decent bag, and I'm quite happy in it. It's super popular as well, to the point where criticism and nit picking is irrelevant. Folk don't care about the construction, the main zip snagging, the down quality or even actually seeing it before parting with the cash. It's cheap, it's got limited availability and Alpkit are everybody's best mate. Marketing and presentation that beats the big companies about the head with a big stick.
What I like is that they're raising their game to match that hype with product development. So, we shall see.