The three of us went for a wee wander around the trails above Lochgoilhead today. I'd been through there in a bit of a hurry on my WHW training runs, but there's some lovely walks and it was nice to go back and take our time and show Holly some new things.
She saw Heilan' Coos, including some new calves and was amazed. You can tell by how hard she points at things how good she thinks they are. She loved the trees, the blossom and wanted to touch everything from the furry moss to the old bridge near the waterfall and she especially loved the bark on a Scots Pine.
We sat in a leafy glade and had a picnic together with the sounds of a waterfall and a cuckoo for company. Holly fell asleep in the carrier on the descent and missed a butterfly floating around us. And, we never saw a single soul from when we left the car to when when we got back to the village.
They were having an open garden day in the village so we took a wander around to the oohs and ahs many of the folks there. I certainly don't get that when Holly's not sticking out of my rucksack.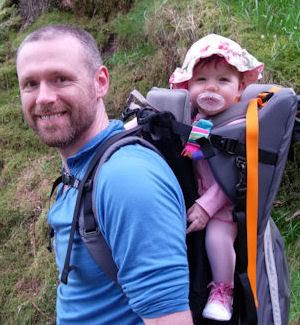 A magic day.