We went for a bimble in the Kilpatricks. That was the plan, but it turned out to be a 7 hour extravaganza as we explored and zigzaged over the assorted tops, through the assembled bogs, across the heathery moorland and finally along the viewsome Lang Craigs above Dumbarton.
The weather was changeable, from a light shower with sunny spells, we had some strong winds and eventually the cloud descended and sat there like a fat man with a carry out and the remote control.
There were cuppas, munchies, banter and joy in abundance. The occasionally gloomy weather above and occasionally difficult conditions underfoot meant that often our gaze was caught not by the view, but by the wee stuff below and sideways.
We had frogs, beasties, flooers, sheep with a local accent and fungi in abundance.
The most amazing sight was the caterpillar being ridden by an ant. We suspect that the ant gives direction and stop/start signals by twanging the big hairs on the caterpillar's back, but there was no way to be sure, given the obvious language barrier.
We found this Zygon, obviously left behind from a scouting mision.
In the fringes of the trees we kept seeing flashes of colour, all the fairy toadstools are bright and bushy tailed. The fairies will be happy about their business with such a nice place to play.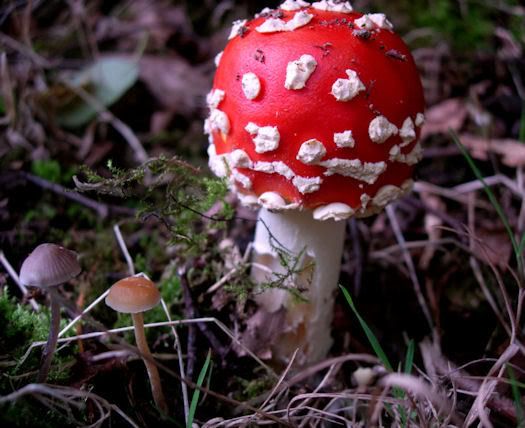 They're all sizes, shapes and colours.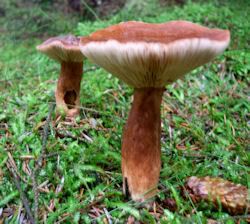 These three specimens are very common of course. Left to right: Me, Sandy and Elaina (who stayed remarkably upright despite several previous notable arse-to-ground accidental interfaces). Magic day.