When I heard the name of this Vaude pack at a trade show last year, I just knew I had to get one on test, here's the Splock 28.
Now looking at it above it looks like a regular pack, but it's actually a zipped access design, something I've used on sub-20litre multisport packs, but never as the main access on a mountain pack. I'll used plenty roll-top packs and I like them, so the zip wasn't going to phase me unless it did something weird on the trail.
The Splock's a scrambling/climbing pack which means it's very clean on the outside, just some compression and attachment points for hardwear, ice axe lops that hide away and loops on the "lid" for fixing bungees onto for stowing crampons.
The upper compression straps are interesting as they're doing a bit of multitasking. There's a buckle at one end for fast detachment and easy tightening and at the other end are the upper attachments for your ice axes. These have little metal hooks instead of buckles or bungees and are pretty neat. It works very well and is secure, but you do have to slacken the compression strap off the detach an axe which'll be a pain if you've got other kit strapped to the side of the pack.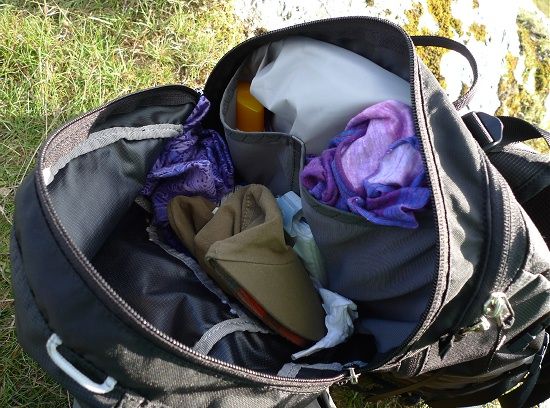 Not having a lid doesn't mean a lack of storage there's a zipped pocket here the zip for a lid pocket would be on a regular lid, it's huge and has internal stretch mesh pouches (above with a Buff in one and suncream in the other). The double-pulled zip means you can just open the top for a rummage rather than have to undo the whole thing which is a must with this lidless design as the pocket wants to fall open all the time.
The big zip for the main compartment opens the pack up nicely for easy access and there's a magic wee pocket hanging at the top (with various emergency stuff printed onto it) which takes my medical kit and GPS perfectly.
Also inside it's set up for a hydration sleeve with a hanger hook, bladder sleeve and a central tube exit point.
The double-puller main zip is easy to use, it's quick too. It doesn't like overloading, zips never do, you have to pack properly, if this zip lets go on the trail and the pocket/lid will hang down your back like the hood on an old Mod parka. As you'll see below too the zip goes around 90degree corners which worries me a wee bit, the zip's exposed to damage and wear and tear here, so it'll interesting to see what the ultimate durability will be. Mind you, Vaude kit is always very well made and the material/component spec is always excellent, so you'd have to hope it'll last okay.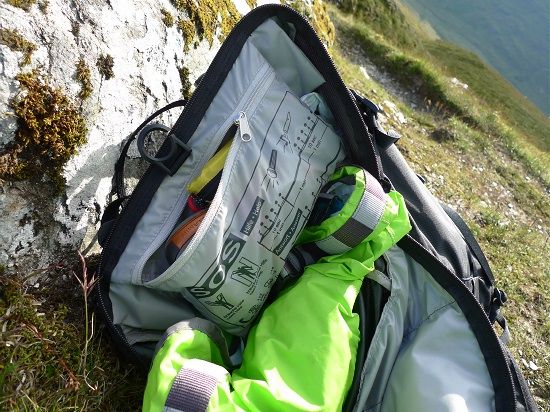 The back system is a good one. You don't feel those little foam bubbles at all, it still feels close-fitting and stable but there is still a bit of air gets through for sweat removal. The back has a plastic siffener in it which has a nice curve to it, flexes well and stops stuff sticking into your back. I really should have taken a photie of it, it's black and looks exactly like Darth Vader's breast plate. The stiffener's removeable to make a totally soft pack and save some weight.
Now, the weights on the Vaude site are wrong, very wrong, the pack is 768g for your 28litres capacity with the stiffener and 658g without.
The harness is low profile and very comfortable. The shoulder straps molded to me from the moment I first put it on and the wide mesh hip fins keep the pack steady when running on the Kilpatricks trails. The hipbelt is removable for climbing too, it weighs heehaw and you can stuff it inside the pack for the walk out later.
The shoulder straps are mesh backed, have a slider-type chest strap and no whistle on the buckle. I don't even know where my whistle is these days, whistle buckles on chest straps should be mandatory.
You'll see I've added some stuff to the Splock, a bottle pocket onto the shoulder strap and a wee camera bag onto the hip belt. There's no wearer-accessible storage on the Splock, it's a climbers pack so that's the nature of the beast and I've been quite happy with my add-ons, it's a personal choice issue.
It's a very comfortable and stable pack and it's fixed back fits me perfectly. It's way lighter than Vaude think it is and it's well designed and made. The features will be up to the individial, pockets etc and that main zipped access? Hard to say, if it's durable then it's great, a nice simple closure. Time and miles will tell on that one.