You never really know
If its going right or wrong, good or bad
Until its all over
And your socks are balled up, damp and warm
The kettle's on, your face feels tight
As the warm indoor air softens the sting of night
All the batteries will be flat
That bottle should be rinsed
But tired legs will just leave it in the sink
I've made some colourful memories
But tired eyes will look at them tomorrow
I have no idea how many times I've climbed Ben Lomond over the years but I know actually getting to the summit has happened on probably only half of those visits. This includes my trip earlier in the year where I just wasn't feeling it in the conditions while wearing a kilt. It never matters, it's always fun or if not fun, interesting. This time though, the weather was clear, there had a been a dump of snow, I was wanting it today.
The problem was it was lunchtime and I was still at home. Still, it's amazing what I can do when I actually find some focus and I was scooting down the road soon enough under lovely blue skies.
From the Rowardennan car park the road round to the youth hostel, cottages and WHW is covered in signs with no access, closed, forestry machinery etc all over them. Given that there is absolutely no bypass option I ignored them and walked along the road anyway. Machinery was seen, but no actual works. Who knows what they're doing, or not doing. It's easter ffs, great time to be doing this. Mind you the head ranger was recently quoted as saying that folk in trainers were responsible for the erosion of the paths on the Ben, so anything's possible here I suppose.
It was warm on the climb up but very pleasant and I was feeling pretty good on the move. A few folk trickled down past me, North Face hoodies and water bottles in hand with no pack seemed to be a popular outfit on this sunny day. "It's icy near the top…" was the common advice.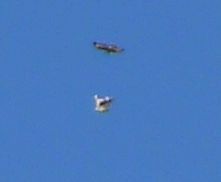 As I neared the top of the fenced woodland regeneration area I could hear frantic bird calls above me so I stopped to look and see what the ruckus was.
This has two parts to it, one of which was many hours later where I posted the three photies above on my socials to see if anyone could help me with identifying the birds.
I assumed the big brown bird was a buzzard although the call was different, the wing's leading edge was very straight and the colouring was different, plus it was huge. So basically I was thinking buzzard because I don't know many birds. The three others were peregrine falcons, I know them to see from many sightings at the crags, including close ups. The size difference was very marked though, the falcons looked tiny.
The big brown bird was apparently scouting for dinner, it's giant wings making lazy arcs above the upper edge of the woodland as it peered down looking for movement. The falcons weren't liking this and were frantically diving at it singly or in pairs while shrieking at it. Browny occasionally flinched or lifted a wingtip but it really wasn't giving a shit as the nuisance continued. It even carried on with it's own unhurried call when the falcons withdrew to regroup.
I watched this for several minutes as the birds arced, cried and dived above my head.
It was simply stunning to see.
Eventually they disappeared to the north and I walked on hoping that I'd caught some shots without the camera having much to autofocus on.
The somewhat blurry subjects were very plain to many of my outdoors friends though. I'd been watching a very rare white tailed eagle.
The size then made sense as its wingspan could have been approaching two metres and I'm so very chuffed to have seen this. It was a moment of privilege that I won't forget and that was before I knew what I was looking at.
Then half an hour later ravens or maybe crows were tussling with the peregrines on Ptarmigan Ridge. Good grief, my timing was perfect today.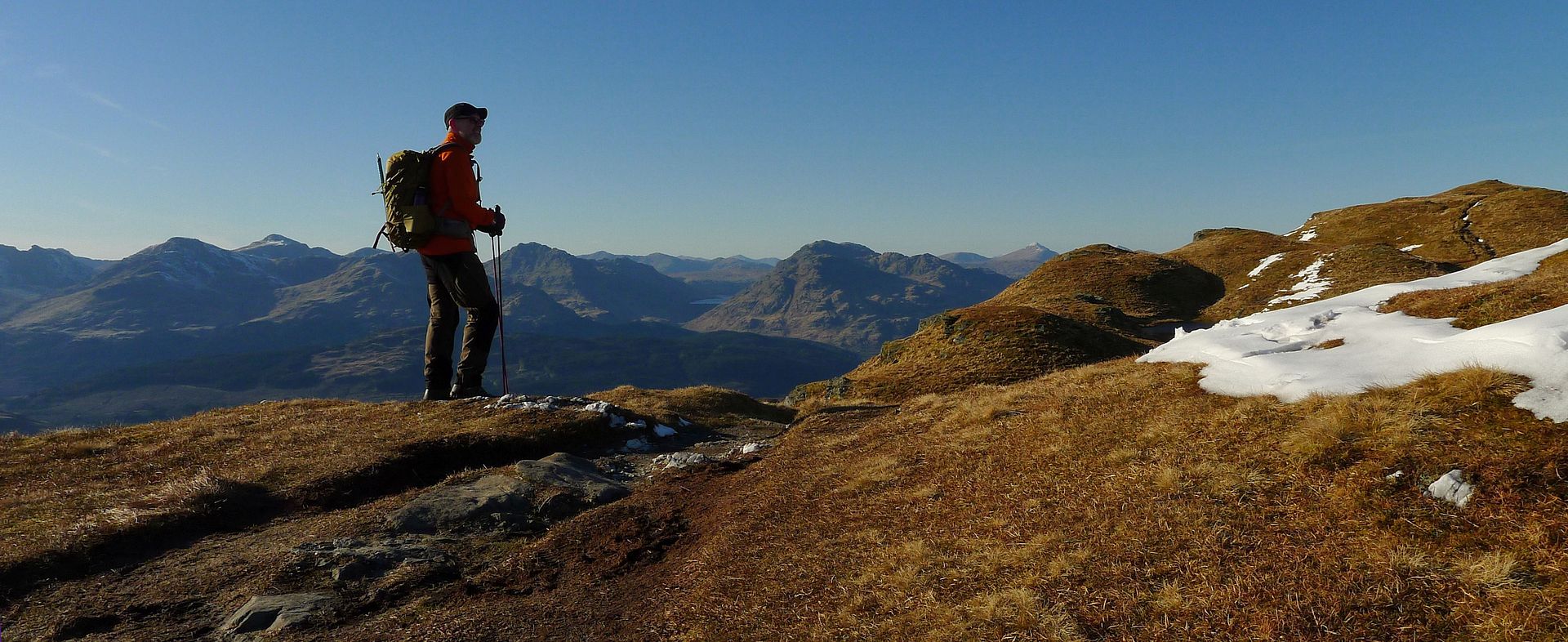 Ben Lomond is a wonderful hill, full on interest that rewards a slow pace and a willingness to step off the path. Today it felt not unfamiliar as such, but had a sheen of newness that pulled me left and right constantly. I was walking round lochans, enjoying new views from old outcrops and all under afternoon spring sunshine.
They'd been right, it was icy. The ground was largely frozen, all the water had glass clear ice over dark, clear water and there looked to be enough snow up high to be able to enjoy it.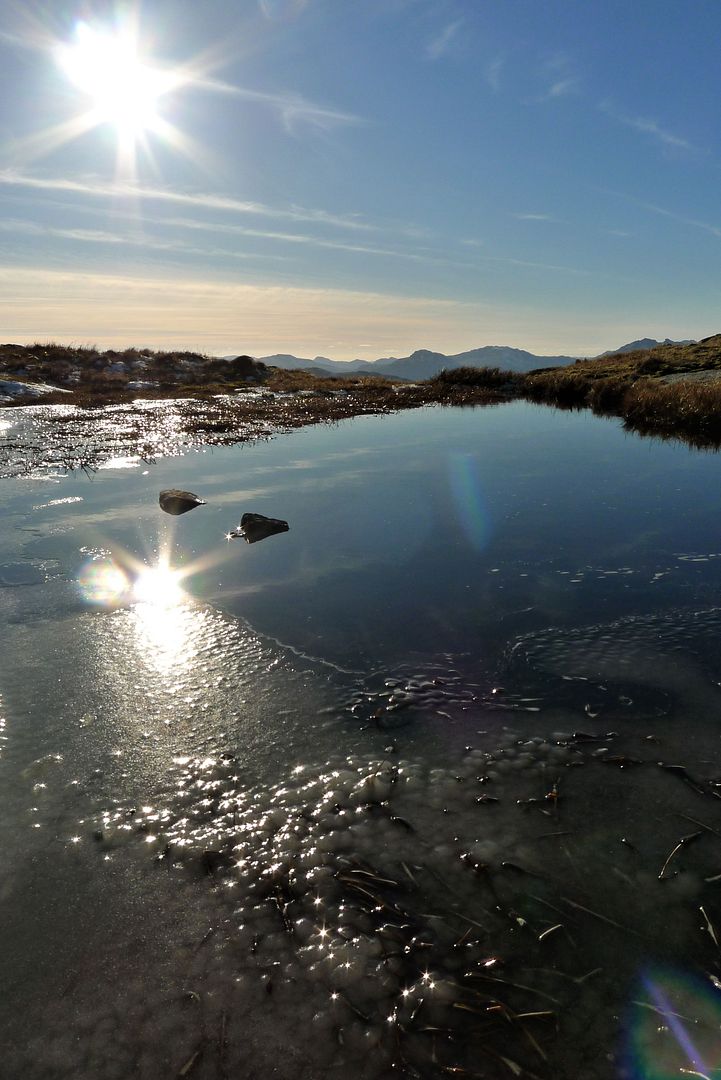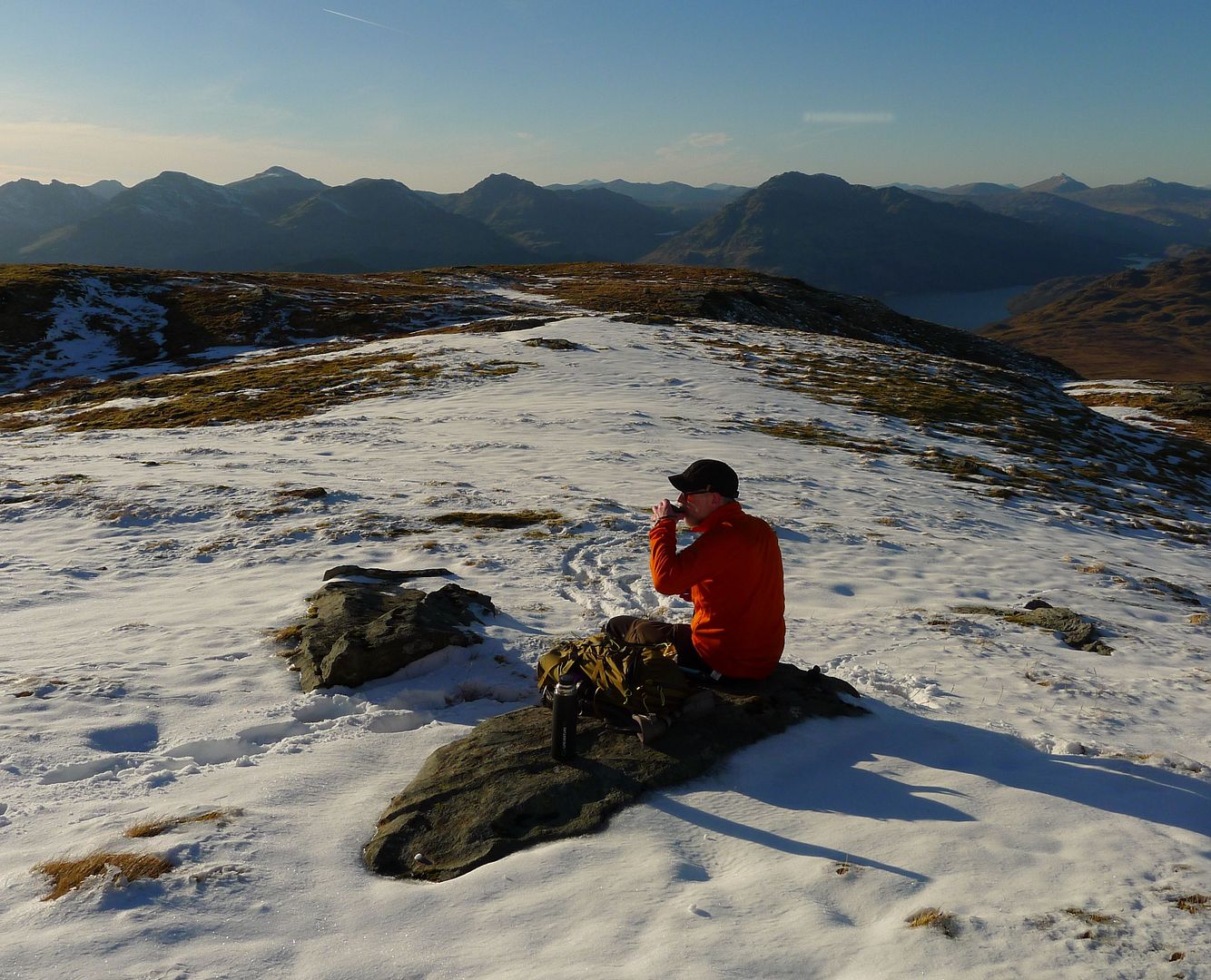 I met a couple who had either Aussie or Kiwi accents who asked if I knew where the summit was. There were on the WHW and the Ben was one of the goals en route while they were staying overnight below.
I explained the situation as I saw it including pointing at stuff, explaining the snow conditions which I was expecting on the west ridge to the top and pointing out that the sun was low but leaving out that I was having a brilliant day and didn't want to spoil it by walking them down in the dark.
They called it a day and headed down, you can see them below. It was the best call.
My hands had been getting cold but sitting on a rock in the low sun was surprisingly warm and I enjoyed yet another deluxe home made roll with a cuppa before the steep bit.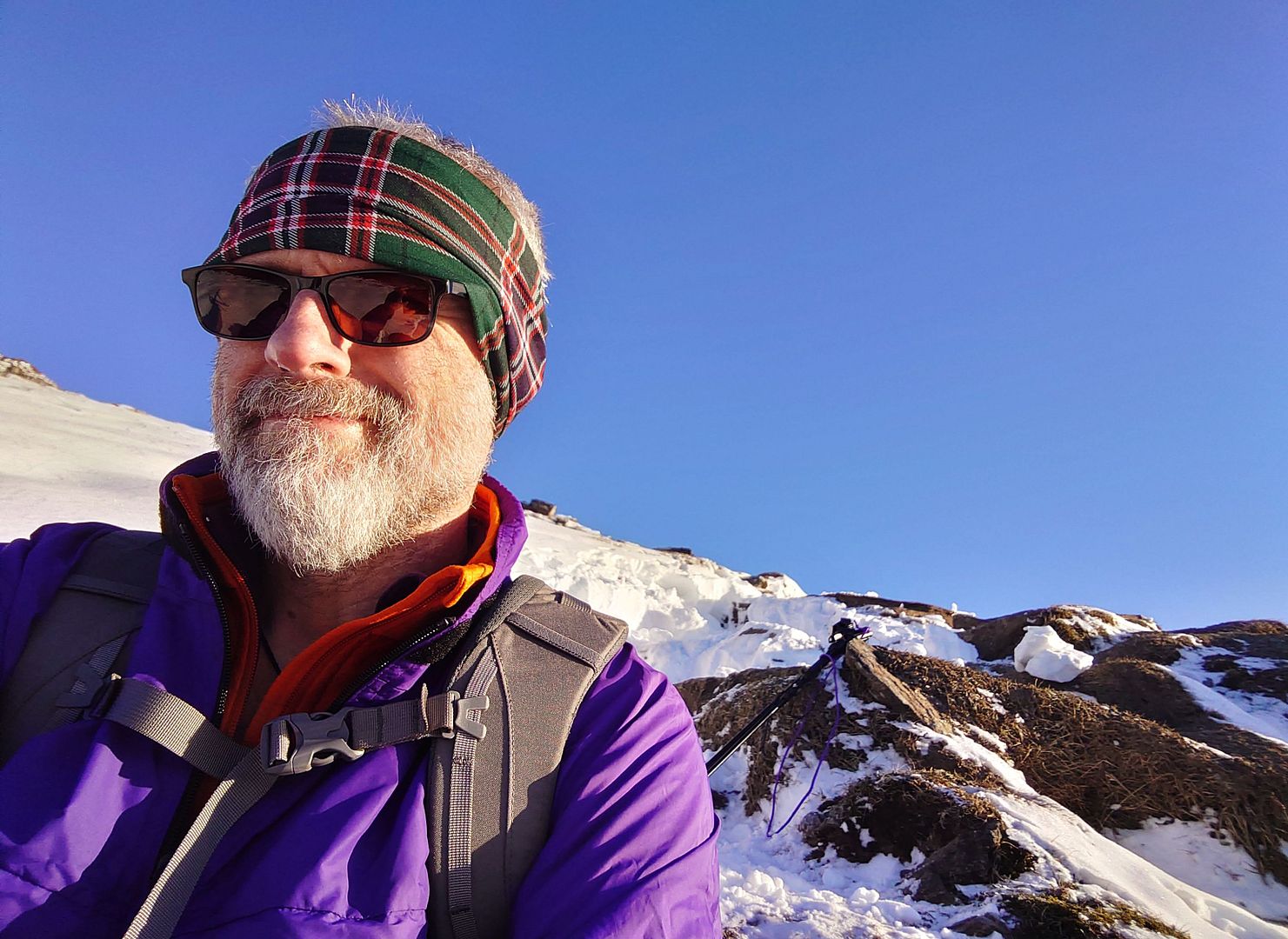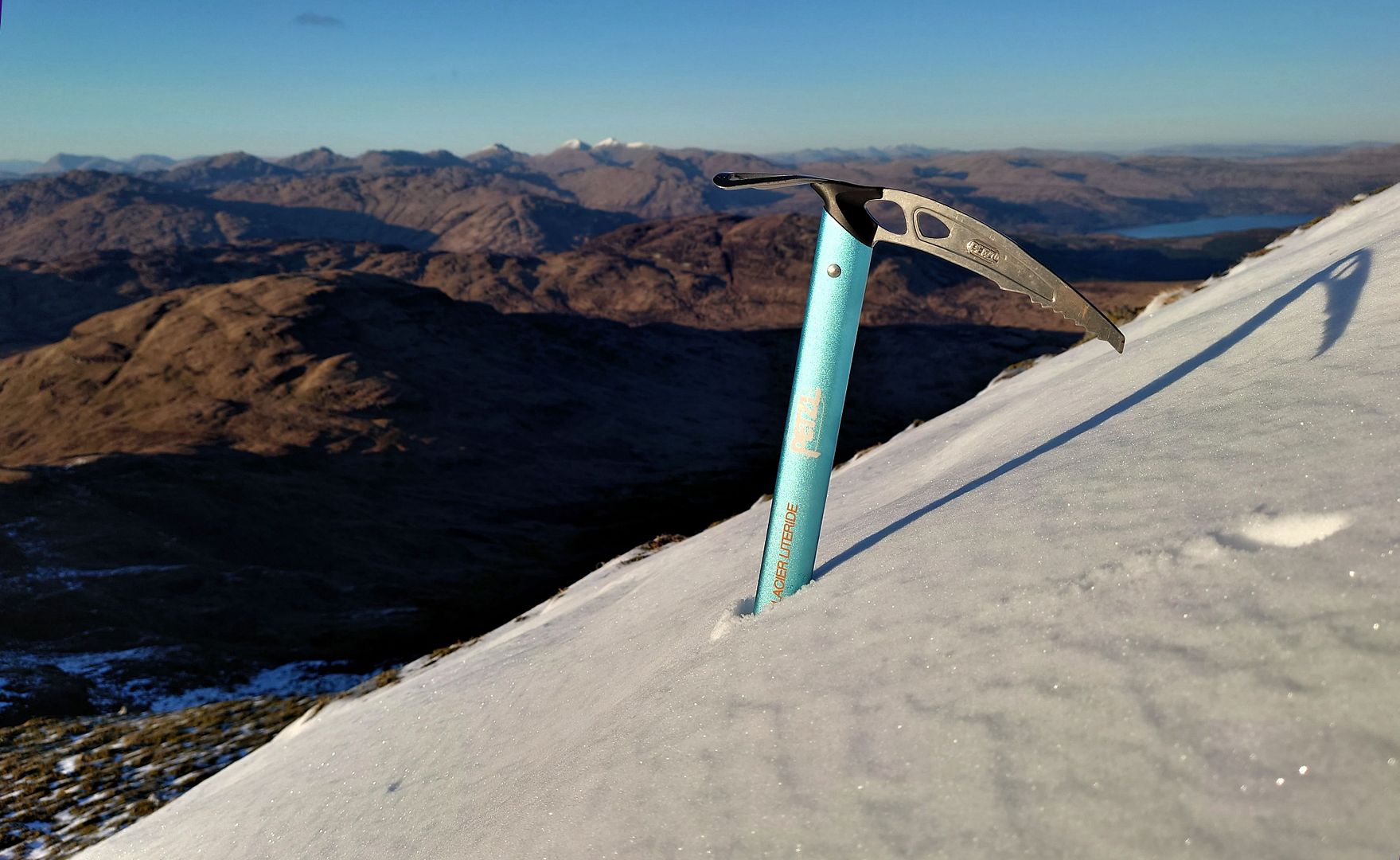 The ridge to the summit really is a gem. It's not narrow as such, but has a gently sweeping zigzag that has plenty or air around it that feels mountainous and high. That's amplified by the pack of anything of a similar height anywhere nearby. It really is a beacon, an island of a hill.
The snow was hard in places and the ground was iced, I was happy with my spikes and ski touring lightweight axe. I was also pleased with my advice to the couple earlier. They would have struggled.
I like both of these shots of my axe. Above is from my phone and you can see the nice wee shadow on the snow, below is the camera and is a bit higher res. Maybe I'll edit one out later if I pick a favourite.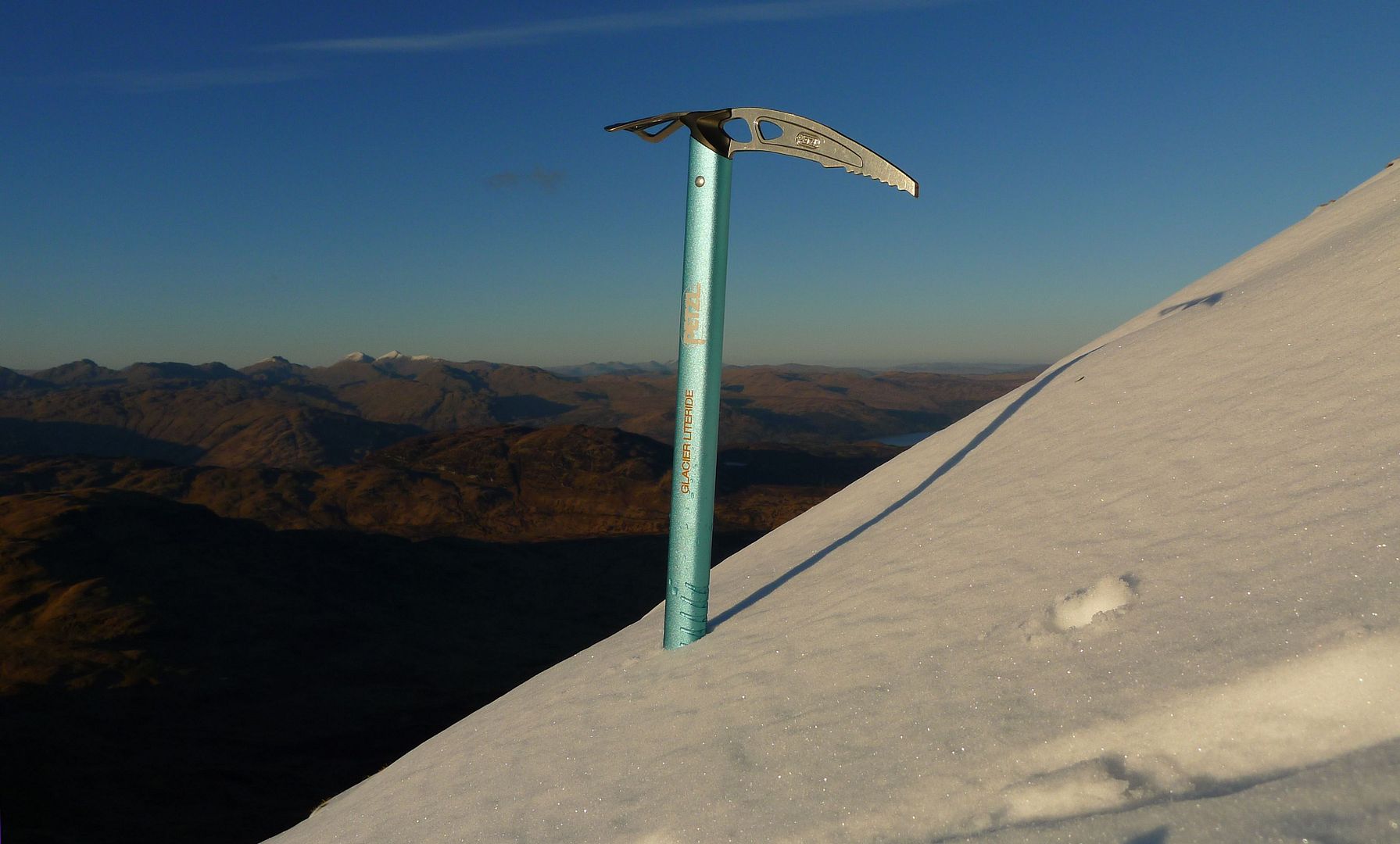 This is evidence of possible Hive infestation in the area. You'll know exactly what I mean if you play Destiny too.
The views just got better with every zig or zag ascended. The lowering sun flowed golden over the southern highlands and to the lowlands towards home.
The hill was deserted now, the tourist attraction had closed for the day and the fine Munro that is the real Ben Lomond stood proud and steep in the chill evening. It's dark crags streaked with white and it's rusty slopes glowing as the sun now set behind me. What an absolutely wonderful time and place to be.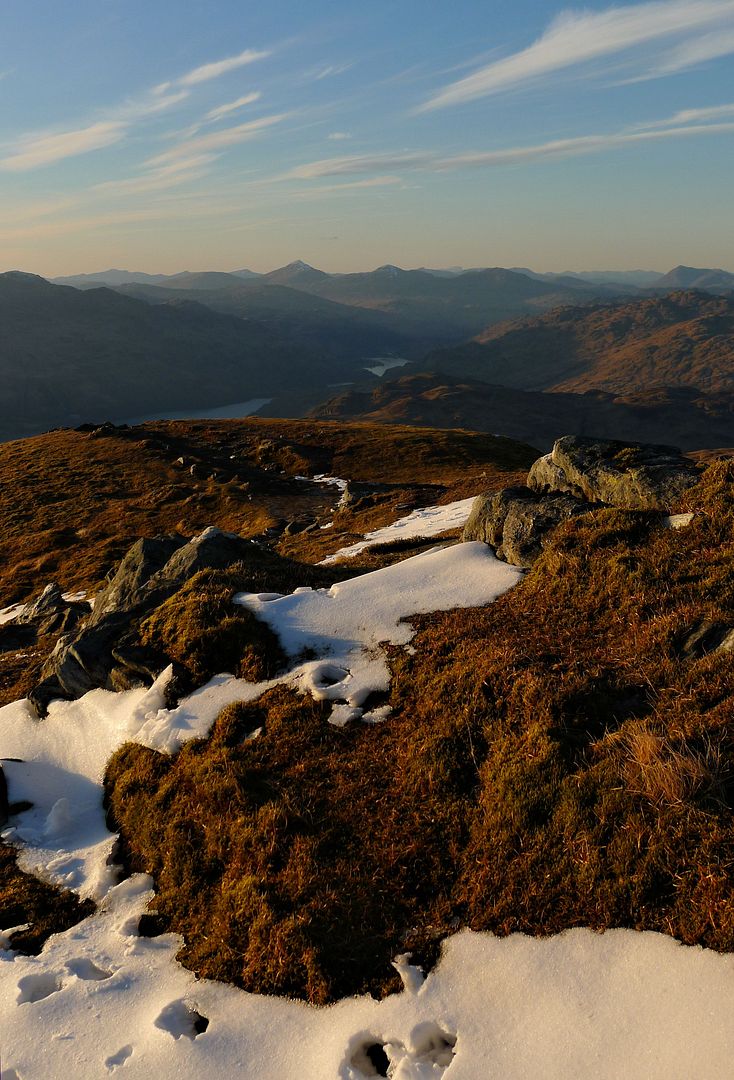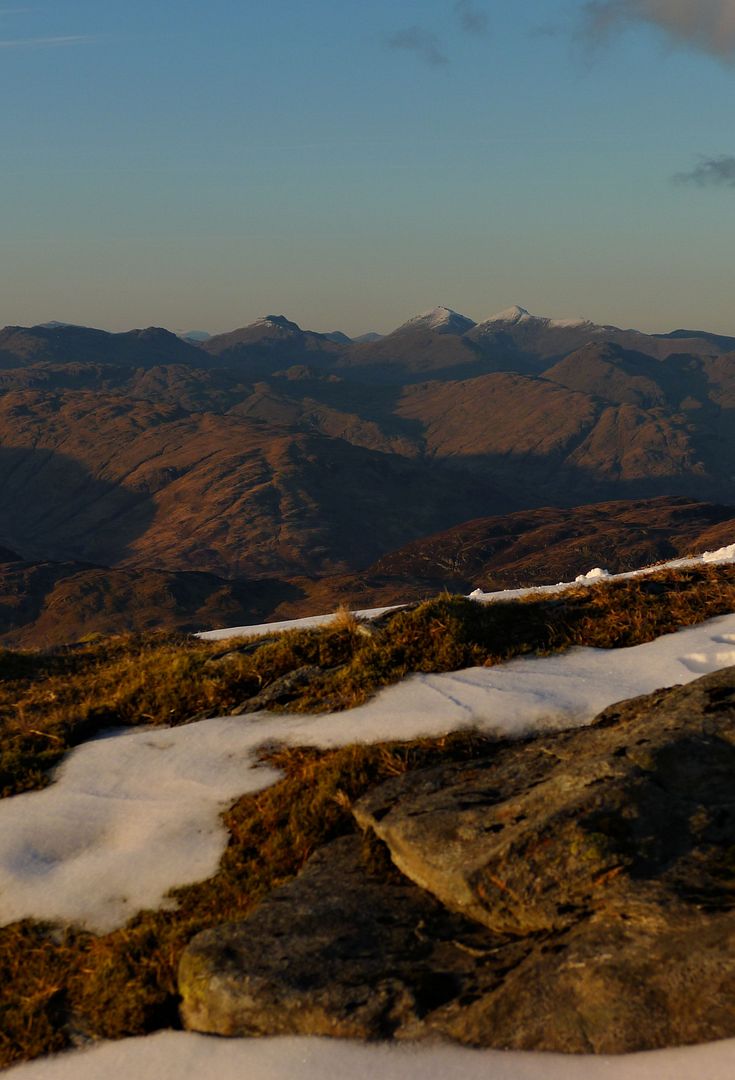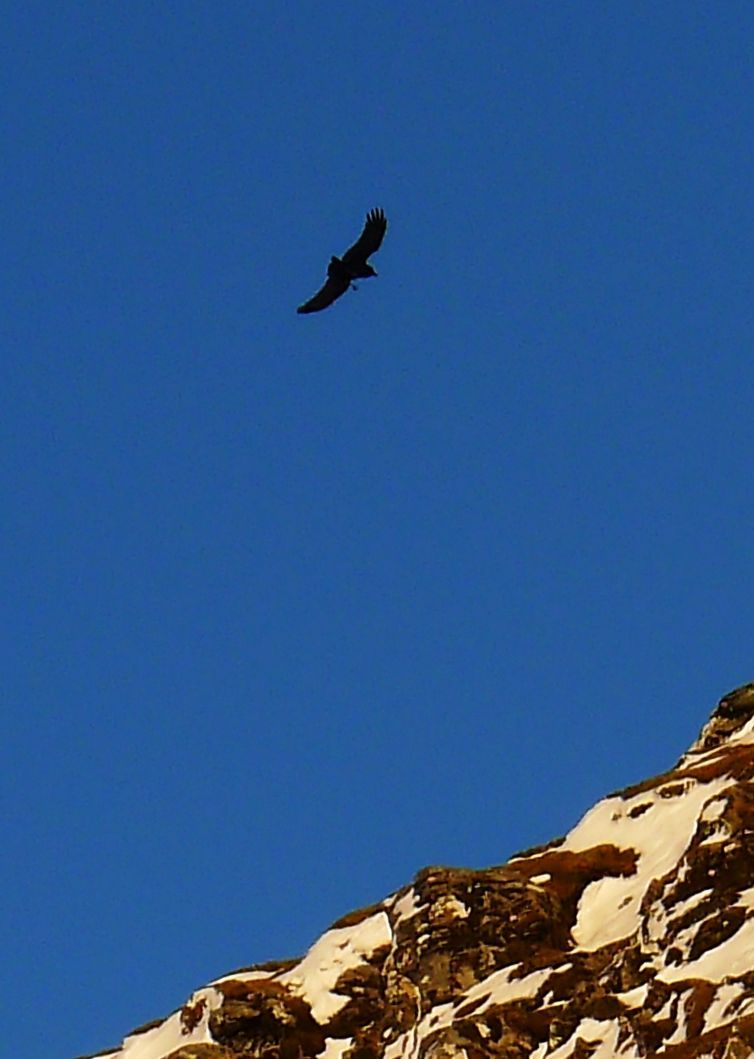 I do hope they did that on purpose.
The sun was right down by the time I was at the trig pillar. It was deep into the cloud over the ocean and although someting of it's light remained any warmth was filtered out and I pulled on my down jacket as soon as I got to the top.
Warm, a cuppa poured and view to fill the soul. It was so good to be back on the actual top of this lovely lump.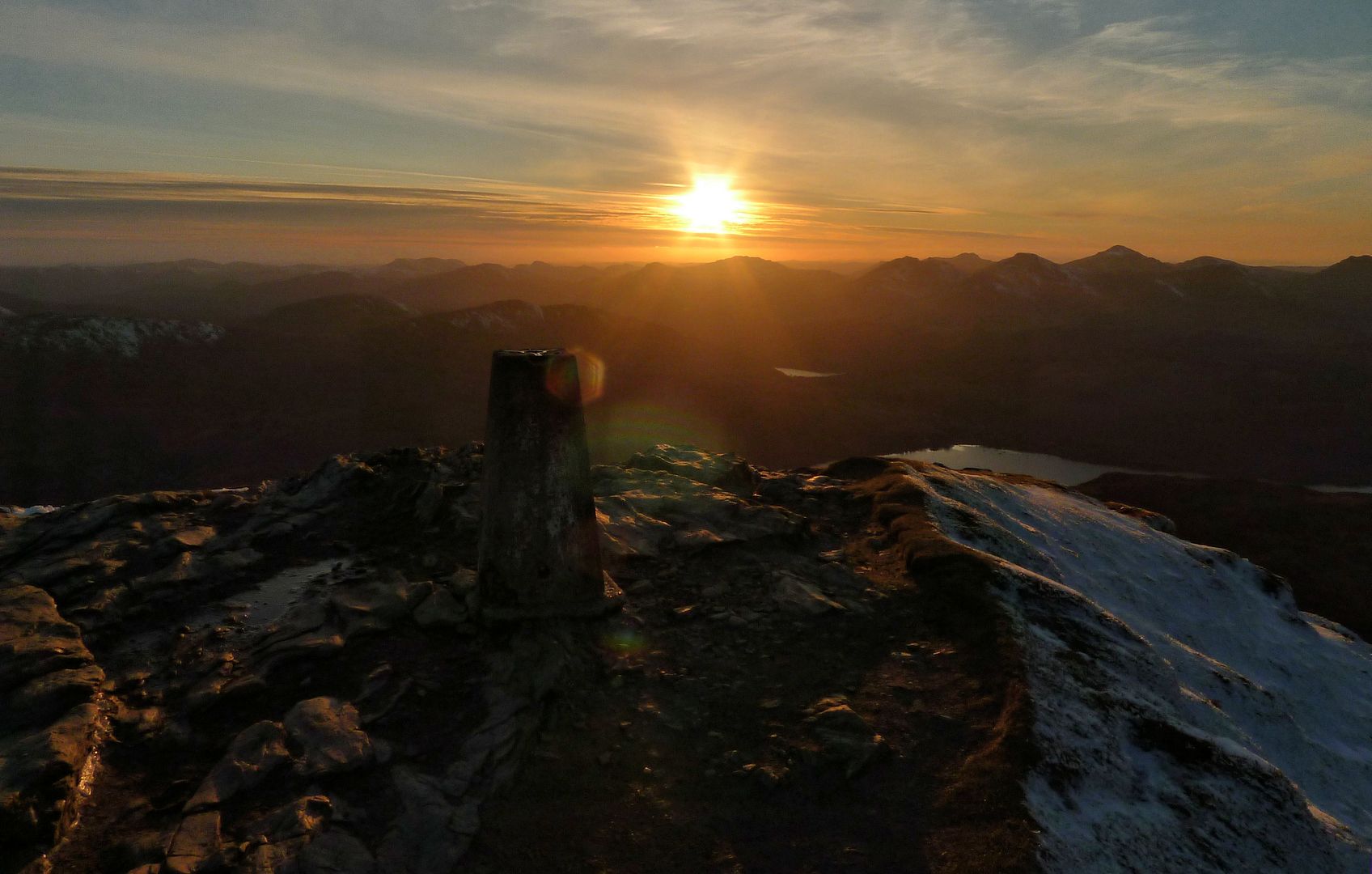 The sun threw out what was a parhelion I guess? It's to the right in the above shot by Ben Ime. The colours in the sky were fantastic with the remaining snow shining out of the darkness like shreds of silver.
To the east I could see the shadow of the summit reaching far out across the landscape. The pyramidal shadow is touching the Ochils by Bridge of Allan some 48km away. That's practically the other side of the country. What a wee place we live in. You'd think that would mean it was easy to fix.
I didn't take the path, I followed the edge of the northern coire where Ben Lomond bares its teeth. Folk walk past this every day and are none the wiser.
Phil and I walked across the lower coire years back and climbed up the NE ridge which was fantastic. Need to do that again one day.
I did find the tourist path again by which time it was nearly dark. I stopped for a while and let darkness fall completely as I always do. I'll burn my headtorch  batteries when it's pitch black not before. Dusk is cuppa time. It's become something of a ritual in recent years, a wee quiet time before the walk out. it's nice, I'd recommend it.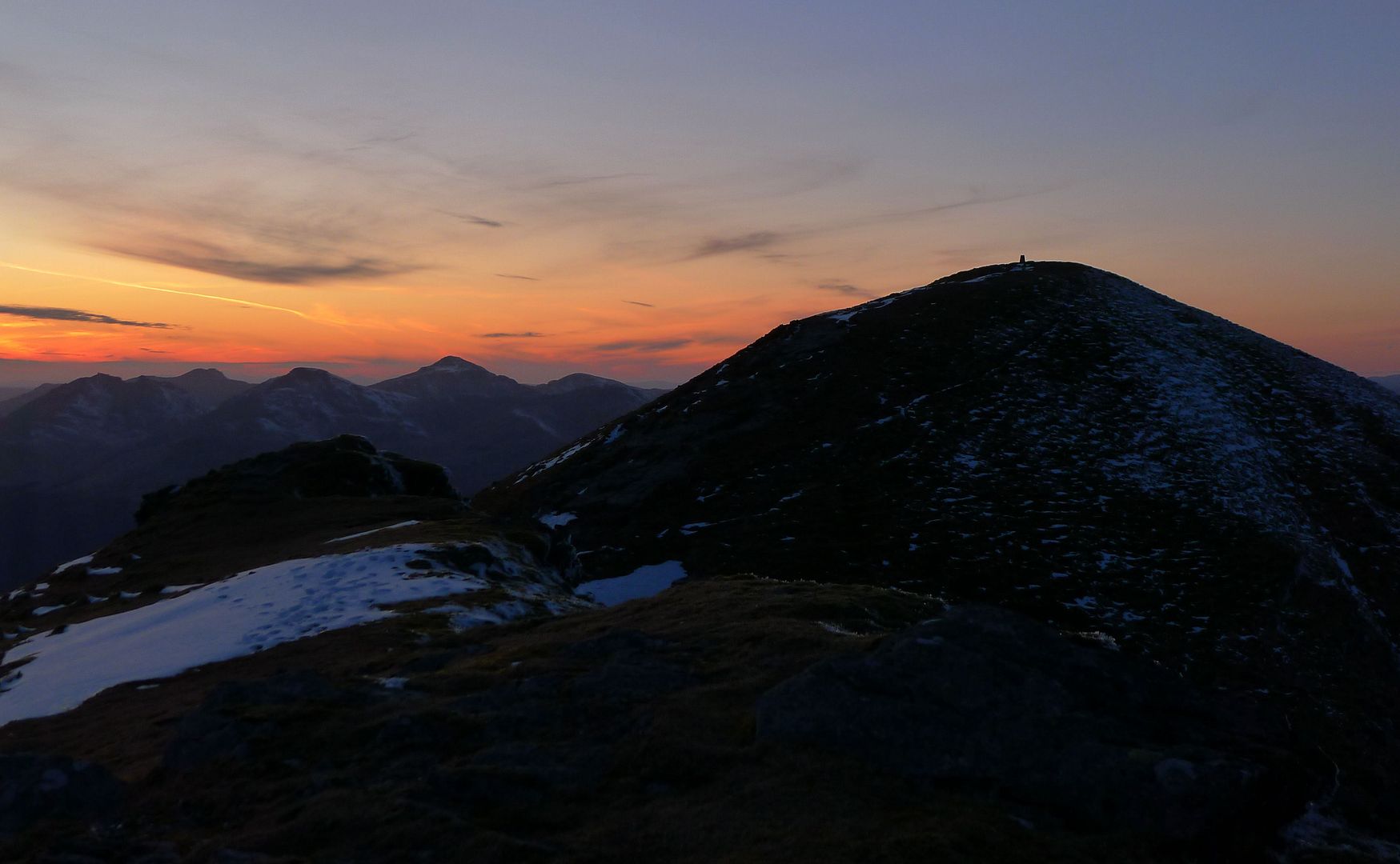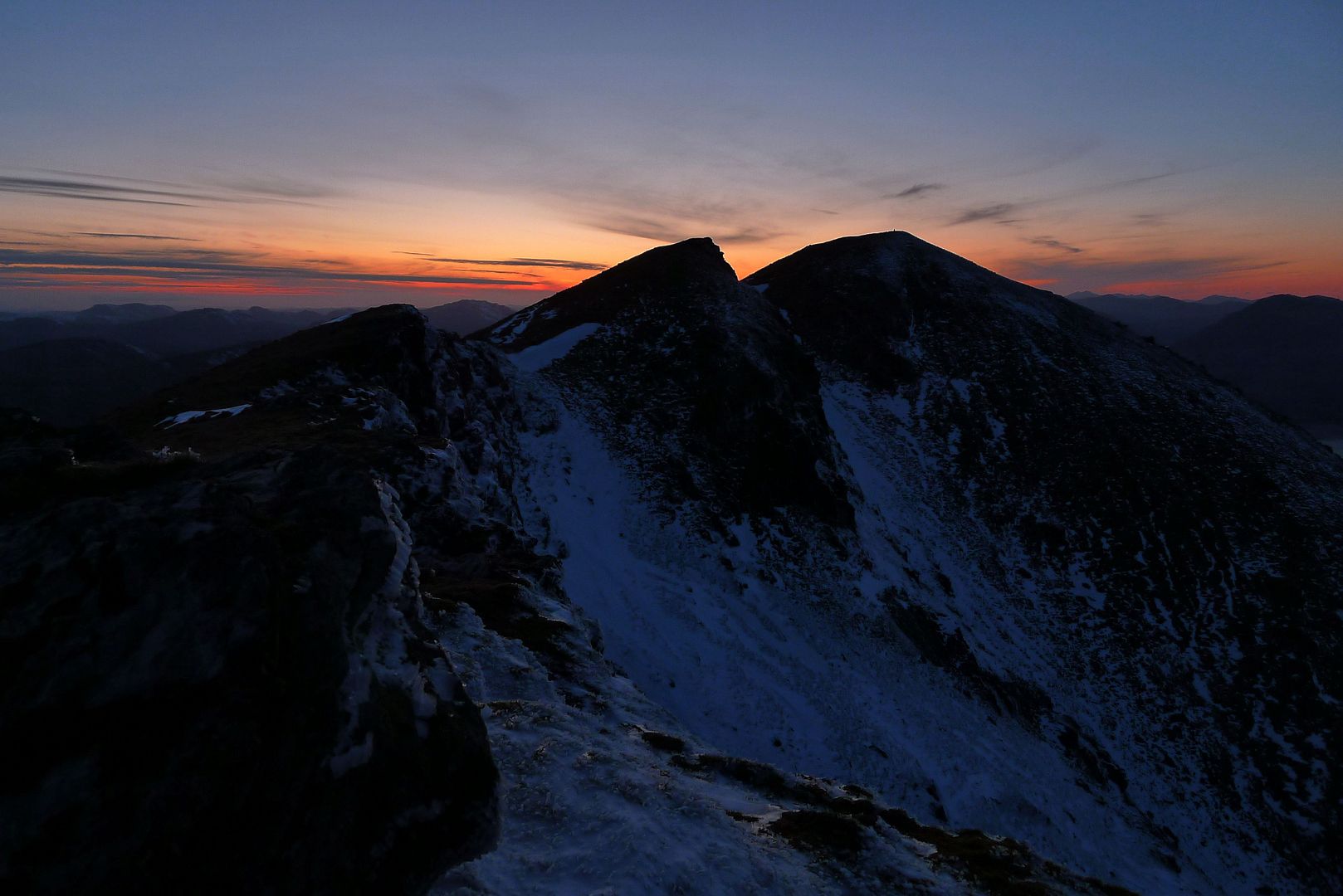 Back in January I did a very unusual thing I walked out with music on, not in my earbuds, but from my phone in my chest pocket and had a wee singalong to myself. It was rather joyful thing and I was compelled to do it again. Can't explain it, but a fantastic day maybe needs a send off or something. There'll be a deep psychological reason which we'll get to later maybe. Whatever, sing I did.
As I hit the trees near the car park, Black's Sabbath's eponymous signature track started and I just had to smile widely at the timing as the scene of darkness and doom was painted by a young Ozzy as I walked through the set of a 70s Hammer film.
When I got home much later than planned the girls had a cuppa and a hot bath ready. All this on a school night too.