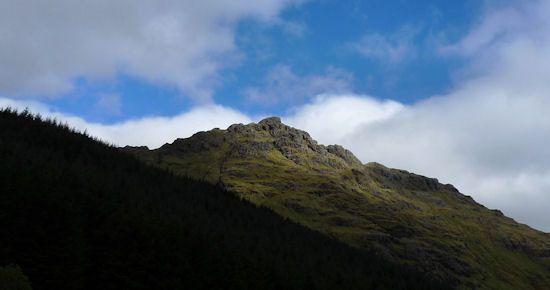 I did make it to the mountains, just around the middle of them instead up up 'em.
Beinn Vane looks good from any angle.
Phil, Craig and I went on a training run as the date for the WHW*Falldoon approaches. That date is probably the third weekend in October, which is later than we'd hoped as it means it's got more of a chance of being on the wintry side, but it does give the old bloke an extra couple of weeks training…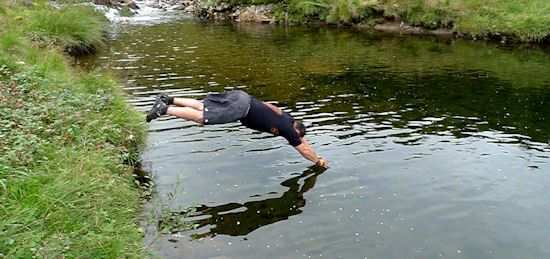 The three of us have been out on a mix of wheels and feet before and the yo-yo effect happened again. We raced to the trail and immediately slowed on the ascent where Craig caught us up. We needled each other until a flat spot saw Phil and I stretch out a wee lead. When we both reached the highpoint of the trail (this time, both of us in the saddle, it was the same route as last week), Craig passed us after a couple of minutes and I never even looked up from my position of hanging over the bike trying to keep my breakfast down. The extra heat and slightly fuzzy head really made life difficult on the long climb this time.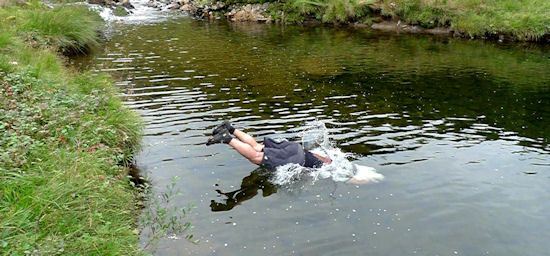 The easily angled descent to the burn was slow, I felt burst after the climb. Phil was waiting for me when I got to the weir and he just had to cool down. I resisted the cold water and just sat down instead.
Some Nuun, a look at the view, a pee and a walk up and down saw me feeling better. And when we left for the return leg I knew that the climbing was over and and I had to actually ride the bike as opposed to sit on it and spin the pedals.
I was a wee bit worried as I was a bit shaky on the technical stuff last time, but the first sketchy descent on a slate chute went well and I was boosted by that, making the rest of the rough singletrack less of a looming adversary and more of a ride-able funscape.
We caught Craig in the woods before the singletrack section and we stayed pretty close from here on.
When we got back to Arrochar we were pleased indeed. Team handed trips are fun, and it's good to train together as it showed that Craig's running is on the money and if his feet hold together it's looking good for that 96 miles.
We had lunch at the wummin in the windowcafe at the Esso garage across from the carpark, it was heaven sinking my teeth into that scotch pie I'll tell you.
What a great day out with my chinas indeed.
Now, I'm supposed to be in Glen Coe next week. Repeat to self, tent not bike, tent not bike, tent not bike…
Will I remember how to do all that stuff?