The girls (and indeed anyone who sends me emails) were beginning to suspect that I'd been abducted by, I want to say martians here, but somehow a socially advanced echelon of woodland creatures bent on domination of all the world beyond tarmac appeals more at the moment.
So a proper Scottish family day out was had. That is, driving to an attraction (where Holly shaking hands with a "friendly" Spider Crab both amused and reminded my of a family-friendly redux of Aliens), dropping a lollipop on the ground, getting ice cream by the harbour and trying to eat it before frostbite claimed a finger, taking chips to the beach where we had to eat them in the motor as the wind was blowing so hard, then running out to gather shells and running back to the motor again before exposure took a hold.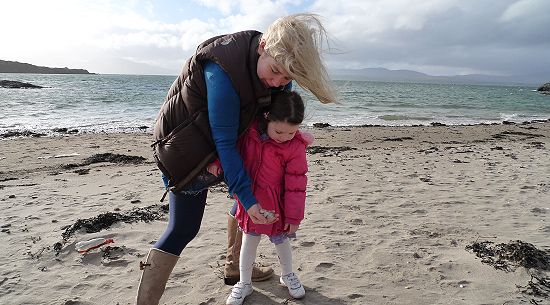 Of course the seaside teashop makes it all better, and you can get a babyccino anywhere these days so the wee yin is happy. I think she preferred the packet of plastic crabs right enough, we had battles, races and a display of six in a row where if I threatened to touch even one of them she went banananas.
There's always a favourite song for the way home, this episode it was the theme from Sledge Hammer! (the exclamation mark comes with the title, I'm not to blame), the 80's comedy cop show that should be viewed by all.