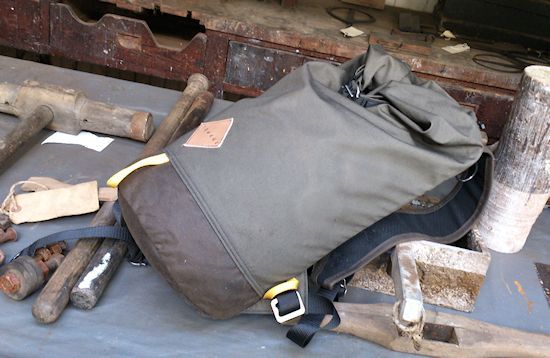 The Trakke Óg has been on my back often these past few months. It quickly became my pack for ranger duties in the Kilpatricks but it also became my man-bag for carrying kit when I was gadding abound. Well, it looks good with technical fabrics and denim. But, it's not just a pretty face.
The Trakke Krukke is a brilliant pack and the Óg is in many ways its sidekick. I wanted to say henchman there to be honest. It has the same clean lines that are a delight to look at and plunge through trees with and the same simply defined purpose: carrying kit.
It's the way it carries kit that makes it different and that's down to fabric and design which something old, something new, something borrowed and something brown – Ventile.
Ventile is a high quality cotton fabric with a weave which swells when wet to make it waterproof, it works, I've got Ventile clothing. In the Óg it makes a difference to the weight over the waxed cotton Krukke and it also gives it a softer user-friendly feel. It's tough though, Ventile is badass, I'm happy scraping this off rock and trees, it'll be just fine.
It's a clean design, minimal seams and lidless too – it has a rolltop closure which is something I've always liked. Here the fastening is by a webbing reinforced closure and stainless steel buckle. Works great and the closure hold the top of your ice axe, poles or shovel in conjunction with the loop sewn into the base.
The base is a 3D shape, rounded, easy to pack and its rated 18litres volume goes quite far with the closure allowing a wee bit of flexibility. There's no pocket, the zip you see is for access to a hydration sleeve with runs down the length of the pack. Alec stuck a thin plastic sheet in there when I picked the Óg up at the workshop which added no weight and gave the pack just the right amount of stiffness, so it's stayed in there and just stop and take my bottle out for a drink. Hey, just like the old days.
The harness, again like the Krukke, is basic and starts to mold to you with use. There's no chest strap but the more you wear it the more secure the Óg becomes and I don't miss the chest strap at all. It's comfortable in the different postures I have on foot and on the bike, not been running though, I was planning for that stuff the past couple of weeks but I keep finding excuses not to. I might come back to that soon.
There's a 25mm removable webbing waist belt which I do use sometimes, but it's stability not load bearing, unless it was full of lead shot you couldn't get enough weight into the Óg  to need a hip belt.
There's some extra webbing loops and I've experimented with these, fitting a couple of compression patches on there to carry extra gear on the front panel. This can work pretty well and I think it's a realistic option. I've had a RaidLight chest pouch attached with no extra fittings too, small packs are just the start of a flexible system, easy to drift away from that notion sometimes.
The Óg is a brilliant bit of kit. It's well made, thoughtfully designed and a joy to use. The Ventile will age and wear with me, probably slower than me mind you and there's something natural and human about it that plastic fantastic gear just doesn't have.
Now, the Óg is made in Glasgow from components sourced as locally as possible and I took the photies somewhere that seems to fit with that just right. I could have done them on a hill, but I took the shots in a Victorian workshop which is now part of the Scottish Maritime Museum.
The work surfaces and tools you see were used to design the ships that launched from Denny's in Dumbarton and Trakke are continuing that legacy: design – innovate – build – export.
Alright.