The last few trips I've been carrying something a little different on my back, different from what we're used to seeing today that is, but there's something familiar about it to folk that know a bit of the history of outdoor gear.
Trakke are a small Glasgow company who make cycle packs and courier bags in their workshop in the west end of the city. I visited them a couple of months back and was surprised to find that there was more than just on-site manufacturing, the materials and components were almost entirely sourced locally or from the UK. I was enthused by all this, Glasgow was once the Workshop of the Empire, turning raw materials into anything from a steam locomotive to a school jotter, anyone still making anything in the city has to be good news.
The Krukke pack was the obvious choice for me to test, a classic pack layout and for all the world it looked like a Whillan's Alpiniste for the kids of today.
There's other elements here. Analysts are saying that the Made in China model is now broken, the speed and reliability of prototype to retail process is too slow, costs aren't competitive if quality is to be kept high and environmentally? That's a whole other discussion.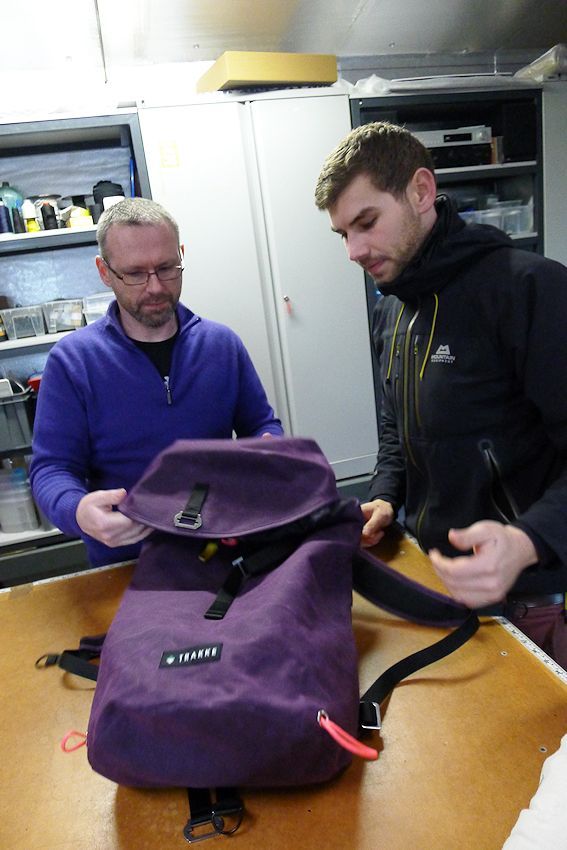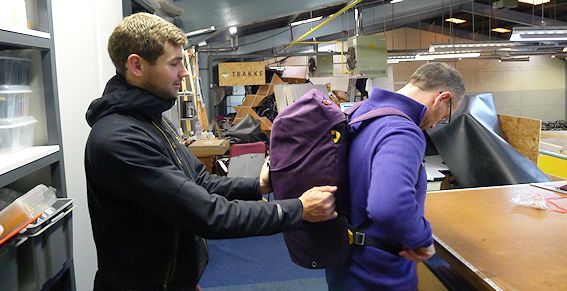 Talking over the Krukke with Alec, Trakke's founder seen with me above, we decided to take a standard version of the pack on test. I could see little things it might need to make it outdoor-specific, but the only way to really know is to live with it for a while.
Alec said they'd make me up a Krukke in purple after the trip out to the Hebrides to source some Harris Tweed fabric for new models, two weeks later I was back in the workshop looking over my Krukke.
The Krukke's simplicity makes it an easy pack to familiarise yourself with and the basic harness design makes it non  back-size specific to some extent. There's no hipbelt but there are buckles to attach a waist belt  to give the pack some added stability, good on a bike, but just as useful on the hill.
I was happy enough with the fit and a few days later I had it packed with kit on Aonach Mor as you'll see from the cover of the current AMI Magazine below (Association of Mountaineering Instructors, great magazine btw, full of useful stuff).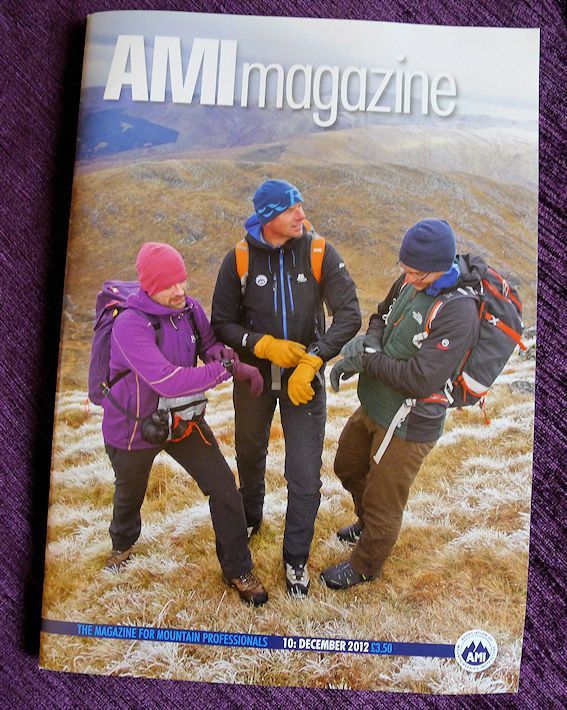 The main body of the Krukke is waxed cotton. It's tough and it's waterproof, a feature which can be maintained with further waxing down the line with Trakke's Super-Mega Wax. I know it sounds like something I'd say anyway, but it's actually called that.
It's quiet and smooth and rain runs off it, it's also got a wonderful quality to it that you won't get elsewhere, it wears in. The fabric, or more accurately the wax coating, starts to show creases and scuffs where its been scraped on rock or against hard snow. Re-waxing will do away with this, but I love it, it looks brilliant, a pack that grows old with you.
The pack is fully lined with waterproof Cordura from the USA, the only non-UK component. This gives the Krukke belt and braces strength and waterproofness, something that cyclists heading to work will appreciate, but something I don't think we'll need in the hills. My Whillan's is a single skin of of canvas and 45+years on it's still in one piece.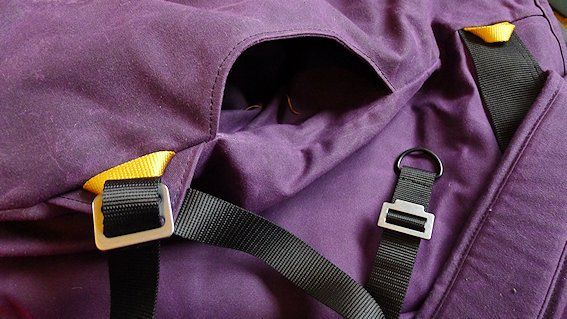 The lid is the same fabric combination and it's sculpted to neatly pull over the top of the pack. There's a small-ish pocket here with a water resistant zip, handy for medical kit, headtorch and a Buff.
The closure is webbing and a stainless steel buckle, it looks lovely and works well. The same stainless steel is found at the waist strap attachments and waist strap buckle, shoulder adjusters and all the adjustable straps have coated steel D-rings.
The internal compartment closure is made from soft Ventile cotton, a wonderful fabric which is also waterproof. It's cinched in regular style by a cord, but the cordlock is a nice touch with single handed tightening and a big tab for easy opening. It works very well and has a couple of notable wee features, the cordlock is anchored to a square of leather from stock rescued from the old Jaguar car factory and the cord grip is a wooden marble, just like on the lid zip pull. You really don't miss the plastic one bit.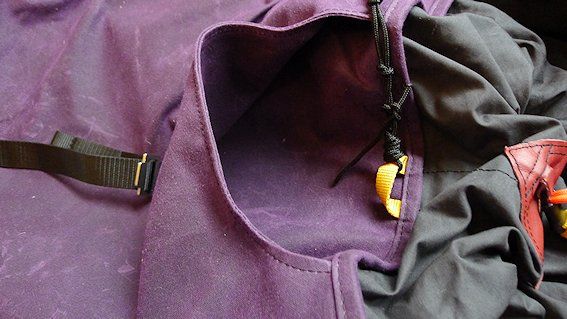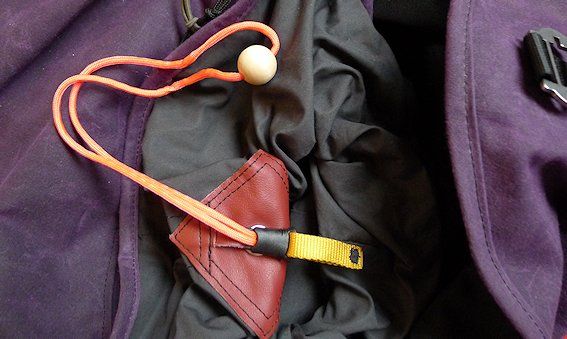 There are three pockets on the body, one on the front that's accessed when the lid's open and two at the sides. The pockets take up internal space which is fine, its all about accessibility rather than extra kit. The side pockets take bottles just fine and are just about useable when wearing the pack. The front one is big and is great for map, tripod, poles and waterproof. I've got used to the system pretty quick and especially if I'm wearing a front pouch as I tend to do, I'm not missing anything too much.
The side pockets have drain-holes and these also double as pole/axe loops, some cord fed through from the inside and a wooden marble to hold it and you've got one end of a pole or axe sorted.
I fitted a daisy chain at the top of the pack where webbing loops are handily placed to allow this and a stuck a regular bungee/cordlock widget on it, axes and poles now attach no problem.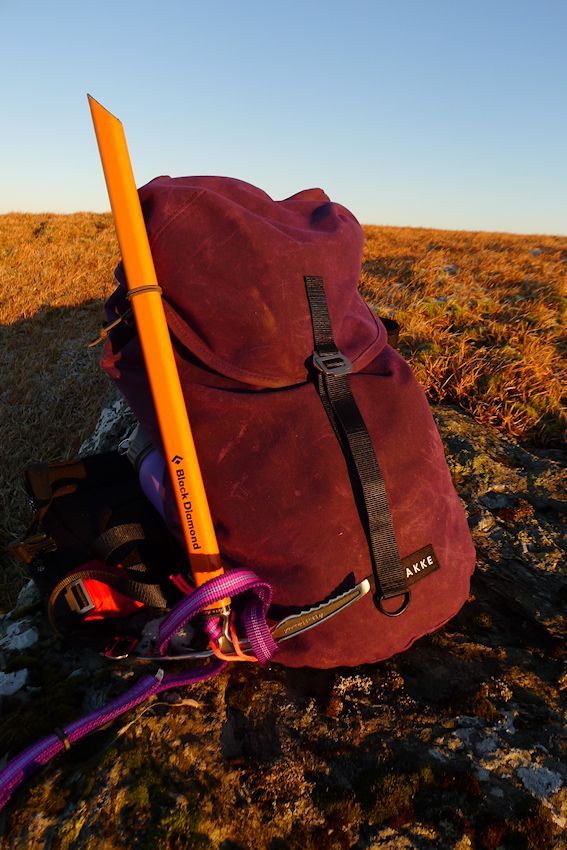 I was walking up Aonach Mor and I was thinking that the straps were a bit stiff, maybe the pack didn't fit after all. By the time I came down I felt like the Krukke had been molded to a cast of my shoulders. I had a good bit of weight in the pack, it was snowing at times and I think it all worked together to accelerate the natural fitting process which the cotton apparently goes through: the shoulder straps take your shape.
Now when I wear the Krukke it just fits, and there's no need for a chest strap either, it feels secure, oddly something that it shares with the leather and sheepskin straps of the Whillans.
This isn't a review as such, I'm using the Krukke outside of its remit at the moment and it wouldn't be fair to mark it up as a pack ready to be shown to outdoor folk. But, I'm using it without issue at all, the fabric is a joy and the comfort on my shoulders is outstanding. Anything that's missing I've improvised something to fill in the gap and I'm not missing any functionality.
Trakke are finding out what they need to know to make the Krukke a mountain-ready pack, it has to lose some weight and there has to be some functionality and accessibility tweaks, but there's not that much to do at all and it'll be good to see what they come up with.
The thing is too, they can be cutting a new patterns as they're thinking about it and the pack made that day will have an update.
Gear production the way it used to be?
I've seen some of the ideas for updates and all-new models too which I'm looking forward to seeing, but below is one of the new Harris Tweed model, The Bairn. It's a mini courier bag and manages to mix tough and cute all at the same time.
More from the Trakke later and planty of the Krukke as we go..