The gear catch-up continues with this mixed bag of test models here. I've had these shoes for varying lengths of time and they've had equally varying amounts of use. Variety is a good thing, both in design and fit, give more folk a chance to get something that works for them.
I'm going more for opinions on how they suited me with this review, the shoes are all well made and fit for purpose and you wouldn't go particularly wrong with any of them if they're the kind of thing you want and the fit you.
Are they the kind of thing I want?
Brasher Kuga
The Kuga's aren't on the Brasher website any more any more but they're still widely found in the shops, so they're worth a mention.
The Kuga's have an interesting fit for Brasher, quite low volume, although there's good room in the slightly pointed looking toe box. The heel's on the roomy side though and it's that alone that stopped me taking the Kuga's anywhere but on mildly outdoorsy days out and Kilpatricks bimbling, long climbs would have eaten my heels. Not a problem, just a fit thing which won't affect everyone.
The Gore-Tex ling is fine for what I was using them for, wet toes on paths were avoided and the pretty aggressive sole was never an issue, especially with a fantastic built-in forward rocking motion at the toe.  The sole's stiff which I could live with, but it's too thick for me, trying them on again I feel like I've grown an inch. They're robust, built to last with randing and reinforcing at the heel and toe. The tongue is asymmetric and sits in it's place and the laces keep the shoe locked up tight without any unwanted pressure through a thin sock.
The looks are understated to try and lure in anyone from boot-wearing trail-shoe-curious fence-sitters to those who had planned on buying shoes from M&S for they holidays in the Lakes.
They weight in at 466g for one shoe UK9.
Càrn Inca Trail
Ben Fogle made these. Or Something. Don't knock it, he's done more than most and all while wearing a buttoned shirt under a jumper.
You can see these are still in service, there's a good reason for that, what a great wee pair of shoes. They look like garden centre specials but the neat fit (with toe wiggling room) and surprisingly grippy sole make these a hill shoe.
The lacing goes down to the toe which I like, they feel very secure on rough ground and rock, almost like a more scrambling oriented shoe which the stiff-ish sole kind of adds to. There's enough flex at the toe though, so putting in the miles in these are fine.
They're beefy made, and not particularly light at 400g per shoe for a UK9, in fact when new they felt like a pair of leather brogues. But they softened up and got progressively comfier, quite quickly too. Maybe it's the fabric, an outer made of a cotton canvas which has taken the knocks and scrapes without issue. The Inca is well randed and there's no daft seam placement, durability was in their minds all along I think.
There's bamboo in there too which is meant to repel smells, these shoes have spend a lot of time submerged in mud and the like and there's been no rotting which I'd expected from all the natural fibres and amazingly they do smell way better than their all-synthetic brothers on the shelf next door.
The sole unit's not too thick, the heel cup is narrower than many so fits me great and I dare say I'll keep wearing them until the sole wears flat.
The North Face Havoc Low GTX XCR
Ah, a shoe of contrasts and currently to be found mislabeled as boots on the The North Face's website here.
I really wanted to get on with these, the slick, rough terrain-ready uppers, the heel breast for descending under control and a fantastic heel cup that felt like it had been send by the ghost of Montrail to ease my worries.
But no, I tried and they don't work on my feet, I kept trying but trying too, but to live with either heel lift, lace pressure or an odd compression in the middle of my foot on a hill day was too much. All black too, they look like school shoes. Good grief.
There's a lot to like here, the shaping is trail shoe with a nice wide forefoot. The Gore-Tex lining is up to you, but breathability was in the plan with big mesh areas. There's leather elsewhere on the upper and it's thin and supple, trails shoes should be moving this way, the future is natural. Hopefully.
Weight is 440g per shoe UK9, which doesn't feel too bad on my feet. In fact, now that I'm wearing them again while writing this, I might take them out again and see how they do. The Vibram sole unit has a loft of wide flat pads for summer trails but staying upright is one of things I'm not too bad at. All-black shoes though. Mmmff.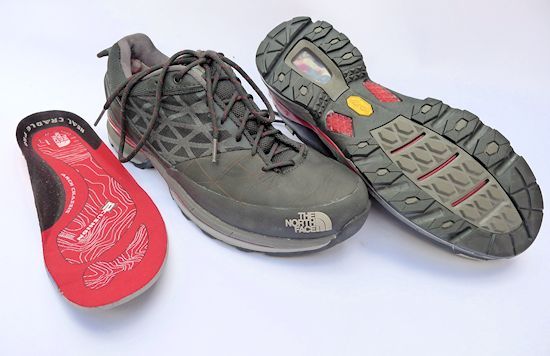 Keen Tunari CNX
I loved these as soon as I saw them, I even recommended them in my Best of 2013 piece for Trail at the start of the year. They're pretty light at 300g each for a UK9 and bridge the gap between trail shoes and folk that want to be as close as they can to barefoot running. The upper is a fine mesh with synthetic suede overlay, a good mix of breathability and scuff resistance. The mesh will let the water back out too.
The outsole is low profile, molded into a natural-esque foot shape and is a quite hard feeling rubber with a typical big block grip pattern which works better than you'd expect, there's very little shock absorption but the rubber should last. The big rubber toe bumper is present and correct too. It's a Keen shoe after all.
Flex is good and the upper pulls in around your foot almost like a rock shoe, but more forgiving if you know what I mean. There's no insole, just some nice internal molding which is comfy in thin socks or bare feet.
But, the heel cup is too big for my skinny heels and it's limited the use of the shoe for me. The light construction means that the heel stretched out a little and I could flip them off my feet if I really tried. A damn shame, it's a great wee shoe.