My column this month is "Lighter…Lighting". It's maybe not exactly the most inspirational stuff, but there's some good points in there. My own joy when I was sent the Silva L4 and immediately accepeted it's red-then low to high switching order as the right way to do it is in there, as is the fantastic performance of the Petzl Myo XP for night hiking. The e+Lite is in there too, all the models are lightweight winners.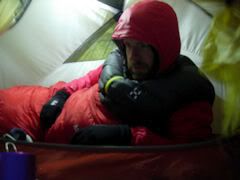 I mention the new Alpkit Bulb as a tent light, and although it's bulky it's not too heavy and really handy. That's where all the light is coming from in the tent photies from last weeks camping trip. I'm usually picking out stuff with a beam, but this was like sitting in a room (of sorts), very pleasant. It was also easy to find the tent after a pee trip in the cloudy darkness.
Alpkit sent me their Gamma headtorch for test as well, I'll speak more of that later.
The photie with the column is of me and a Lasercomp from the Cluanie trip a few months back.
Elsewhere in the mag we've got a frighteningly large collection of unwieldy looking boots. I feel for the poor sods buying some of these and spending the winter on the mostly snowless Lakeland fells.
The Lightweight Boots group test from GT is the way to go, but you'll always suffer from a time lag as new models are old models by the time you've trashed them. The new Salomon Fastpackers and Montrail Hardrock MIds would have trounced most of the models in there.
I voted for Ullapool in the alternative outdoor capital feature as it's got a great shop in Northwest Outdoors and all the other facilities you need to make it a great base. There's also a huge campsite where we met some German bikers a few years back, one of whom had his mate in the sidecar, with a machine gun mount on it. And he threw camo netting over it at night. I don't want to know.
It looks like a good issue, I'll peruse further at lunch through the week.