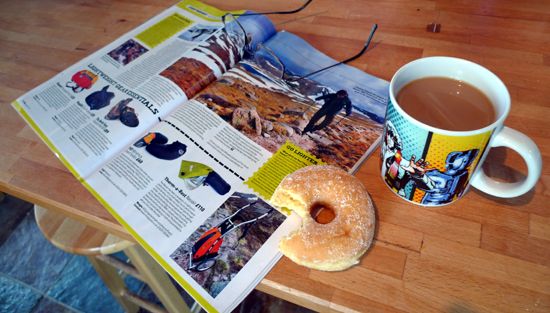 The Trail mag that's just out is the lightweight special as well as the 20th anniversary issue, and it really is full of stuff and things.
I don't mention my Trail stuff much, I probably should as most of my trips would make more sense if the route in the mag was flagged up. Like the Beinn Fhada trip, anyone who read the July Trail will know why I re-pitched the tent at lunchtime on day 2. Aye, it's all about the photies.
This months route is the South Glen Sheil Ridge, and it was fun trying to shoehorn that amount of description into 500 words, I love the shot they chose for the introduction page too, I can remember standing there. Brilliant night that was.
I really enjoy doing the routes, and I think I've gotten better at making the words less dry as time's gone on, helped by an understanding and long-suffering editor, for both my frequent Scottishisms and lateness with copy. I do try and make them all a little different from the usual routes you find in the guidebooks, but still accessible to readers. I also try and get my trail shoes into shot in every one…
But, the biggest fun bit for me this issue is the Wheelie feature. Unlike my previous feature, I read this one right away when I got my copy of the mag, I wasn't apprehensive this time. The reason being that I just sat down and wrote this one, no inner turmoil or trying to fit some imaginery Trail-compatible format that I'd invented for myself. The word count was about average for a blog post after a trip, so er, I wrote a blog post. Banter, odd references, cheek, attempts at humour and outpourings of joy, all the usual shit I put on here, it's all there. As are "burn" instead of stream, and "wee" instead of small.
I had fun with the boxouts too, lecturing some poor reader on what gear they should be carrying. There's a few extra points I've underlined about packing light in the main text, things I would probably let go when writing on here, but important enough to stick a flag on in the mag.
The funniest thing about it is that I took all the photies myself with a 10 second timer, I wonder if any readers will spot that? At least it gives me an excuse for taking so bloody long to do the walk. Oh the amount of reversing I had to do with Wheelie.
Now, I probably sound like I'm all pleased with myself here, well I have to say that I kinda am. I really enjoyed doing it, the trip and the writing, and I'm happy to stand behind it as the best I could do on the day, there's no big bad editor to blame for changes or cuts as I think it was tightened up both minimally and brilliantly by the folks in Peterborough, if anyone thinks it's pish, it's my fault alone.
But, I'm entirely aware that its just a few pages in a mag packed with articles from writers who do this stuff every day, so I know my place.
As anyone who has a blog will know, reaching people, communicating your enthusiasm, insight or simple joy at being outdoors or elsewhere is a wonderful thing, and I love having opportunties to do that.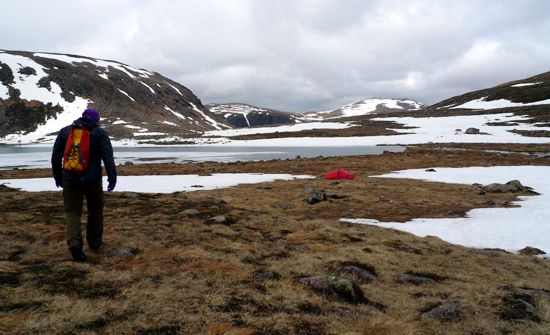 I didn't really write the trip up properly on here, I thought it would have ruined any chance I had of writing a "fresh" article, and now having the read the thing I was right. Learning.
It was great fun though, but as usual I started late…
I stopped at Pitlochry to see the guys in Escape Route, who liked the look of a Wheelie in-store for hiring out, but cuppas and banter there meant that time evaporated. I picked up some supplies in town, the wee deli made the biggest fluffiest tastiest sammidges I've ever seen, and them hit the cross-country road to Braemar, where a few TGOC stragglers were wandering around looking for new shoes.
The drive to Linn of Dee is glorious, and packing in the carpark amogst the trees was a leisurely affair, with gazing at the sky through the branches taking priority over actually getting ready to go. Never in hurry am I.
Wheelie's huge, I packed the regular gear into stuff sacks, eVent ones from PODsacs and Sea to Summit, and some regular Exped rolltop drybags. There was plenty space though, so I started sticking in more food, and a bottle of Irn Bru, my PHD down gilet, and I lied in the feature, I had three hats as well extra stuff and things just to pad it out a little. But here's the thing,  I really couldn't feel the weight, pulling more is "lighter" than carrying less.
All the stuff that happened is in the feature, apart from the stopping and starting to do the photies, that was funny as hell. If I haven't had the blog and was used to placing myself in shot I'd still be up there now, walking up and down whispering one thousand, two thousand, three…
It was doing that that robbed my of my time to climb the other summits, that was the only downside. It didn't feel like I came away with a second prize though, it was a fantastic trip, rich for both the eye and the heart. I rediscovered the Cairngorms after all.
My time at camp was brilliant, I had pastries, biscuits, three different types of coffee, Pot Noodle in-a-bag and more, it was a super comfy time I had up there, and still went to the summit with just a poly bag hanging from my shoulders. Magic.