This is still borrowed camera time and also my first iPod days, so I think it's spring 2008. I know exactly where this is, the Laserlite above is parked on the ridge of Meall Coire Lochan (ish) west of Meall na Teanga above Loch Lochy.
I remember this one vividly, mind you I think if you show me any photie it pretty much all comes back as I've discovered these past few weeks.
See, that's why we should take always photies, that's why we should blog. Memories might bring mixed emotions but there's a real joy in it, and I don't feel any stronger inspiration that realising what I can do myself after so long of not doing it.
Seeing others adventures can be aspirational, seeing my own makes it all feel accessible. Sometimes that's just enough where you're a bit rusty.
It was raining all the way up. I'd dumped my pack at the bealach to run up Sron a Choire Ghairbh and then enjoyed a little clearer air on the fine traverse over Meall na Teanga.
I had music on in the rain, metal in my earbuds and I had Celtic Frost's then recent new album on repeat. Singing Os, abysmi os in my best death metal voice as I went. Can't believe that detail has stuck so fast in my mind.
I was damp getting in the tent but warm enough, staring out to a distant Fort William as the sky darkened. I only saw the sky by accident and it had me scrabbling for wet shoes and my jacket to get out and see it.
Vivid red out to the west with a window to a pale clear sky that had been hidden all day. It kinda makes it all worth it, these wee moments.
I must have slept well, I have no horror stories of wind or rain, animal attacks or seismic events to recall. It was a lovely morning too.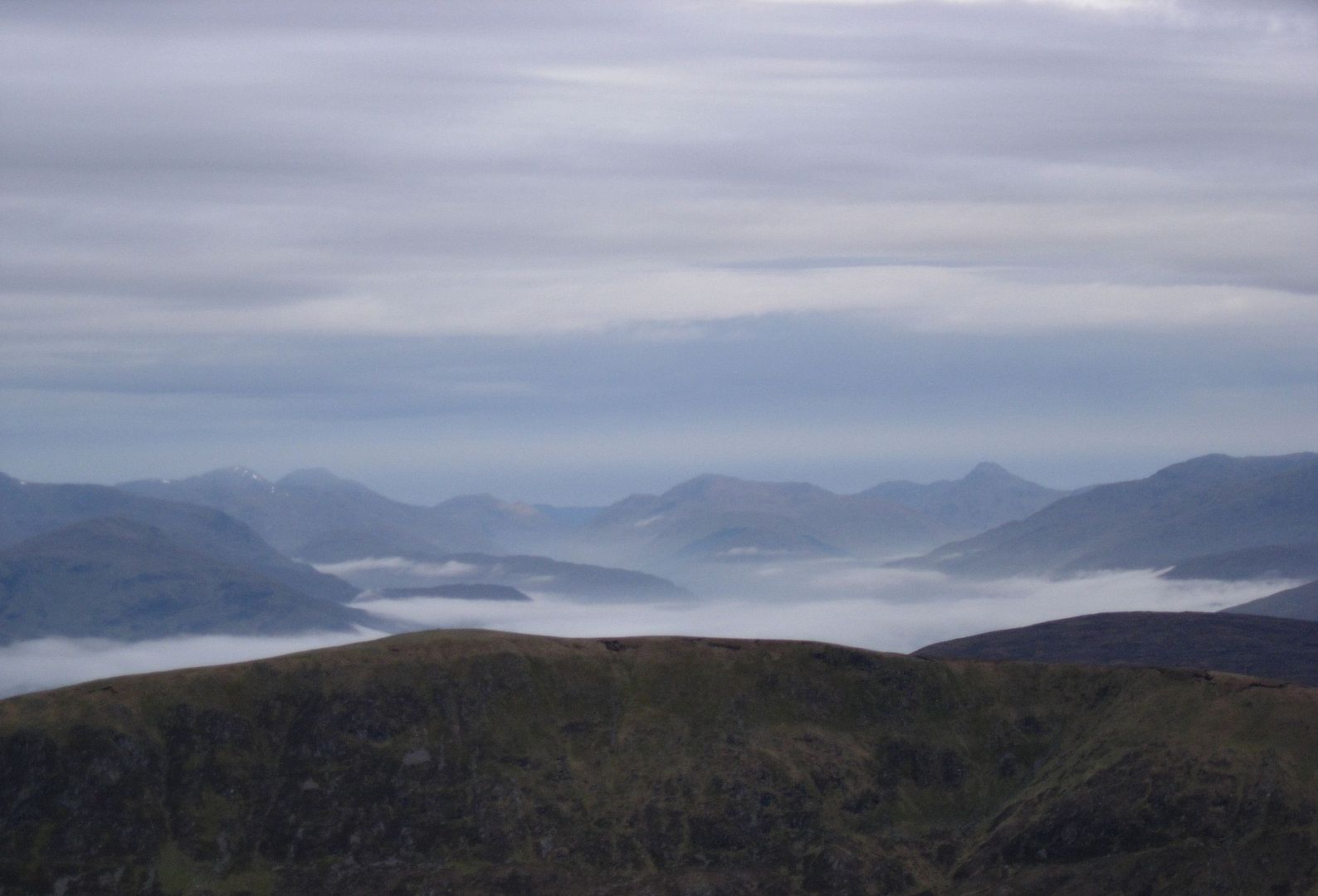 I feel it's my duty to point out that the fuzzy pastel scenes here are exactly as seen on the day. I haven't done that, it's a combination of cheap camera and actual weather conditions.
Mist on Loch Arkaig, the last of the snows clinging onto Ben Nevis' gullies. I sat there for hours, it was nearly lunch time before the rising sun burnt off the soft sheen and I descended in unexpected bright sunshine, bare skin cooking well before I got to the treeline.
The trees are gone now, Gleann Chia-aig having been dynamited end to end for a hydro scheme. I was there with Gus a few years later and the whole place was devastated.
I do remember walking down through the tall pines on a winding trail, rushing water below and the occasional whisper of wildlife far above. Now I just immediately think of bare rock and bulldozed slopes.
That's another reason to go somewhere, to take photies and to write it down. Some bastard is always ready to take it all away.