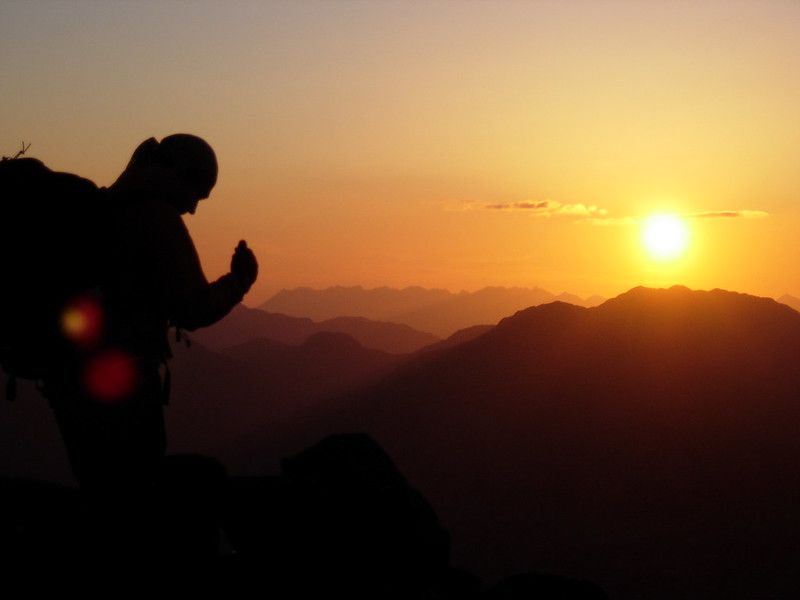 Vol 4 was always going to be a tricky one, I have to try and tie in the band, the album and the song for my own amusement and by a very slim, very tenuous but rather happy piece of luck the old photie above does have a slight echo of Vol 4's cover in both colour and pose.
The pose though is a conundrum, I know what I'm doing but not why. I'm looking at the OMM chest pouch attached to my Villain pack, or maybe in it? What I was after I do not know but this was obviously before I got better at taking selfies with a timer. Not smooth, but definitely natural looking.
Above is the night before the morning below which was a very fine night indeed spent on the summit of Gairich by Loch Quoich. This is another clear and sharply memorised trip where it was late when I left and subsequently the last pull up the rockier ridge to the summit was in fast fading light with cold hands and sweaty brow.
The view I scrambled to get to as I could see the colours above me looking west over Knoydart and to the Cuillin was one of the moments that I'd only really seen in the guide books and it became part of why I kept going back.
All these miles traveled for often short ascents to sit on the top for twelve hours just to look, to listen, to sit with a cuppa on a rock and just be there.
Utterly pointless, endlessly glorious.
In our 24hr racket of modern life to find a place that just stops you dead and that freezes time in what can be an unexpected perfect moment is so precious. But also so accessible, you just have to go and claim it.
Though, if you're one of the good guys, you're currently waiting to redeem your ticket to joy.
I can't help but smile at a memory of the way down next day. It was early summer so I was up early with the sun and heading down after breakfast, quite happy with my lot.
I met a stern faced crew of three on their way up and the leader's face told a story. They'd left early, they'd got the best parking spot at the dam, they'd be first up today, wait, who the hell is this guy? It looked like I'd kicked their ball into the neighbours garden, eaten their last sweetie and left toast crumbs in their butter all at the same time.
The two followers were smiley and chatty, but I bet they weren't allowed to stop until they got to the top.
I will never understand why folk take this stuff so seriously, it's supposed to remove angst not fuel it. Try twelve hours on a summit, that's soothe you just fine.