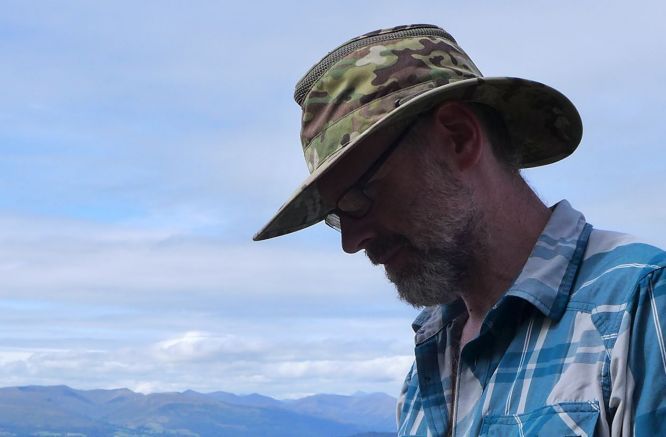 I like hats in general, but in the outdoors I feel odd without one. They keep the sun off my skin and out of my eyes, they slow down the sweat heading for my eyebrows, they compensate for poor hood design and they give me a handy bowl to drop in my keys and change.
Most importantly, a hat on me is like a picture hanging on a magnolia painted wall, it takes the bare look off me.
I like wide brims, it's a sun and rain repeller, hats aren't just for summer. I've spent years with cheapo bush hats from ebay and army surplus and at the same time always tried on Tilleys in the shops but found them both expensive and frankly, a bit dull. So my wallet played safe.
When I got the press release about this new airflo vented design and saw it also in came in the nice camo, it was a chance to see what the score was.
I read the instructions on the website, I measured my head and went for one size up from what I go for in Kromer welding caps, 7 1/2. When it arrived it fitted okay but as I wore it, it slackened off a little and I did think I'd got it wrong. Because although it says the hat shrinks a little in the wash, and bravely advises you to wash it often, I always think these statements are an exercise in arse covering, so they can say "we warned you" when someone boil washes and tumble dries their hat down to a size that only fits the teddy bear sitting on the chair in their bedroom (not from experience before you ask, totally random scenario).
However, after a couple of days of heavy sweating I washed it. When dry I pulled it on and it was perfect, size 7 3/8 perfect. It sat securely but not tightly just above my ears.
Since then it's been worn almost daily and washed maybe every couple of weeks or just when it needs it. It has maintained it's size and shape perfectly through this, even when crushed or rolled into a rucksack for a couple of days at a time.
The brim will shape to your preference to an extent, if you look at the top photie, that more pronounced front to back curve is me rolling it up at night.
This style has a wider brim that many Tilleys and it's the one to go for, the extra coverage has been entirely necessary in the is horrendous sunshine we've had this summer.
The front and back extent a little further than the sides, capping the gap between hair (what's left of it) and collar it channels rain away as much as it keeps the sun off.
The wider brim hasn't been a problem in the wind, it's flexible enough that the brims deflects and folds in strong gusts and the hat stays on my head.
In constant wind I pull down the lace which I leave loose round my neck as an anchor of sorts, but it tightens in as well if you want that drill instructor look.
You can see the lace below as well as the Airflo vent around the crown. This does works, heat rises out and because the mesh is on the vertical plane, rain doesn't really get in either.
The fabric SPF is 50+ which I suppose matters on the crown where the fabric is single layer, so a bare scalp is pretty well protected.
The fabric's water resistant as well, but only to an extent which is actually a good thing. Rain does run off and the fabric doesn't get saturated so that the brim flops around my face, but it does absorb enough water so that you can dunk it in a burn and get it wet enough so that you can enjoy the cooling evaporation action as you walk.
I have suffered all summer in the +30degC heat we had, but out and about I was cooler in this hat than I was without it, mobile sunshade and aircon.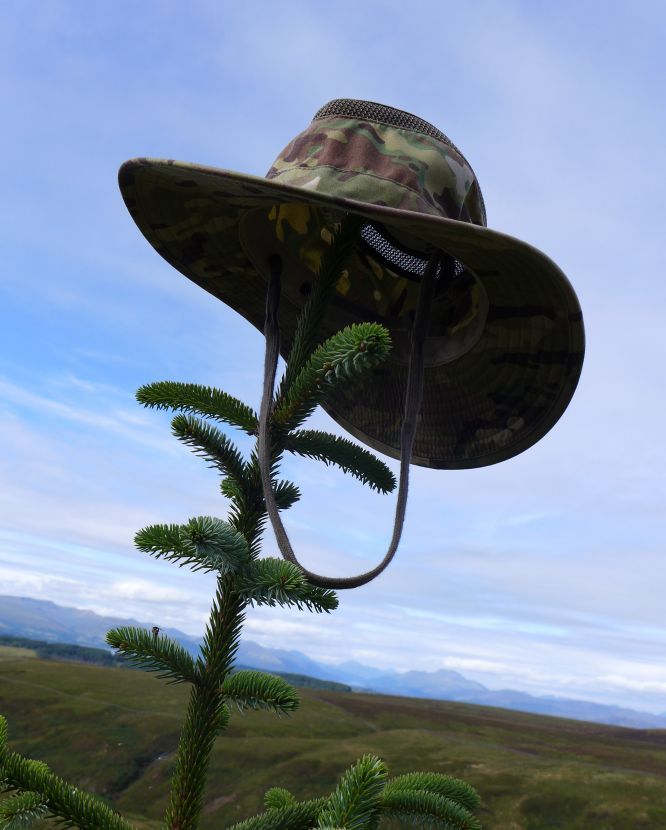 The inner sweatband is low profile so probably contributes to the size remaining consistent once washed as it won't crush down over time. It's smooth and wicks well, there's been no irritation under heavy sweating at all.
There's a wee pocket in the crown as you'll see below, for mini Haribos or something. The hat floats too, just as advertised. I have tried it several times, mostly on purpose.
It's nylon so it's tough and it dries fast, it's very well made indeed too, there's not a stitch wrong on it. It's very light at 108g and very packable too, fits into a pocket or rucksack lid. It's £70…
…and I would pay that for a new one if this one got lost.
Not not even getting one cheek up on the fence here, I absolutely love this hat. It's been everywhere with me the past few months and it's instantly vital kit.
What I will say though is get the size right, I made a gamble and it worked out. Get in a shop and try them on.
Aye, get in a shop. Shops, while we still have them.