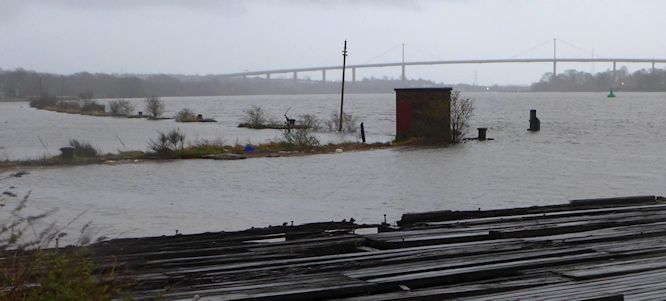 The storms have have caused a lot of very real problems elsewhere but here by the River Clyde we're just been having some of the highest tides in living memory.
The old stone harbour breakwater is underwater, it's just the grassy clumps and bollards that are sticking up. I really wanted to go out there with the camera but the walkway was under a foot of water just over the railway bridge where you access it. Naw, I'm good.
From the old ship yard the wooden dock looked like a raft. The river was red with sediment from the hills, the same red that causes me so much trouble at the Lang Craigs.
The rain was battering down, the drops clearly visible in the river like bullets landing despite the wind and choppy surface.
I was soaked within 30 seconds, the rain saturated my jeans and ran down to fill my boots, but I had to get one last wee look over at the other dock.
My camera was soaked, the lens was wet and I knew I was pushing my luck with it. I took the last snap below which when I downloaded I couldn't believe had a spot of perfect rain free focus right in the middle.
It's wild, it's dramatic, it's photogenic. But lets stay safe.