The last issue of Trail mag had a feature with Phoebe Smith and myself walking from Rannoch Station to Spean Bridge with a bothy stop on the way. It was really nice to see it and it brought back a flood of memories as it was quite a trip, a lot of miles with plenty of things along the way that kept us going forwards and mostly cheerful in the face of distance, fatigue and weather.
Here's some of my thoughts of the trip which is best read in conjunction with Phoebe's feature as it's a great read and she's put down the real detail. It's fascinating to see our different perspectives on things and the feature has all the research on what we saw on the day such as Peter's Rock and Loch Trieg as well as all the gear stuff, we had a whole bunch of test kit which, looking back, helped save the day.
****** ****** ******
It wasn't late when I left, in fact I was there the day before, wandering the aisles of the Ft Bill Morrisons sizing up the cakes for rucksack compatibility.
Dinner back at the diggs was interspersed by gear admin for the trip which is always fun. There was a mix of horror/ delight/ disbelief as we kitted out and a grim resignation as we planned an early start to catch the train at Spean Bridge before 0800. I'm not overly compatible with scheduling in the real world.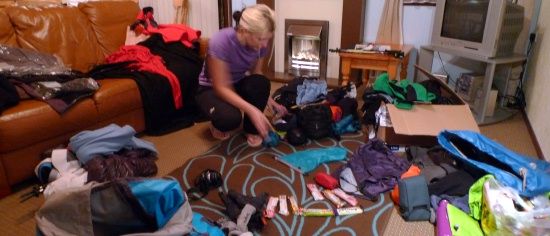 We made an attempt at breakfast at 0630. We were 90 minutes away from the train and we were already packed, plenty of time. How one cuppa and brushing your teeth takes an hour I don't know, but the bin lorry we got stuck behind on the way to Spean Bridge tested my nerve to the limit as the numbers flicked by on the dashboard clock. We arrived with a couple of minutes to spare, but I was wearing skate shoes and had empty water bottles. Then I had to move the motor as we were parked wrongly according to "the man", then we had to run to the other platform. Seconds we made the train by.
Never was I so pleased to order a cuppa from a flight attendant. The train rumbled through the Monessie Gorge and suddenly all was well, heart rate back to normal, mountains all around and no mobile reception.
The plan was flexible to an extent, but pride and honour was at stake. The doubters would have had us off at Corrour and taking the shorter route back as it was late winter, I was in leaky trainers and we were headed to an uncertain night, or not, in a bothy many miles away with no option B in our packs. When the train stopped at Corrour we just looked at each other across the table, eyebrows were raised questioningly, but the train pulled out with us still sitting there grinning. Phoebe was now confirmed as badass.
The air at Rannoch Station was cool, clouds bumbled over the ridges all around, we could see how this was going to play out. We hit the trail.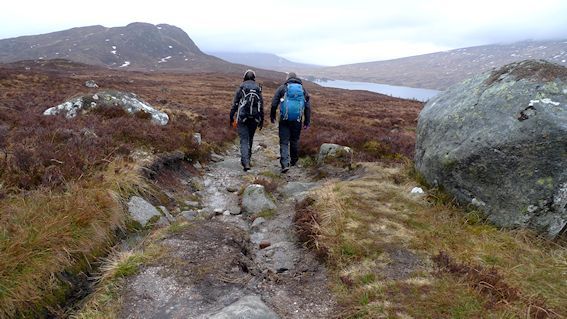 I think we got about 5km before the rain started and we had to pull on waterproofs. It was cold too, but I warmed as we walked. Walked? Waded you could say, the ground looked as if it might merge with the swollen burns and rivers to make a paddy field planted with heather. The water crossings were an increasingly demanding feature all day, jeez, water in general was a feature all day. My Montrail mids long ago gave up the pretence of being waterproof, but I went for dependable comfort and good socks, my feet were soaking for two days and I had no problems at all.
Our pace was good, we curved around to look down on Loch Ossian with old pal Beinn na Lap hiding its head opposite us. It was the first view of sorts, the granduer of distant Glen Coe across Rannoch Moor was not to be, but little Meall na Lice towered as convincingly as it could as we contoured it's flanks down to the eco hostel and the first dry stretch of track in a good while.
We'd stopped at Corrour Old Lodge for a cuppa, finding some shelter from the rain in it's broken walls, but it had been a little chilling and the warm light coming from Corrour Station was too much to resist. It's a bright, clean, warm oasis of joy and warm cuppas. We sat for a while, and then a little while more. Over Phoebe's shoulder the sun started to break through the cloud and then through the window.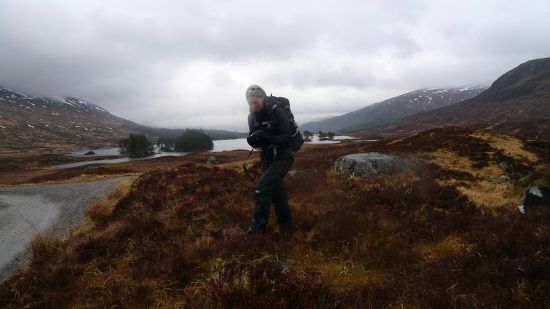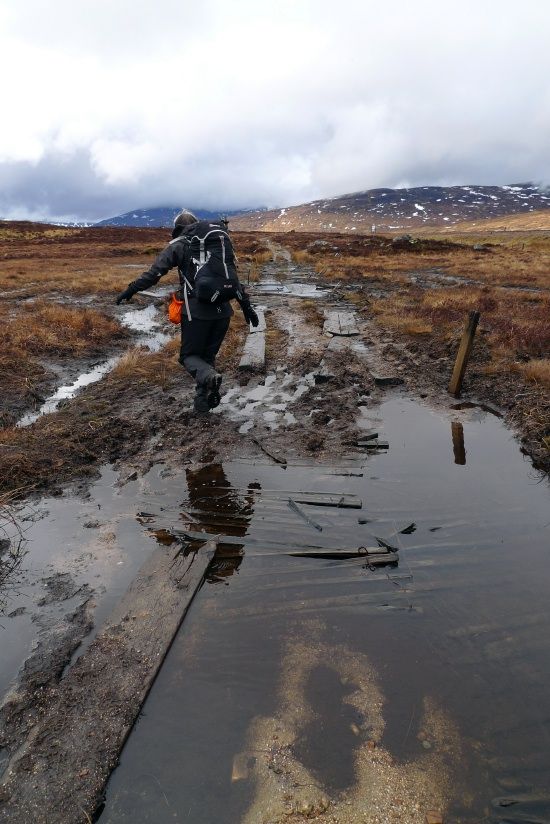 The track over the other side of the railway is a nightmare, but the landrover track on our side was an abomination and should not be walked. Still, the sun was trying its best and the mood was lighter without our hoods up all the time. Hard going though, the ground was so boggy that every step was an effort, every step in the right direction was paid for by one to the left and right. When we got to the solid track that runs down to Loch Treig we took five again.
The weather was battling above us, patches of blue were blown past as the rain fought to be top dog once again. The hills all looked massive, their tops in cloud, their sides steep and the glens that cut through them ahead were all dark. Here be McDragons indeed.
The end of Loch Treig is an odd place, remote, rugged and approachably rural all at once. It feels like they've dropped a little bit of the Lake District in at Creaguaineach Lodge, the access to which is a wonderfully high and ropey bridge over a gorge, to try and smooth the join between the rounded landscape of North Rannoch and the very Highland shapes ahead, there's even a passageway to help you through this join in the shape of a rocky defile below Creag Ghuanach. Odd, wonderful, should be visited by all.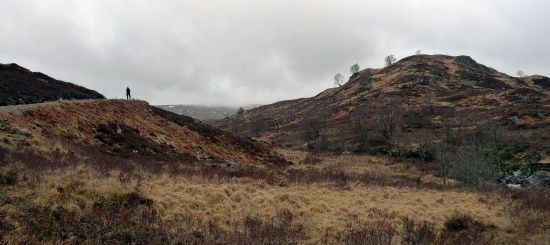 A pleasant walk by the river, on any other day no doubt, was here a struggle with shoe-sucking bog while the waters rose as the rain set in permanently. We were tired now, the plan for frequent cuppa stops had been wrecked by the weather, now we just wanted to get there. Getting there was over the longest 5km I've even seen, I swear the map is an optical illusion.
We now saw footsteps, fresh ones and that brought dismay. Would the bothy be full?
"Just over the next rise…" Phoebe didn't believe me any more though. I knew where it was, I could see Stob Ban and Sgurr Innse, the bothy is right in the middle, but the ground pulled at every footfall, the rain ran from our cuffs and hoods, the rising wind tugged at us and even misplaced snow banks appeared just to try and catch us out. I knew where it was but we weren't getting there, as it grew dark I became convinced that the ground was rolling backwards and we were treading on satan's infernal jogging machine.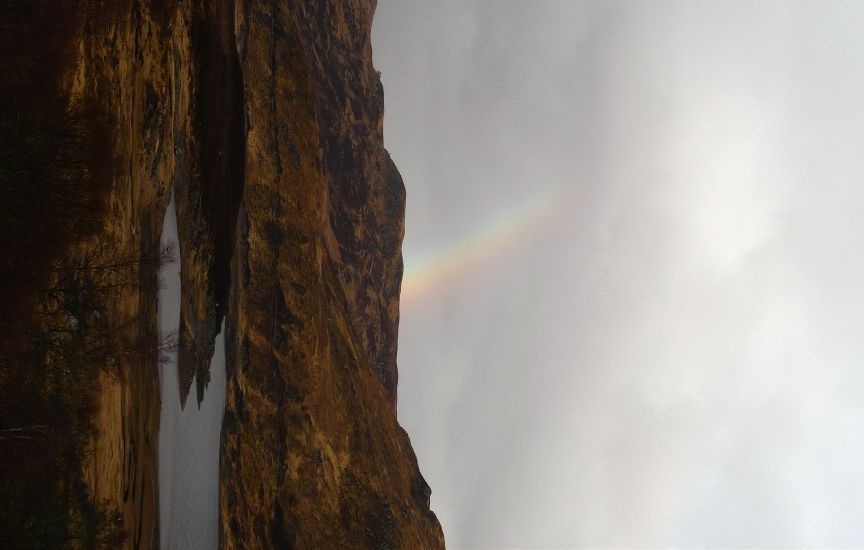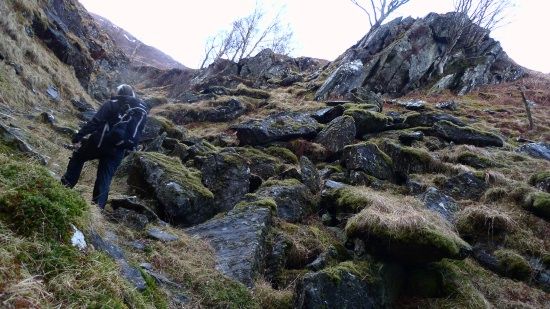 The little shape stood out across the river, one last set of stepping stones and were at its door. We opened it, it was dark, it was empty. It was emotional.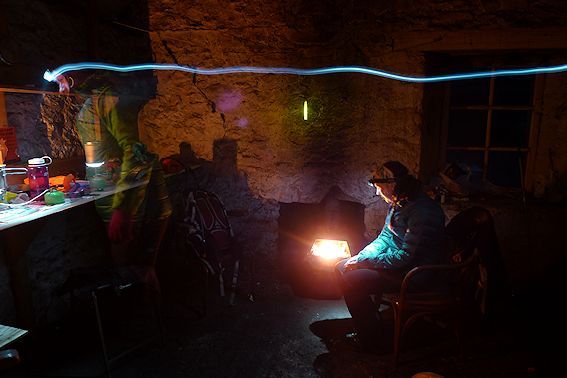 We unpacked, hung up wet gear, lit candles, made a fire and sat with our hot dinners as the rain ran down the window. Time passed at its own pace as we blethered away, I nipped out for more water and to see the stars which had come out unexpectedly and brought a drop in temperature with them. Back inside we sat inside our sleeping bags in the chairs as the last sticks we had brought died away to embers and left us with just the warming glow from a single candle and a yellow glowstick hanging above the fire. Hot chocolate, thoughts on this and that, and it was well into the next day before we turned in. Can't remember that last time I fell asleep to candlelight.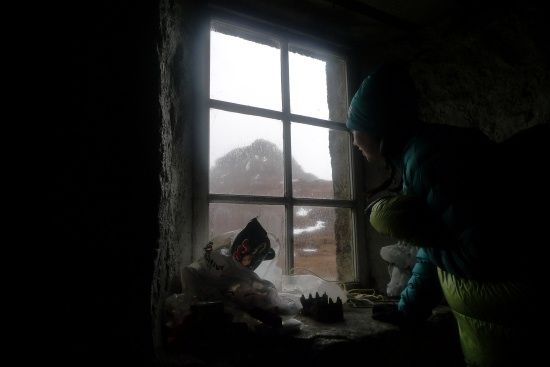 The wind raged. The slates rippled above us, stirring me now and again, once or twice to assume the "listening to see what Holly's doing" position of being on one elbow with a cocked ear. But all was well. Phoebe's 0630 alarm didn't wake me up, Phoebe shouting at it as she tried to find it made me open one eye, but we were soon out of commission again, daylight says when it's time to wake up.
After ignoring daylight for as long as possible it was time to get the stove on again. The cloud was a little higher, we could see the top of Sgurr Innse and there was only a light drizzle. The river had risen several inches overnight, the stones I was standing on to fill my bottle were now submerged.
The next trip to fill the bottle saw the cloud lower, the rain heavier and the wind higher. I think we subconsciously decided to wait it out, it was only a couple of hours back to Spean Bridge after all.
But, we'd still be waiting at Easter by the looks of it, we packed, kitted-up and fell out of the door, making our move with minutes of morning left to spare.
It was wetter than ever, above and below. Deep water surged down the hillsides as the rain-hardened wind battered us, spinning Phoebe right across the track at one point. Any views were gone, hoods stayed up and thoughts of a hot meal under electric light soon occupied our minds.
The Wee Minister sculpture stopped us for a while, a great idea it is and what a nice spot for him to keep an eye on us all as we head to the hills.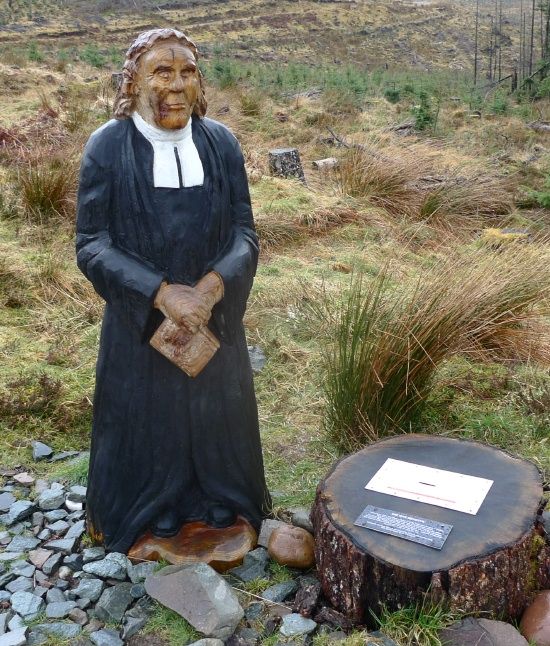 I've been here many times and I always take the road. We stopped at the sign for the forest walk to Spean Bridge, the idea of trees taking the rain rather that our heads appealed, the tracks weren't on my old map, but look, there's signs…
I thought we'd never get out of there, this way, that way, up, down. The signage seems arbitrary, the direction pointless, the distances unreasonable. I knew where Spean Bridge was from the low slopes visible around us, but we couldn't get to it.
My knee started to cry, and I thought we might follow it. But soon rooflines were glimpsed through the forest, more direction signs, and then the sure-fire emblem of being close humanity, a dog pissing on a bush. It's owner hastened it away as we rumbled on, "Station" the next sign said.
The motor was still there, unmolested and containing dry shoes if not dry socks. It was a happy reunion.
It's first task was to take us to the Little Chef where we dined heartily and dealt with the numerous calls and messages wondering what the hell had happened to us.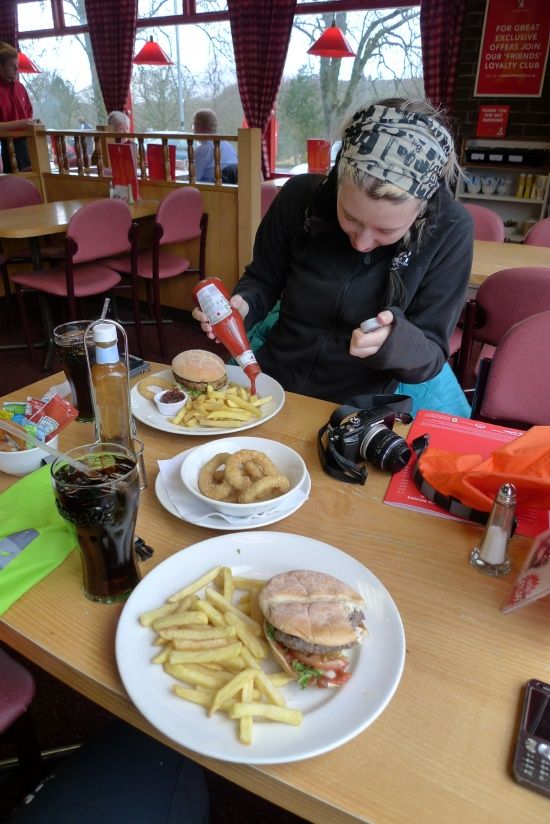 I took home a lot of stuff from this trip, not just a motor full of wet kit. It's a brilliant route to walk but Day 1 was a very long feeling 30-oddkm in often demoralising conditions, Pheobe was off the back of a big day the day before too, but when we got to the bothy there were no tears and snotters from either of us, just grins. It's always an unknown when you're out there with someone new, but from the start I knew that this was going to be a breeze. When the revolution comes, Phoebe's on my team.
Special award goes to the mice who ate the chocolate and dragged a BabyBel right across the bothy and tried to get it under the door. Alright!