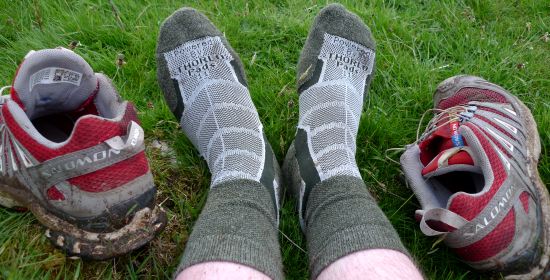 On test for the past few months have been two pairs of Experia socks from Thorlo.
The pair above (of course I had the camera on last night's trail run) are the Experia Crew.  These have been a regular sight on the washing line, I've had them in bike shoes, mids, trail shoes and my regular skate shoes/Converse.
The higher cuff is good when it's cooler and muddier and it stays up too. The main body of the sock is zoned with very different fabric areas. The heel and toe, like the cuff, are a thicker wool/silk mix with much thinner synthetic sections holding it all together. This zone shaping is good, it's cut away at the right places and I've had no issue with a lack of padding at somewhere that needs it. The toe and heel padding is thick enough to give enough warmth for cold weather use, wet they've been great too, but the bulk is minimal so they've been good in the neatest of trail shoes, like my old Salomon XA's above.
The lighter fabric is very stretchy and has a good tension to it, the whole sock keeps its shape very well during use and after washing. They dry well on my feet and in the tent despite the high wool content and the toe seams are unobtrusive.
The other pair in blue are the Experia Micro-Mini Crew. These have only recently come out of the wrapper for summer, but the construction is the same apart from just a short cuff which I'm glad to say does sit above my trail shoe cuffs. Why some socks are cut so tight there I don't know.
I love socks, or I should say, I love good socks. It's such an important part of kit, especially for trail shoe wearers as we tend to wear thinner socks which have to be just right, no big mass of loop stitching to squash into the gaps in your boots 'round these parts.
These are definitely in the good socks category, they never make it back into the sock drawer because I pick them off the line, so they've joined a selct ba