Funny sort of a week the last week, vague plans and missed chances and unexpected calls meant lots of little things but not a lot of big things.
Did fill my phone with photies though.
Me and the girl had a run up the crags when I picked her up from school. No gear, we just went.
I got asked if my Montane beanie was a Rangers beanie. As odd as it may seem for someone growing up in west central Scotland I have never been to or actually had any desire to go to a football match. I just don't get that stuff.
I also think that being completely out of that world has helped Holly stay clear of the dark side of fitba that thrives where we live, where unbelievably in the 21st Century, sectarianism is still an undercurrent in daily life.
One of the things that makes me most proud as she grows up and looks out into the world is she takes everyone she meets on an individual basis, no preconceptions based on the factors that shape bias be it religion, colour, dress code, gender or anything else that trends/offends/delights on Twitter.
She's had a life full of meeting every different kind of person you're likely to find, so to Holly you're either a good guy or a wank. Awesome.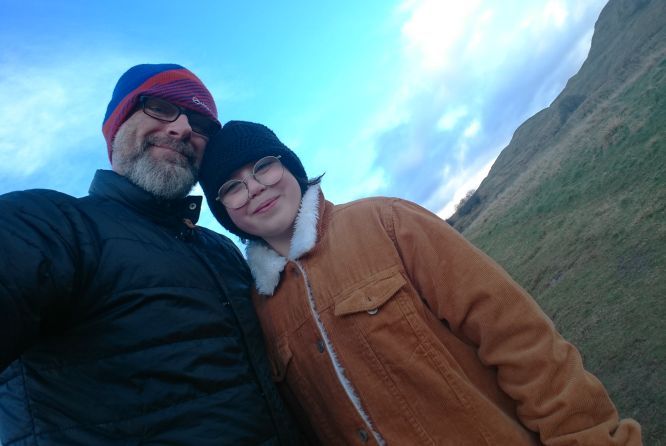 It was cold and we ran back down, is that a ghost in the woods? It wasn't there when we looked again.
I'll need to keep going back to check. Every couple of days. Because I do that anyway.
At my folks my Maw said "Look what I got…" and placed down two biscuits (I know, two biscuits, the joys of being an only child, aged 50) beside my cuppa.
In those wrappers I think we might see the start of a life long obsession forming in the hands of a skinny child eating these behind a chair in the 70's.
Wasn't the rucksacks after all.
The harbour looked nice on a couple of nights, not glorious like we had a couple of weeks ago, but definitely nice enough to go down and soak it in.
The lack of wild skies had me looking down at the details, the lichen on the breakwater almost looked luminescent in the sunset and skipping over the broken rocks was breathy fun in the wrong shoes and tighter than practical jeans. That's a diet thing, not a fashion thing.
The treeline by the old Esso depot lined up amusingly with the collapsing pier to give the trees a fat ankles look.
So many birds down here, singing as well as skipping around the mud pecking for snacks. Nature is just so bloody close if you look for it.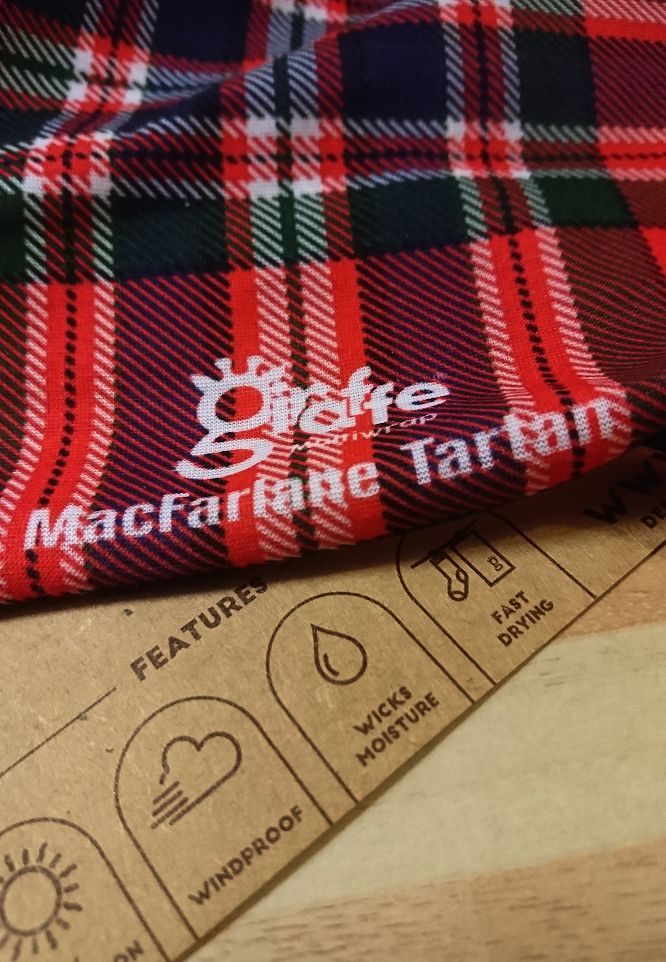 It's a Buff rip off, but it's got my name on it so I had to have it. It's a little stiffer than a regular weight Buff so feels a little tighter and it's definitely more wind resistant. Early days, maybe do a write up later on. Although it'll likely just be that previous sentence reformatted.
Me and the Girl again. This time with hot cuppas in the truck waiting for a gap in the sleet to run about the banks of Loch Lomond.
The snow is back in force, the hills bared their ridges a few times and looked impressive and alluring. We had other stuff to worry about though, playing Umbrella Academy "Guess Who" for starters, we'll say it ended in a draw.
My life is full of metal, above is the not so fun kind. Two 80s or older ring pulls from long forgotten cans being washed around the shore with the pebbles.
These kinds of cans completely went out of use in the UK in 1989 and these look new. It's not just plastic we have to worry about, it's everything, we're making such a mess of this place.
More metal was this potential murder weapon we found badly hidden in the woodland. Given our latest obsession of Brooklyn 99 Holly wanted to call Jake Peralta but I wanted to explore the possibilities of the macabre because of where we found it and call Sapphire and Steel. We were still arguing over it when we were back in the truck where we sent Taggart a text as a compromise.
Glasgow School of Art have been back up the Lang Craigs and there is wackiness to discover. Before the wind removes it.
The bookends of this post are our toaster. We were having toast, I was making tea and tuning out a little bit waiting for the clunk – schiinnggg that would herald the arrival of the toast.
Instead of that the toaster went on fire. Not just a smoky thing, a big flames coming out of it fire. Hmm I said as Holly whooped in a mixture of panic and amusement. I reached over, switched it off and pulled the plug out. I then threw a damp dish towel over it, because I wanted to look authoritative and knowledgeable in front of Holly. It was only when the dish towel went of fire that I picked the toaster up and ran outside with it where it could burn quite happily.
At this point it all settled down and I peered inside. Big chunk in there, charcoaly something, croissant maybe? That with all the crumbs, it was long over due to ignite.
Next morning I had another look. I shook it out, brushed it gently, it soon looked nice and clean.
That night I pushed the lever down and we stood and watched it together, waiting for… something? No fire, no popping fuse, just toast.
Yay, but mildly disappointing as well.
Toast as a metaphor for life.