Callander is pretty local but it's nice to be places when you wake up, it's like camping on Ben Lomond or the Arrochar Alps, logistically pointless but in reality: awesome.
Also Linda got us a voucher for a night in The Highland Guest House in the heart of the village, or is it a town now? Took a leisurely wander up and booked in.
What a lovely wee place. Warm and clean, hot drinks machine 24hrs and friendly banter. We also were handed two glasses of Prosecco and asked to come back down for afternoon tea whenever we were ready. We were ready.
It was a spire of sammidges and cakes, a crescendo of snacks, a comet of taste and when the owners misses came back and saw when what he'd given us the shock and surprise was evident, I think we'd got the whole week's allowance on one table. Magic.
It was getting dark and the rain was battering down, so we decided to go for a walk. Callander was deserted and rather pleasant to stoat about.
The river was over it's banks and the car parks were shallow seas where geese and ducks were fannying about oblivious to us and the car whose panic faced driver obviously thought they were trapped and doomed to drown. Misses, the exit was behind you.
We went back out later to the Tasty Fry chippy, long a destination of joy for me and it still doesn't disappoint. Chips and a can of ginger in the rain as we wandered the main street raising an occasional eyebrow at the shop window displays and happy just being.
The morning brought a little brightness and and breaking mist around Ben Ledi from the window which I know would have been glorious to be amongst with a little height, but so was that breakfast. Cooked fast, served with a smile and joy to taste.
Nice morning chat over breakast too with a couple from down south who were touring and then we were off to somewhere Linda fancied and I'd never been despite hundreds of visits here, Bracklinn Falls.
Oh, via the bakery. Supplies were wisely secured.
It's just beautiful. The last of the mist was clearing, it would have been full on Hammer Horror in the trees earlier, but enough lingered to make the light break past the branches in soft shafts as the leaves glowed a little golden as the summer green evaporated with the mist.
The falls are stunning and the bridge sits perfectly among the jumble of rocks and riot of branches. It makes it feel secret and intimate even with the vertigo inducting edges softened by the trees.
Really hard to get a photie too. Be back in the snow I think.



There's an extended loop you can do upstream but we had not the rucksack of supplies so we wandered back through the sunshine and headed west for cuppas.
The lochs were still as the sky quietly clouded over again and we found ourselves heading to Loch Katrine for lunch with a vague plan of doing the forest drive which we have repeatedly failed to do.
It was gorgeous though so we thought we'd take a wee wander along the lochside to take in the colours, the air, the lack of midges. We spotted a wee track that looked like it cut a corner through the woodland and it was just magic, warm colours, soft underfoot and very quiet. If only we'd had a tent.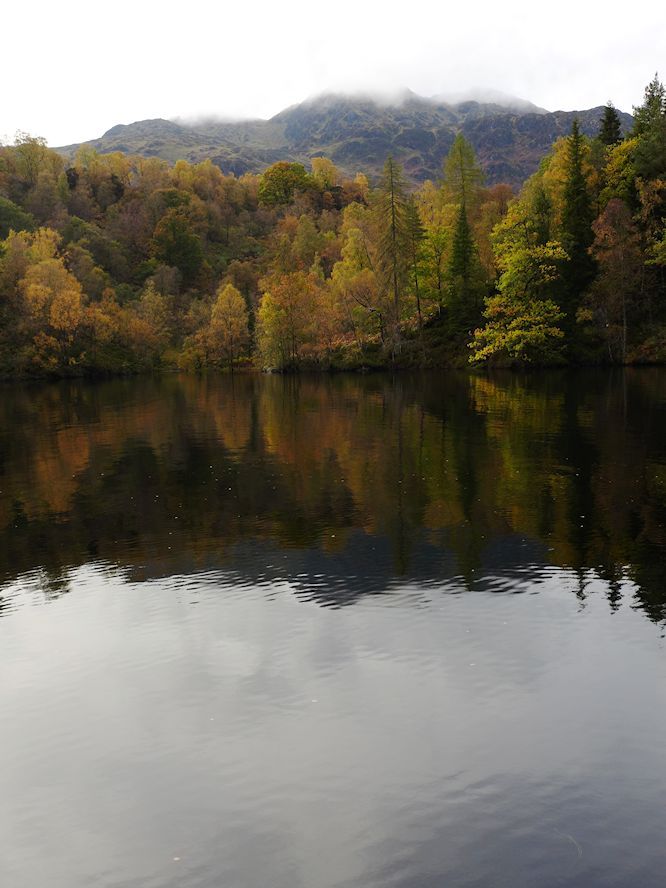 But with no tent we had to find the way out and the intermittent track led to a short steep slope onto the road. I skipped down and turned to take Linda's hand or even say just go that way, it's fine…
Linda looked at me for a second then threw herself sideways, flipped over and then rolled down into the ditch beside me. Screaming like she was going to burst her lungs.
I wasn't entirely sure what to do and neither were the nearby family. I told them we'd be fine although I didn't necessarily believe it.
She did eventually get up but refused all attempts of giving help up to and including the valiant but likely heart attack inducting coal bag carry back to base.
We stumbled along with tensions and pain levels rising until another family insisted on helping. This time Linda did let me carry her a bit but her wee legs were just slipping off and I think it just made her pain worse so the attempt was abandoned.
The bloke of the family had stayed with us and the mum and daughter had gone for help which soon arrived in the shape on the wee golf cart they use around the jetty.
Linda got a ride back and I ran for it. Bless the kind folk we met that day.
I got her into the car and off we went. All we had to do now was choose a hospital.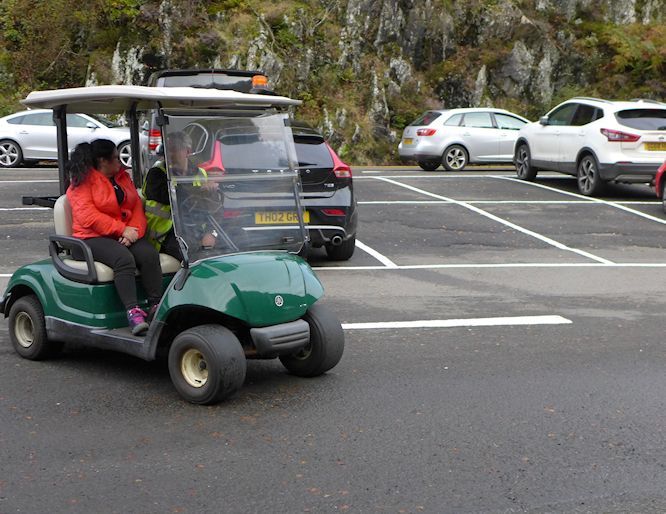 The Vale of Leven minor injuries unit was nearest and that's where we went, mud, blood, tears and all. the Vale has a patchy reputation and deservedly so, but here they did good.
Linda was Xrayed which meant passing through reception there and back with some embarrassment and amusement and after about 90 minutes of treatment appears around the corner with the walking stick I'd seen going the other way in it's plastic bag. We looked at each other and just burst out laughing.
She stood there trying to stay upright with the support boot velcroed on up to her knee as she leaned on the walking stick and this time there were just tears of laughter. Medication is a wonderful thing.
Torn ligaments, it was bad and I still don't know how she did it, what she was trying to do and how it was possible to do so many bad gymnastic moves in such a short descent.
I suppose it's all because the water wasn't there to break her fall this time. I'll need to watch that.
And that is why we postponed Skye.