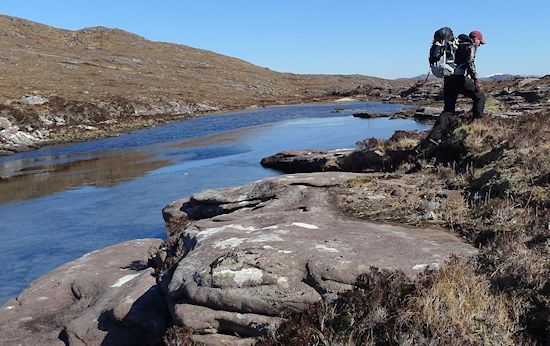 Been a while since I've done one of these posts and I've had too much new gear on the go to backtrack, so I'm going to start up my regular gear posts again with some new kit from the Coigach trip.
The Force10 Helium Carbon 100 is the big news for me and it was interesting in many ways, although visually it's in the area of a Terra Nova Laser, in reality it's completely different.
This was the first I'd pitched the Helium and a hungry man at dusk at the controls without instructions is always the best test of how easy something is to pitch. It went well I thought, I wrestled with the main pole a little, but I'd missed an adjuster which means that next time will be fine. The end poles are great, they slip in and out without stressing any seams and the pegging points are numerous and well placed.
The inner has good space, this is way better than the old Helium with only one end pole. My feet can miss one end and at the same time leave storage space above my head at the other end which is the way a tent should be: usable. The inner was a little loose and hangy at my head end, something that I think should improve as I've adjusted the fly/inner attachments since I've been back. I got a shower of ice from the inner as well, it was catching and holding a lot of condensation, but I'm not judging it on that, it happens in any tent given the right conditions and with a tighter inner it'll be better next time as well.
The TBS system was fine, only once did I stick an arm through the gap between cord and inner. I'm learning. The inner door is fine, a little smaller than a Laser door so I can catch a hip on it crawling in and out, but it's better when you're boiling the stove in the porch (which is a good size) as you've got more protection from the weather. The outer door has Velcro tabs, a two-way zip and a buckle at the bottom, all good stuff.
It's early days and I haven't even weighed it yet, I've ditched the skinny pegs that come with it and I'm using my own titanium nails/Y peg combo, but it does feel kinda right and I hope on the next few trips we'll get to know each other much better.
Also in for test from Vango/F10 are the new version of a long standing favourite, the Ultralight Gas Stove and their wacky Windshield (see photie below). The stove update sees the loss of titanium adding so few grams I can't tell the difference holding one in each hand but keeping the same brilliant performance. This big wide burner is magic, I've used it on half a dozen different stoves and it's got to be the best out there, the folding legs work well and it's compact enough to fold into my smallest EverNew pot.
The windshield might look a little gimmicky, but I instantly took to it. It folds up smaller that my old crinkled aluminium shield and is very stable, especially with the two integral pegs and a couple of spare tent pegs which I usually use with shields. When the wind catches it, the aluminium panels pivot silently where the roll-up type rattles around.  It gets warm, which should have been obvious… it's easy to clean and it's now standard kit, which I will weigh later when I report back on it. If it falls apart at the hinges I will be upset.
The Osprey Talon 44 was out and was stuffed on the walk in. It carries well when loaded, but it's very busy and there's a few niggles for me because of that which I'll have to get past so I use it more to get a proper handle on it, because like I say, it takes a load very well.
I slept warmly on a Thermarest Neoair and OMM Duomat in a Hagöfs Goga 3S down bag. I wore Chocolate Fish Taranaki merino top and bottom, Fjallraven trousers and the fantastic Montane Slipstream GL windshirt. Camp wear was PHD down gear from head to, literally, toe. I was supposed to be on the summit, at 300m this stuff was pure luxury.
I wore Garmont suede and fabric boots with Brasher socks inside, Kahtoola aluminium crampons and was glad of both a CAMP Corsa Nanotech axe and Mountain King Harlequin Trail Blaze poles to keep upright. I ate Mountain House lasagne, Adamsons oatcakes and Kenco coffee all lit to perfection by Petzl.
Ah, there's more, but we'll get to that next time.