Why does signage have to be so cruel? Words, grammar, punctuation, a usable and understandable statement or sentence, they're all ground to dust under the mighty wheels of the uncaring sign makers.
Deadline, deadline, blah, blah, blah. The important thing was it looked like the weather was going to be kind on Friday. Joycee said "Ooh, I could take an annual leave day". That was that then.
Getting Holly to nursery took a little longer that planned, she fancied the couch and Iron Maiden on the telly much better. And who could blame her?
But, by 1230 we were in the motor and away after much deliberation on what to wear, Joycee's outdoor selection has suffered in recent times. The A82 was the usual frustration in summer sunshine. I start tuning out, 35mph on the wide, gently swooping road is torture, I'm looking at the skyline instead, distractedly seeing at various times Godzilla, Monster Cat and whirligig covered in freshly washed mismatched socks, spinning in the wind, all mocking my meagre progress.
But Strathfillan came soon enough and then we were walking down the oh-so familiar track of the West Highland Way towards Kirkton Farm, spreading the suncream on bare skin thick and fast. It was hazy, but bright and warm.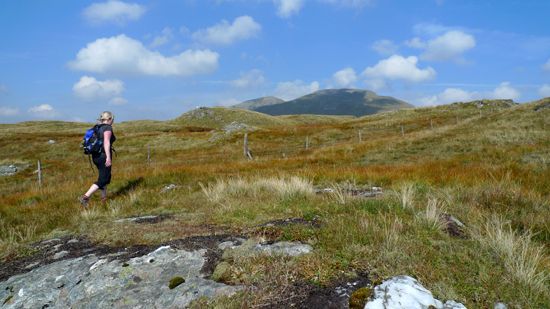 Climbing above the priory ruins it's Sheep Central, the whole area's Sheep City though. The Scottish Agricultural College is here, and I reckon they're doing weird shit to the sheep. Not only are they all unnaturally clean looking, the've all got different voices, seriously, it's like they've all been tuned to a different pitch. I reckon the students clamp them all up in the big shed and "play" them late at night…
Across the railway it's all glacial lumps and bumps, inbetween which a few little crags can be seen. We meandered onwards on surprisingly dry ground in a general upwards direction, the sun beat down and sweat carried sunblock into my eyes. Damn summer hates me.
Joycee fared better, she had a spring in her step. It's been three years since she was last this high on a hill, when Holly was just a new discovery in fact. Until then all the photies like you see on here would have hads Joycee in them, two feet away from me. This was kinda business as usual. Motherhood' s made her fitter it seems, and fatherhood's made me into a fat old man.
Creag Loisgte is magic spot. High rugged moorland, ever more gold and brown grasses, purple heather with bright bare rock  poking through everywhere. The stove went on, sammidges came out and the scenery was surveyed. It gets damned by faint praise does Ben Challum, I think that says more about the guide book writers than the hill. It's not steep, but its angles carry you away from the gentle strath that holds a road and two railways, and into this wide open land ringed with mountains. The horizon was layers of pastel  shaded cutouts, flat with instantly recognisable shapes scissored into their top edges.
The new cool breeze soothed, the hazy periphery held the weight of a deep blue sky above us where single clouds floated past, throwing wandering shadows onto the rounded flanks of the South Top ahead of us. An hour we sat there. How could we leave.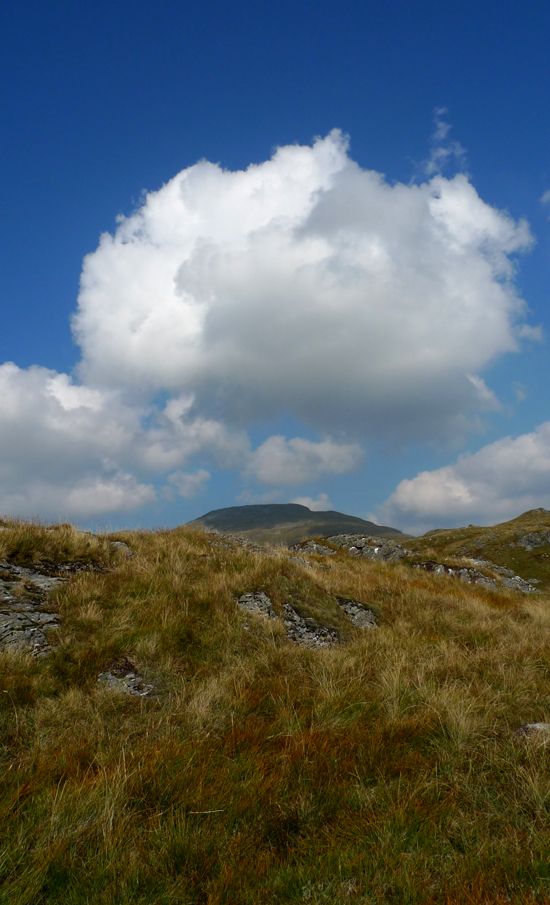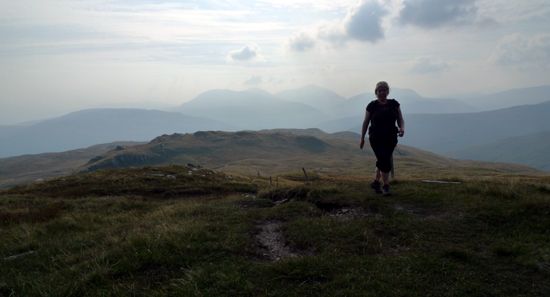 Well, to get to the the summit I suppose, but not so much that as the promise of brand new views and new ground to walk on. The South Top is a barrier, a huge gate with Nothing to see here scrawled on it to dissuade the guide book believers and glamour seekers heading for Glen Coe.
You really are getting away from it all on the South Top, the thin distant ribbon of road is hidden in the haze, even the wind is silent. The final stretch is through some outcrops and you're onto the summit, where more bare rock awaits. the track takes you away from the cairn, but the cairn is a prize, a jaggy little crown on a deserving head.
There's a huge cleft just off the top where the hill has peeled away from itself and ran out of steam, the edge of this becomes a lovely little stretch of rugged ridge carrying you on to Ben Challum. Both sides fall away with noticeable commitment and any higher ground to your sides is many miles away, this little stretch is a gem of space and distance and air.
Ben Challum is a mere wander away, the big cairn standing back from it's north face which it falls in a tumble of steep grass and boulders to the head of Glen Lochay. We looked at the peaks down the glen and beyond, remembering summer days and winter nights together on every one of them. I saw my first inversion on this very spot about 17,000 years ago. Ben More and Stob Binnien proud of the seething sea as cloud poured over the little ridge to the south into the empty Gleann an Chlachain.
Climbing the same hills again is freedom, you're there for pure enjoyment, maybe you do know what's ahead, but it's never quite the same. And, there's always a memory waiting for you, it can bring joy, melancholy, a face, a word, a name, it's always a LEGO block in whatever you've been building for yourself. New summits are all about making memories, old ones revisited can be as much about you as the hill, and there's nothing wrong with that.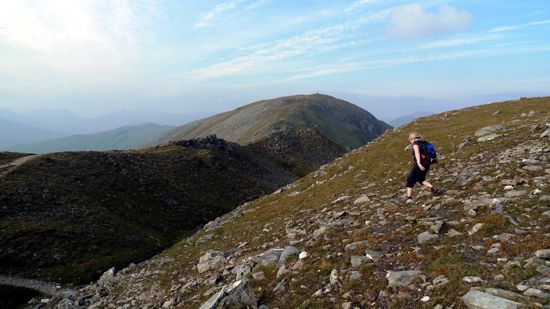 We hung about for a wee while and as has become our custom, rather than take the "return by route of ascent (Grrrr….)" track, we hung a left. Good call, the ridge directly west is brilliant, steep with boulder fields and completely trackless.
There a few wee crags and slabs to negotiate, and it's just great fun. The sky above was still blue, but the light was golden and there were shadows creeping up the hillside towards us.
We stepped through the line of the shadow and climbed a fence into the plantation. It's a different world in here, free from the ravages of the jaws of wooled and antlered vermin, the fenced enclosure surges with life. Flowers, plants, trees, insects, scurrying in the undergrowth, it's all there, just over the wire. The Highlands as it should be?
Hard going though, and the plan of following the river out changed top climb the other side of the glen and get onto the track. Another good call, less midges, less potholes waiting for someone either to plant and indigenous sapling in it, or break our legs. The track is a vehicle track, but much softened in character from under-use. It was a stroll of pure pleasure. There's a stile at the perimeter with some information signs, as we found all the way down the glen, telling of the good work they're doing in the area and the long-term plans. Walking up this way would be a nice wee trip for a picnic actually. Aye, food again.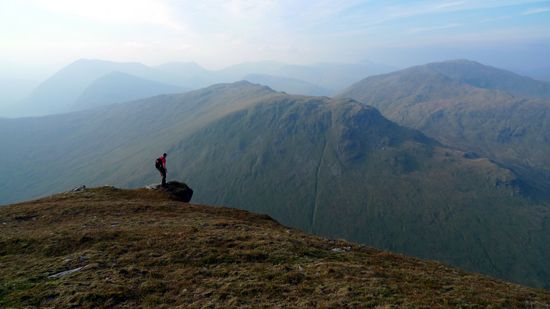 The track is higher up that we thought, and there's a big switchback descent to a railway bridge that's as hidden as the deep gorge it crosses. We met a stalker on the way up, he asked us where we'd been. I knew he was wondering if we'd sent the deer into the next glen, but our route had avoided that possibility and the coire inhabitants were undisturbed. We chatted and parted ways happily, he went uphill, ammunition in pocket and a glint in his eye, us downhill looking for a phone signal to check on Holly at Granny's and thinking very much of dinner. The smell of BBQ's from the wigwams at Auchtertyre didn't make it any easier either.
Back onto the West Highland Way once again as the light faded into the peach blanket that flowed from east to west. The super sheep closed around us, speaking in their strange musical way, we hurried on, looking over our shoulders as we left Kirkton behind and faced the racetrack ahead where headlights flew past like electric pingpong balls at a grudge match world championship table tennis tournament competition game.
It was at the same distance it would have taken us to take ten paces, turn and fire, so it would have been rude not to visit the Real Food Cafe. Sarah the chipführer was in and we got to hear about what's happened and what's happening at the RFC, the new winter opening hours are a current hot topic. Also in attendance and on their way north were Elaina and Steve. Ah, it's a home from home for us all in there.
The road was black and empty until Luss. We got to my folks after 2200 and you could say that Holly was pleased to see us. An adventure was had with Granny and Grandpa, but home is still her favourite. I'll hang onto that as long as I can.