Been a while since there was a gear round up after a trip. Will this be a permanent return? We'll see if I can be arsed.
Two sharing changes everything, especially the tent. I got a Mountain Hardwear 2-person in for test a while back but I'd rather not to be honest so it was either a full fat Terra Nova Voyager or what? Luckily a comment got posted on the Vaude Power Lizard UL first look post from ages back and that little nudge made the decision for me.
I never did an update for the Power Lizard, I did something for Trail with it and then it kinda got overlooked. Digging it out reminded me of how good it was and also what the niggles were.
There's room for two no problem, two sleep mats go side by side easily with room to spare at either end for storage. The porch isn't the biggest for two, but at bed time both rucksacks fitted inside and all was well. I don't like cooking with the porch zipped in the Power Lizard, but weather conditions were fine for leaving it open and an open door helps with stuffiness in a wee tent with two folk in it anyway. Talking of which, there was condensation on the inside of the flysheet in the morning but the inner was catching it and very little had made it inside the tent.
We pitched on several sharp angular rocks and the floor was intact, I was impressed. Not so my pegs, those same rocks broke two of my titanium nails. Okay, I was knocking them into rocky ground with another rock but the breakers were the lighter weight nails and they snapped at the hole for the cord. I have decided that the lighter nails are pish and I won't carry them again.
The guy lines on the Power Lizard are rubbish, poor layout and adjusters, I remembered this and took a couple of spare dyneema/line loks ready-mades which worked well at the tail ends. I'll re-do the whole tent before its next trip and it'll spot on to pitch and hopefully worry-free in the wind.
Bottom line is this is a brilliant tent and I'm very glad it's been brought back to the fore, it packs as small as almost any one-person I've used, which is a lot of tents to compare to, and is scary big inside for the weight. It'll be out again.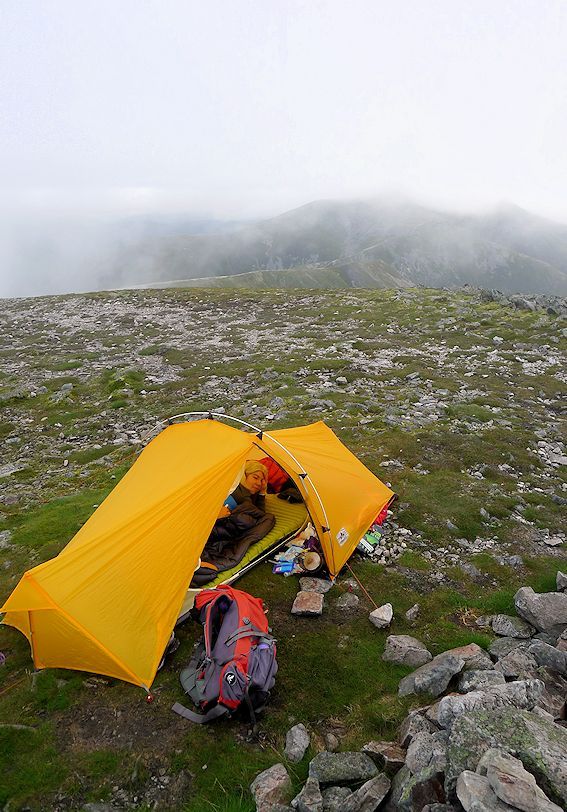 The forecast said cool or maybe cold, so sleeping bags were specced within the safety zone, especially for Joycee. She went for the Haglofs Goga 3S, loved it istantly when she tried it at home and it was a good call at camp, toasty warm all night. I'll need to do a proper post on it, it's a lovely bag, lofts like a bastard.
I used a newbie that's in for test, a Macpac Sanctuary 600. It was way too warm , that's not a complaint, and I slept with it unzipped and one arm and shoulder outside. It's a slim bag but on the right side of too much so and I think it'll be an autumn/winter star player. I'll do a first look soon.
I was on my well worn Neoair and Joycee was on the (successfully puncture repaired)  Pacific Outdoor Peak Elite AC , which after searching I don't seem to have ever reviewed. I might do that then.
For cooking I went for the recently reviewed Edelrid Opilio for stability and safety in the narrow porch. Did it's job well which included boiling up two Wayfarer meals in my 900ml Evernew pot. I had sausage casserole, it was lovely. Doesn't use any water either, summer no-brainer for high camps.
The Eden XP's are brilliant fun. Sitting on a rock looking at the other hills, deer running through the glen, someone walking towards your car three miles away… These are coming the next time.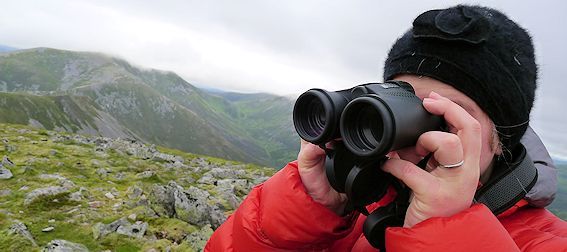 Joycee was in mesh shoes, LaSportiva Electron's. Carrying a big pack, putting in the miles with wet feet (eased by Wigmam socks) and she was issue free. She'll have review of these at some point. Me? Despite all the new stuff kicking around I had my five year old Salomon XA's on. And Wigwams.Yay.
Joycee tried a few packs when we were getting ready, I've had a few in for test that are back length adjustable but nothing was quite right, I could see that it was all something of a compromise. But, the Vaude Astra Light 50 was different, the adjustability is very good, I'll need to do a review where I'll explain it, and going to the shortest size doesn't compromise the carrying comfort or position of the pack. I was impressed, the Astra fits both me and Joycee perfectly despite a huge height difference and general er, shape. I've used it a few times and it's been comfy and Joycee found the same although the hip fin pockets were a disappointment being so small.
I'll get a proper review up, the user features aren't that great, stuff and bottle pockets/external storage etc, but the carry is very good.
I had my Macpac Amp 40, I've yet to find something better for this stuff. But, I live in hope.