I reviewed the OMM Villain MSC 45+10 way back when, and it's been a constant companion since, only being put into the #2 position when I got the updated version to test a few months back.
It's a time of change at OMM, with new investment in resources from ARK Consultants and an expanding range of gear for racers and mountain activists alike. Mike Parsons tells us a little about what's happening.
Villain MSC 45+10 2009
There's no sweeping changes here, just some tweaks which address some little issues I found as the miles racked up (the same updates have been applied to the Jirishanca).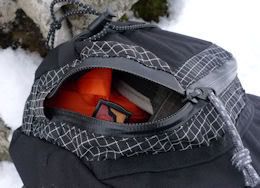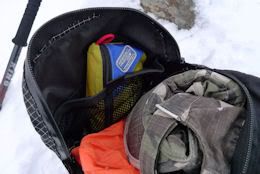 The lid pocket is different. Its opening isn't as wide so it's much more secure, and it now has a water resistant zip. Inside the lid pocket there's now an extra wee mesh pocket with a velcro closure. This has been worth it's weight in gold, which unfortunately is only a few grams of course, but still…

The side entry now has a water resistant zip as well, and both of the new zips have garages for the pullers to make as good a seal as possible.
The ice axe attachment points have been rejigged and there's no exposed stitching now for better durability.
A big change is the chest strap, the whistle-buckle is still present, as is the elastic section that lets you breathe, but the rest is new.  The two piece sliding attachment is gone and a more reliable and traditional webbing and slider buckle arrangement had been fitted. I never had an issue with the original, but this update will be easier to repair in the field.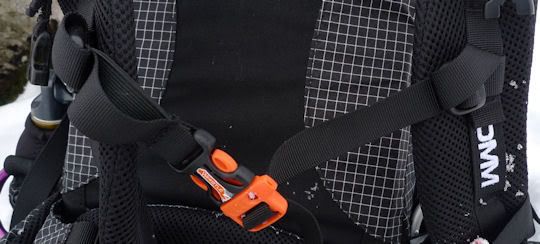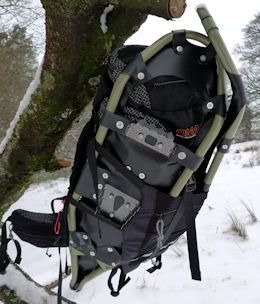 Performance and comfort are still the same I'm glad to say, it came out of the wrapper, got packed and was out overnight the day after it arrived. I was walking uphill still adjusting the straps to the rigt length. No issues though, and it's still my go-to pack for short backpacking trips in the mountains, even in winter.
This winter the camping gear I'm using is smaller packing so I'm getting my full winter kit inside no problem. Indeed, the MSC lets you strap pretty much anything you want onto the outside as well.
Mike Parsons Q & A
The Villain is the obvious successor to the Alpiniste 45+10, but also an improvement in materials and functionality. Did you feel that there was unfinished business?
"Yes, definitely unfinished business, and I'm thrilled to get the opportunity to do this. This is because of the ARK team not only undertaking sales and distribution, but now commiting to share ownership. In practical terms this means I can focus on new product development and hand over the myriad of small jobs that need doing in a small business like this."
The evolution from the original orange dyneema RL model to the current updated black dyneema MSC version has been very fast. How much does user feedback influence development, and what gives OMM the ability to react so quickly?
"Working online with such an enthusiatic and really committed Lead User Group (of which you are a member of course) definitely has an amazing and exciting influence when linked with my mentality of driving continuous improvement. When I was leading Karrimor I had a 'think tank' which was similar and ensured that our products were always well 'grounded' or well thought out as a result of long debate, which first highlights problems, which I love the challenge of, and then creates a well balanced concensus."
The Villain's appeal has been wider than it's alpine roots would suggest. Backpackers have taken to it as it's light, carries well and has the OnTheMoveAccessible features. Was that part of the plan, or do you think the pure functionality of the pack just struck a chord with users of different needs? 
"That was all part of the plan, partly because I do a wide range of activities myself, but also because I think equipment is expensive and should do more than one thing. However there must be no compomise on any function and that poses really exciting design challenges."
The MSC is a great concept, and the Trio chest pouch adds to the Villains versatility and capacity. How important is this adjustability and modular approach to OMM's philosophy?
"The MSC ( multi-sport compressor) is actually at the the core of the leanweight philosophy. Parts can be added or taken away to either lose weight or increase capability. Leanweight design isnt just about making the packs lighter, its about making packs more versatile."

 
Are current fabrics and technology allowing you to realise previously impossible ideas, or do they inspire new ones?
"Frankly we havent really scratched the surface of new technologies yet, but the extra resources I talked about is opening doors for sure. I spent 3 days in Munich last week looking only at new fabrics, components and processes." 
The name, The Villain. A wee stroke of genius.
"Perrins book on Don Whillans use his nick name, THE VILLAIN for the title. But there wasn't more than 2 sentences about the gear which Don was involved with and I thought this was a huge omission. I am writing up the Whillans product stories together with my book co-author Mary Rose at Lancaster University, and its not only filling a very important historical omission it't also really funny. Unlike the image the book portayed, Don was not an unpleasant person at all, and these stories are certainly amusing."

What are the future plans for the evolving Villain?
"We have a new product coming up, which if all goes well might be available before this year is out. The inspiration for the product comes from the exploits of Alex McIntyre, who was leading the world in lightweight Hymalaya alpine style mountaineering until his untimely death in 1984. However I thought that a better name was THE REAL VILLAIN."
What else does the future hold for OMM?
"I have been an innovator in 4 different eras of technology – leather and canvas, alumnium , and polymers and was market leader in all of those periods which is unusual because when technology changes so did the leadership, but I always held it. With OMM we are a very small player in the market place but there is a wonderful opportunity to link my innovation experience with a new but very experienced sales team at ARK. It's an open road and very exciting not withstanding the horrors of the recession."
Last time I asked you about the micro detail of the label; but what about colour, were bright colours normal at the time of the first orange and black Whillans alpiniste. The orange Villain and Jirishanca look bold even today.
"You could get any colour you liked at the time as long as it was grey or military green, so this was like super bold. In the first year I hedged my bets and made some grey ones but no-one wanted them!"